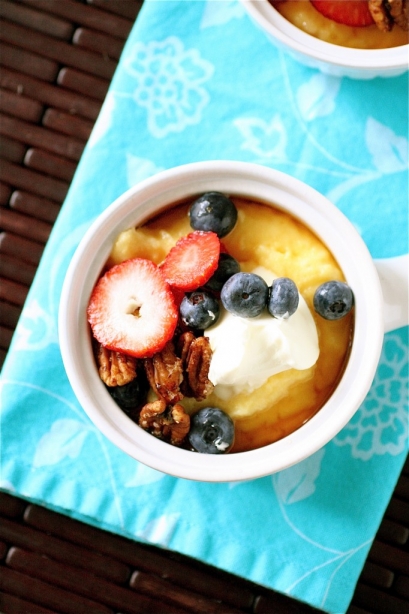 For whatever reason, I always associate polenta with savory dishes (don't worry, there will be more of those to come later on…).  I've only prepared polenta a few times before in my life, but I had never thought to make it into a sweet, breakfast-friendly kind of dish.
You know those mornings where you wake up and want something warm and comforting and realize (in the efforts to clean out your pantry because you are moving halfway across the country again in 38 days!) that you used up all your oatmeal?  Maybe you don't have mornings like that, but I do.  Like, I want something in the way of comfort food….now.
The unfortunate thing about polenta, though, is the lack of instant gratification because it does take a while to cook.  Heck, even my rolled oats can get microwaved for two minutes and breakfast is served.  But I also kind of like those mornings where I can make my coffee, open the windows, and busy myself (but also take my sweet time) in the kitchen making a home-style and filling breakfast like this one.
So, polenta CAN be used in sweet dishes.  And it's pretty tasty, too.  (Well, let's be honest…anything with mascarpone on top is pretty awesome.)  Feel free to use whatever toppings you have on hand-I like the toasted nuts here for the added protein/fat content.  Just promise me you won't skip out on that heavenly mascarpone.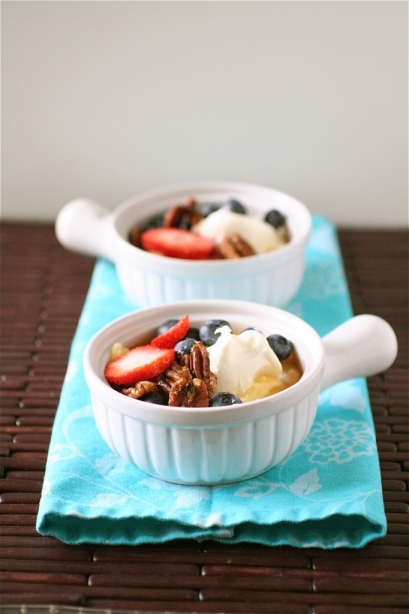 Breakfast Polenta with Maple and Mascarpone
Servings: 2
Ingredients
1/4 cup maple syrup
1 and 1/2 cups water, plus more if needed
3/4 teaspoon salt
1/2 cup ground polenta
1/2 cup milk
1/2 cup mascarpone
1/4 cup nuts, toasted
For serving: strawberries, blueberries, etc.
Instructions
1. In a large heavy saucepan over medium-high heat, bring the water and the salt to a boil.
2. In a small bowl, whisk together the polenta and the milk.
3. Once the water is boiling, slowly add the polenta/milk mixture to the water.
4. Return the mixture to a boil, stirring frequently, for about 2 minutes.  (Be careful here-it has a tendency to bubble up a lot).
5. Reduce the heat to low and cook, stirring frequently, for about 25 minutes or so, adding more water if the mixture gets too sticky.
6. Meanwhile, in a small saucepan over low heat, gently warm the maple syrup. (Or microwave it for about 20-25 seconds.)
7. Serve the polenta with the warmed maple syrup, mascarpone, toasted nuts, and any other toppings you like.

Source: Barely adapted from Williams-Sonoma.