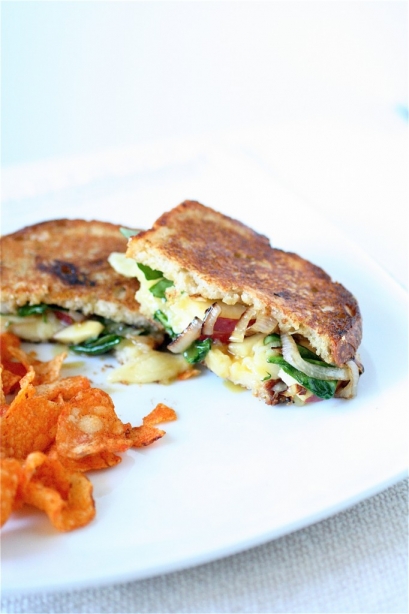 Oh, hey there.  Let me introduce myself.
I'm an apple cheddar grilled cheese aka the concoction that gets thrown together in a late afternoon break from intense cleaning/panic mode of "what the heck can I throw together in an effort to avoid running to the store" kind of mood.
This is easy enough. Some bread (preferably sourdough), a random apple from an uneaten packed lunch, some leftover white cheddar, and some homemade honey mustard.  Throw in some lonely shallot (or onion) and a handful of the pre-washed spinach that's about to go bad…and, well, you get me.  Delightfully cheesy, gooey, and full of intense tangy and sweet flavor that will have anyone glad it's grilled cheese time.
(Sidenote:  I fully realize now that I missed the boat with April being the official Grilled Cheese Month.  But, take this as my effort to make up for that insane offense…)
Time for a chaotic and beautifully delicious grilled cheese.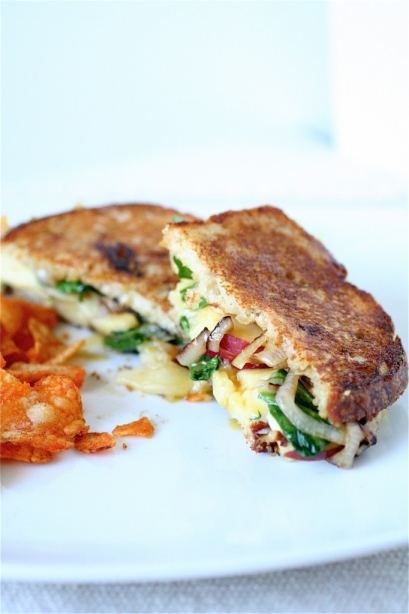 Apple Cheddar Grilled Cheese
Servings: 2
Ingredients
1 tablespoon olive oil
1 shallot, sliced thinly
2 tablespoons honey
2 tablespoons Dijon mustard
4 slices sourdough bread
1 apple, thinly sliced
1/2 cup fresh spinach
1 to 1/2 cups thinly sliced white cheddar cheese (or shredded-however you prefer it)
Instructions
1. Preheat a nonstick frying pan over medium heat.
2. Add the olive oil and heat until shimmering.
3. Add the shallot, and cook, stirring frequently, until lightly browned and crisped, about 5 minutes or so. Remove from heat; set aside.
4. In a small bowl, whisk together the honey and Dijon mustard until smooth; set aside.
5. To assemble the sandwiches:  Layer the apple, spinach, cheese, shallots, and a layer (amount depending on your personal taste) of the honey mustard between two pieces of sourdough bread.
6. Using the same nonstick frying pan as before, lightly spray the pan with cooking spray or a small amount of butter and grill the sandwiches until lightly crisped and golden on each side (about 2-3 minutes per side) over medium heat.  Serve immediately.
Source:  A Curvy Carrot original.