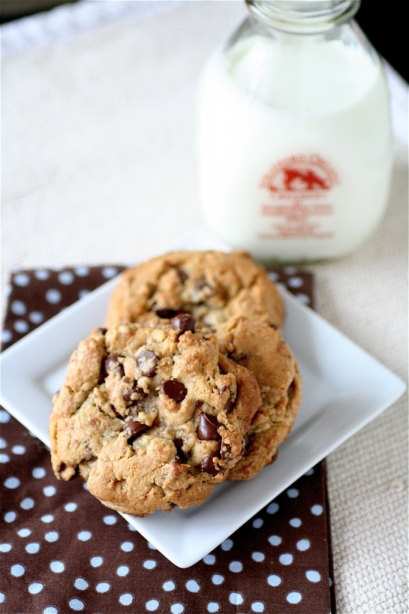 I am a huge food magazine collector.  Like, I hoard them for a few weeks or months until I get on a plane.  And, then,  I will inevitably end up on the plane, grazing through the magazines (very hungry, of course) and completely inspired to come home and get in the kitchen.  It's a little zen time.
Last weekend I headed halfway across the country to go apartment shopping in what will be my new hometown.  It was a fantastic trip, spending time with my sister, unexpectedly getting upgraded to the convertible as our rental car, having a great dinner with my future co-workers, and finding the most fantastic condo in the city.  I am so excited of what my future will bring.
So, on my trip back, I sat back, relaxed, and dove into the small library that I had stowed in my carry-on.  And this was one of the recipes from Food and Wine that I tried the day after I got home.  Browned butter chocolate chip cookies?  All right.  The only bad thing?  Waiting for the dough to chill overnight.
Golden brown and buttery, these are soft and chewy with lots of that slightly nutty brown butter flavor.  I added in a full bag of semisweet chocolate chips to increase the chocolate quotient, but feel free to use whatever kind of chip you might like.  These were too good not to post right away.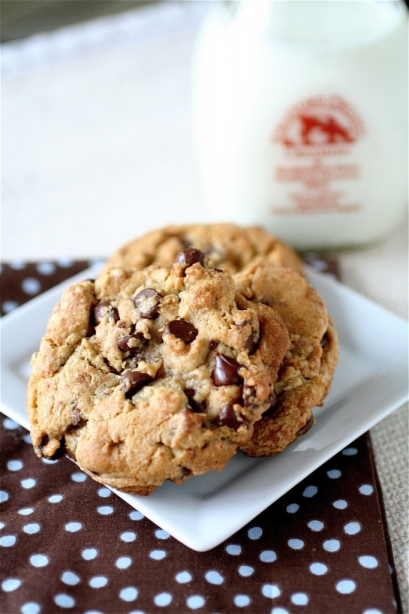 Brown Butter Chocolate Chip Cookies
Servings: about 18 cookies
Ingredients
16 tablespoons (2 sticks) unsalted butter
2 and 1/4 cups flour
1 teaspoon salt
1 teaspoon baking soda
1/2 cup granulated sugar
1 cup light brown sugar
1 large egg
1 large egg yolk
2 tablespoons milk
1 and 1/2 teaspoons vanilla
One bag semisweet chocolate chip cookies
Instructions
1. In a medium saucepan over medium heat, melt the butter and cook, swirling the pan occasionally, until it is frothy and browned, about 5-7 minutes or so (the browning process goes quickly once it starts so watch it carefully.)
2.  Transfer the butter to a small bowl and let cool to room temperature.
3.  In a separate bowl, whisk together the flour, salt, and baking soda.
4. In the bowl of your standing mixer fitted with the paddle attachment, beat the browned butter and both types of sugar, until smooth and light, about 7 minutes.
5. Add in the whole egg, the egg yolk, milk, and the vanilla.
6. Decrease the mixer speed to low and add the dry ingredients.
7. Gently fold in the chocolate chips.
8. Cover the cookie dough tightly with plastic wrap and refrigerate overnight.
9. The next day, let the dough come to room temperature.  Meanwhile, preheat the oven to 375 degrees and line two baking sheets with parchment paper.
10. Using a cookie dough scoop, place about 1/4-cup of dough onto the prepared baking sheets, spacing them about 2 inches apart.
11. Bake each cookie sheet (one at a time) until the cookies are golden brown on the bottom, about 14 minutes or so.  **The original recipe states 18 minutes, but I had to shorten the time significantly because my cookies baked very quickly.  Check yours accordingly.
Source:  Food and Wine magazine,  June 2012 issue.