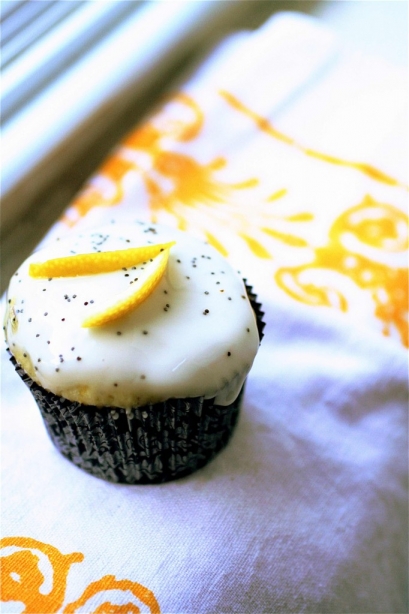 A couple of weekends ago, I went through all my photo archives and deleted close to 20,000 pictures (mostly of food, of course) on my computer.  As I was searching through each photo, I came across these cupcakes that I made….last summer.  How could I have such oversight?  These were awesome.  Not dense enough (or overly sweet) to (in my opinion) qualify as a true cupcake-but mostly like a sweet muffin that happened to have a little bit of glaze on top.
And since I equate spring/summer with all things lemon-ish (sunshine, lemonade, warm weather…), these were a perfect impromptu post to have saved.  And, I haven't posted a cupcake recipe in a very long time, so here we go.
The original recipe is from Martha Stewart and was for an orange poppy seed cake.  You could switch out the zest and juice from a lemon (which I have posted here) and use your favorite citrus fruit instead.
Here comes the sun, and I say it's all right.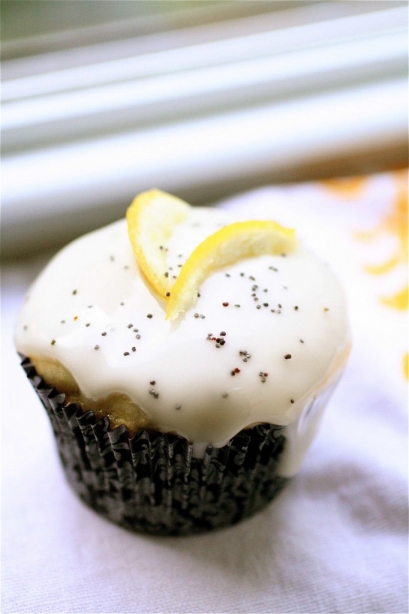 Lemon Poppy Seed Cupcakes with Citrus Glaze
Servings: 20 cupcakes
Ingredients
For the cupcakes:
2 and 1/2 cups all-purpose flour
1/2 teaspoon baking powder
1/4 teaspoon baking soda
Pinch of  salt
3/4 cup whole milk
2 tablespoons finely grated  lemon zest, plus 1/2 cup fresh lemon juice
1 and 1/2 sticks unsalted butter, room temperature
1 and 1/2 cups sugar
3 large eggs
2 tablespoons poppy seeds
For the citrus glaze:
1 and 1/2 cups confectioners' sugar, plus more if needed
1/4 teaspoon grated lemon zest
3 tablespoons fresh lemon juice, plus more if needed
For garnish: lemon zest, poppy seeds
D

irections
1. For the cupcakes: Preheat oven to 350 degree
2. Line a cupcake pan with the liners of your choice.
3. Sift flour, baking powder, baking soda, and 1/2 teaspoon salt into a bowl
4. Stir together milk and 1/4 cup lemon juice in a small bowl.
5. In the bowl of your standing mixer fitted with the paddle attachment, beat butter, 1 1/4 cups sugar, and the lemon zest on medium speed until pale and fluffy, about 4 minutes.
6. Beat in eggs, 1 at a time, mixing well after each addition.
7. Reduce speed to low, and add flour mixture in 3 additions, alternating with milk mixture, beginning and ending with flour.
8. Beat in poppy seeds.
9. Divide batter among muffin tins (filling each cup two-thirds full).
10. Bake until golden around the edges, 18 to 20 minutes.
11. Meanwhile, bring remaining 1/4 cup  lemon juice and remaining 1/4 cup sugar to a boil in a small saucepan over medium heat, stirring until sugar dissolves. Remove from heat. Let stand until ready to use
12. Brush warm cupcakes with half the lemon juice mixture. Transfer cupcakes to a wire rack, and let cool for 30 minutes.
13. Brush cupcakes again with remaining orange juice mixture, and let cool

completely.
14. For the citrus glaze:  Whisk all of the ingredients together until smooth.  Dip each cupcake, face down, into the glaze immediately.  Let sit for about 20 minutes or so until glaze is set (it will still be sticky and a little runny).
Source:  Cupcakes from Martha Stewart and glaze from Martha's Stewart's Cupcakes.