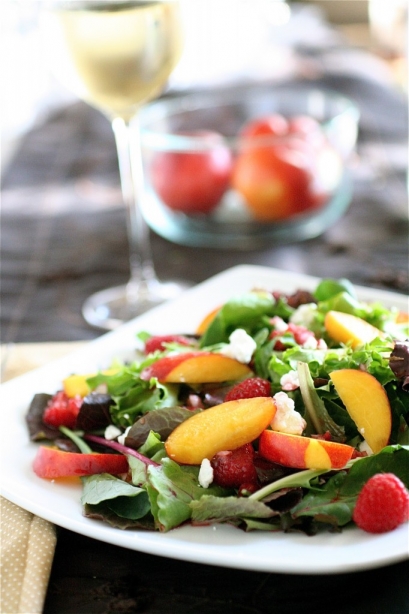 I needed this salad.  Like, needed fresh greens, juicy fruits, and a tangy vinaigrette desperately.  Maybe because it was Memorial Day weekend.  Maybe because I indulged a little too much in chilled wine, potato chips, and sweets.  Or maybe because produce is starting to look mighty fine these days at the market.
Whatever the reason was, I needed some good, fresh, nutritious salad immediately.
I had spent the afternoon cleaning out the closets, folding up winter coats and sweaters, and triumphantly vacuuming those Space Bag things that you see all those infomercials on (yes, they really do work.)  I'm in a pinch to fit a one-bedroom apartment's worth of clothes and books (and apparently billions of baking/cooking supplies) into two cars in two and a half weeks for Move #1.  I'm bound and determined to make everything fit.  I've got boxes all over my apartment, Space Bags stuffed with hoodies under my dining room table, and piles of "ok, seriously I should throw this out" scattered throughout the available (but not immediately necessary) floor space.
I was not in the mood to make a time-consuming dinner.  I was in the mood for something cleansing, fast, and filling.
Enter this salad.  Made with pre-washed salad greens (I chose a mix of spinach and spring greens), it was a snap to throw together.  Nectarines were on sale this past week so I used those, but you could use any kind of fruit that you like.  Tossed in a raspberry shallot viniagrette and a sprinkle of goat cheese, it was a great mix of crunch, tanginess, and fresh flavors. So, there I sat, amidst hangers, plastic bags, and boxes, eating this salad with a chilled glass of white wine, and smiled, happy for another quickly approaching end to another chapter in my life.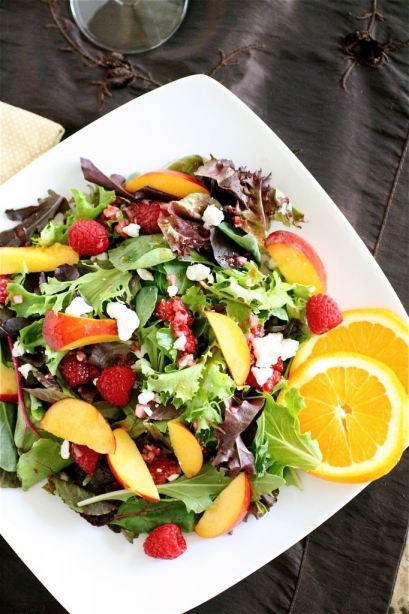 Nectarine and Summer Fruit Salad
Servings: 4-6
Ingredients
For the viniagrette:
1 small shallot, minced
3 tablespoons raspberry vinegar
1 teaspoon orange zest
1 tablespoon fresh orange juice, divided
6 tablespoons extra-virgin olive oil
Salt and pepper, to taste
For the salad:
1/2 pound salad greens, your choice
2/3 cups fresh raspberries
2 nectarines, sliced
1/4 cup goat cheese, crumbled
For garnish: fresh raspberries and orange slices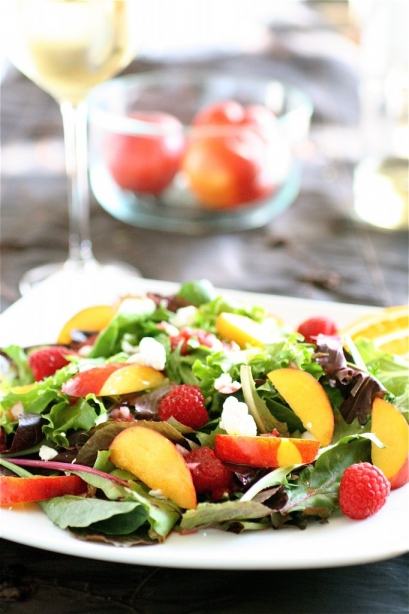 Instructions
1. For the vinaigrette: In a medium bowl, combine the shallot with the raspberry vinegar, orange zest, 1 and 1/2 tablespoons of the orange juice, and a pinch of salt.
2. Gradually whisk the olive oil into the vinegar mixture.
3. Season with salt and pepper, to taste.
4. In a small bowl, lightly mash the raspberries and then add them into the vinaigrette; set aside.
5. In another small bowl, place the sliced nectarines into the remaining orange juice and set aside for a few minutes.
6. For the salad: Just before serving, toss the salad greens lightly with the vinaigrette.  Add the nectarine slices, a sprinkle of goat cheese, and garnish with fresh raspberries and orange slices.  Enjoy.
Source:  Adapted from Fine Cooking.