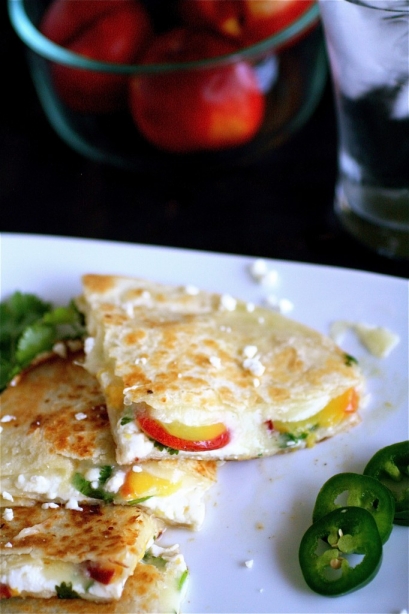 I can't help myself.  There's a whole bunch of awesomeness happening right now with summer produce.  The first bits of summer are popping into farmers' markets and the local grocery stores.  I'm pretty pumped.  Summer has to be one of my healthiest eating seasons.  I cannot wait to get some tomato plants going once I make this big move.
So I'm trying to sneak some of this freshness into every meal.  I have a hard time just eating straight fruit or straight salads unless I'm in the mood for it, so getting my 5-a-day can sometimes be a challenge.  But not with easy, weeknight recipes like this one.
Now, granted, it's not *the* healthiest weeknight meal because of the cheese.  But, instead of going with a traditional quesadilla with salsa and sour cream, this one had a sweet yet super fresh flavor that didn't need any condiments.  It was a refreshing switch from my usual, and I like that.
Use either peaches or nectarines (whatever looks the best) and feel free to add in any other fresh ingredients that you might have on hand.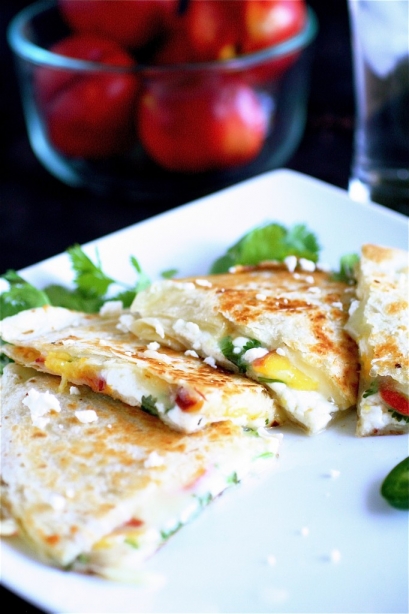 Summer Fruit Quesadillas
Servings: 2
Ingredients
2 (9-inch) flour tortillas
Cooking spray, for spraying the non-stick pan
1 cup Monterey Jack cheese, shredded or sliced thinly
1/2 cup Queso Fresco, crumbled
2 nectarines, halved, pitted, and very thinly sliced (I left the skins on, but feel free to peel them if you want)
1 tablespoon cilantro, chopped
1 jalepeño pepper, seeded and thinly sliced into rounds (I only used half of one because I didn't want to go overboard)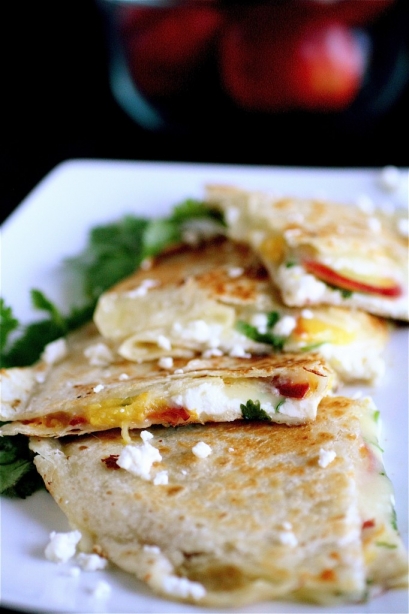 Instructions
1. Lightly spray a non-stick frying pan with cooking spray over medium heat.
2. Place one tortilla, face down, in the pan and lightly sprinkle the cheeses, fruit, cilantro, and jalepeno on top of each other.
3. Place another tortilla on top of the mixture, and let cook, until the original side is lightly golden, about 2-3 minutes.
4. Carefully flip the quesadilla over in the pan and let the opposite side cook until lightly golden, about 2-3 minutes.
5. Repeat with the second quesadilla, re-spraying the pan if necessary.  Serve immediately.

Source: Adapted from Sur la Table.