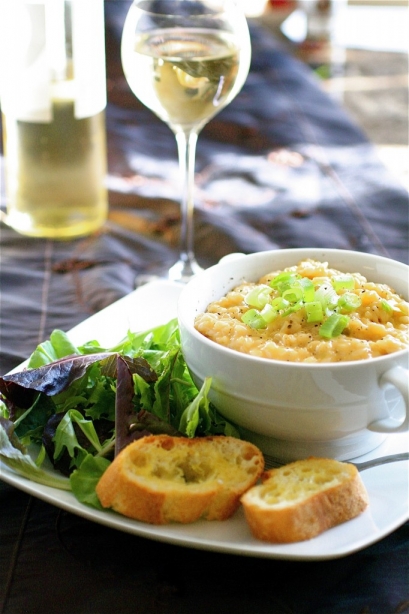 I know, I know, I know. It's summertime, and we should all be eating salads.  Nothing heavy.  Nothing creamy.  Nothing that's not bathing-suit (and lots of sunscreen) friendly.
But, I'm breaking the rules.  Whatever.  I wanted cheese, something savory, and something that would go down nicely with a glass of wine and a side salad (there, got a salad in.)
Enter this cheese risotto.  I had a whole bunch of Arborio rice left in my pantry, and, given that I live in an area of the country with amazing creameries and fresh cheese, I figured I could blend the two together to get a nice evening meal.  And it hit the spot.
So, it's a risotto, and while I am in no way a risotto afficianado, it came together rather nicely-even with a slightly-longer-than-I-want-to-spend-on-a-weeknight kind of meal.  I experimented with leftovers (post to follow) and hit upon a total winner.
So, if you're down for some good-hearted comfort food mixed with a little bit of love (it's because of all that stirring…), this meal (summer or not) is for you.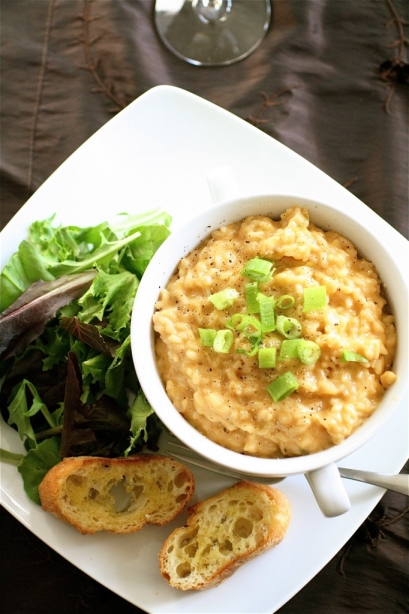 Cheddar Cheese Risotto
Servings: 4
Ingredients
1 tablespoon unsalted butter
1 tablespoon vegetable oil
2 scallions, chopped, plus more for garnish
1 and 1/2 cups Arborio rice
1/2 cup white wine
1/2 teaspoon Dijon mustard
4 cups hot vegetable stock
1 cup cheddar cheese, shredded
Instructions
1. In a deep sauté pan over medium-low heat, melt the butter and oil.
2. Add the scallions and cook, stirring frequently until softened, about 2-5 minutes or so.
3. Add the rice and cook for one minute.
4. Increase the heat to medium-high, and add the white wine and mustard, stirring until completely absorbed.
5. Stirring constantly, add the hot vegetable stock, one cup at a time, adding each cup after the previous is completely absorbed.  Cook the rice until it is al dente (mine took about 20 minutes of old-fashioned stirring)
6. Add the cheese and stir gently until completely melted.
7. Divide the risotto evenly among your serving bowls and top with scallions, if desired.
Source:  Barely adapted from Hostess with the Mostess.