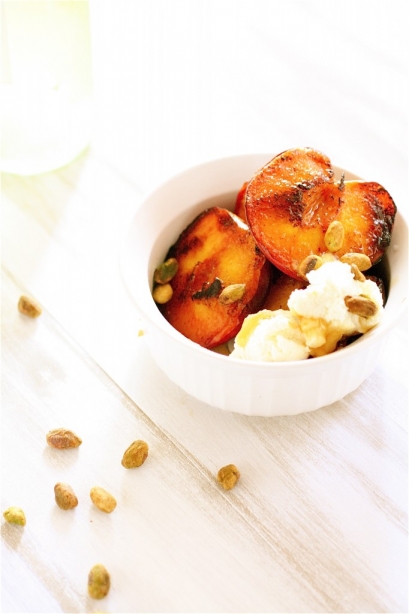 I'm back.  Over a thousand miles and several nights of sleep later (you know, the kind where you wake up and don't know exactly where you are because you are in a new place….), I'm back to some sort of sanity and routine. I've already met so many awesome and fun people.  What a welcome to a great city.  I love this town.
I'm starting this new chapter in my life and couldn't be happier: new job, new place, new faces and places.  I am actually writing this on the balcony of my new place which overlooks the Milwaukee River-there are boats and seagulls and all sorts of new things to entertain me.  (Sidenote:  I have to say that I love the fact that people on boats always wave to one another.  It's pretty cool.)  The new kitchen is amazing-I wouldn't be honest with you if I didn't admit to have done at least 15 happy dances in it because I love everything about it.  I'm easily adjusting to having counter space (finally!) and cabinet space.  There's something completely calming about having a semi-organized kitchen.  I'm not used to this.
I'm going to ease back into blogging because right now, the new job is my top priority.  I may not be posting with the same regularity as I have in the past, but I'm going to continue taking it one step at a time.  I've missed you guys.  (And, for those of you who have asked about Scout: she's adjusting from being a hiking-country-dog to a savvy and sophisticated-city-dog.  She's slowly learning that buses sometimes make loud sounds and that she doesn't have to stop and stare at every real-life pigeon there is in this town.  Her favorite places are the fountain at the art museum and on her black blanket on my balcony.  She's suddenly vying for the title of Most Popular Dog in Milwaukee, it seems.)
And, as for the recipes, I am going to continue trying to keep it clean and healthy (for the most part)….but I also want to dive into a lot of new cuisines (which may or may not be all that healthy.)  Bear with me.
This first one is a clean one.  I have a Milwaukee-inspired one all ready to go, but, to be honest with you, I'm exhausted from unpacking/hanging pictures/enjoying this town (and True Blood comes on in just a little bit….), so I'll save that for a little later this week.  I took this from Sophie Dahl's new cookbook (my God, I am a little bit in love with this woman-her cookbooks and writing style are like a breath of fresh air.  And her recipes…I want to try every single one…and have coffee with her and be her best friend a little.  Is that bad?)
It's great to be back.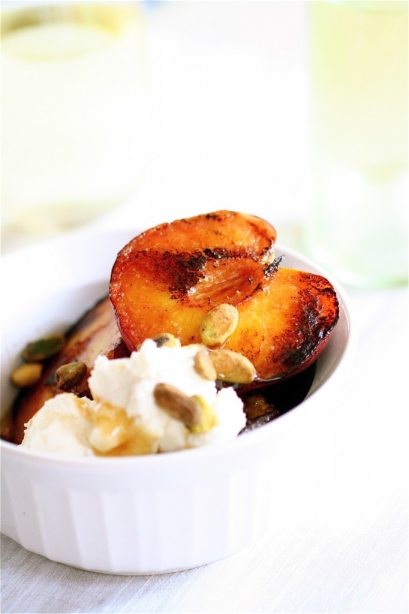 Grilled Peaches with Ricotta and Pistachios
Servings: 2
Ingredients
2 peaches, pitted and halved
1 tablespoon unsalted butter, at room temperature
1 tablespoon honey (or to your taste)
2 tablespoons ricotta cheese (0r mascarpone)
2-3 tablespoons pistachios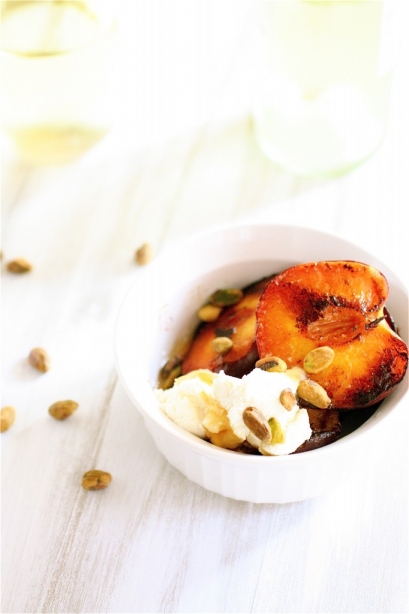 Instructions
1. Preheat a grill or grill pan over high heat.
2. Lightly coat the peaches with the butter and place, face down, on the grill pan.
3. Cook the peaches until juicy and soft, a minute or so. (watch them carefully, as grill pans/grills can have varying heats).
4. Transfer the peaches to serving plates and garnish with the ricotta, honey, and pistachios.  Serve immediately.
Source:  Directly from Very Fond of Food-A Year in Recipes by Sophie Dahl (aka my new most favorite cookbook).