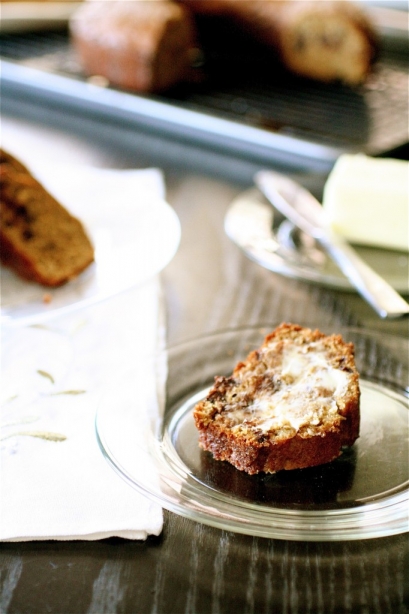 I have this guilt complex when it comes to buying bananas.  I always buy them with good intentions, honestly, feeling so determined that, yes, THIS TIME, I will eat the entire bunch. I even bought some almond butter to go along with them, as a special treat.  Because almond or peanut butter always makes everything better (especially bananas.)
But then, inevitably, by the end of the week, before there is a mass infiltration of fruit flies into my kitchen, I will realize that my good intentions have been a little lacking, as there are usually at least two or three ridiculously overripe bananas sitting on my counter top.
Then the inexplicable joy of homemade banana bread (the smell of it baking, the little bits of chocolate peppered throughout, the ease of mixing it all together without having to wait for any kind of yeast to rise….) comes into my consciousness like a holy beacon of  light.  Oh, yes, I TOTALLY meant to not use all those bananas.  For this delicious reason.
I tried a new recipe here, hoping to make the bread a *teensy* bit healthier (because, let's be honest: I will inevitably smother it in butter and/or honey and make it not so healthy…and also consume mass quantities of it.)  Holy smokes, people.  This version is insatiably wonderful.  Like Heidi, I opted to bake it in a tube pan (I would like to say it's because I'm totally creative and all that jazz, but I honestly couldn't remember where I had unpacked my loaf pan, so the tube pan was an easy access alternative.  It also looks pretty this way.)  As for the glaze, I thinned mine out quite a bit with a few tablespoons of water to make it all sorts of runny and subtly sweet.  If you like a thicker glaze, just omit any water.  If you have any kind of toasted nut, that would be a great addition, too.
I totally meant to not eat those bananas last week.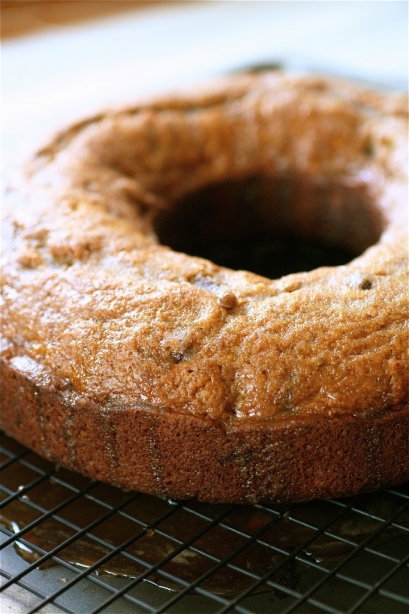 Lemony Olive Oil Banana Bread
Servings: 1 loaf
Ingredients
For the bread:
1 cup all-purpose flour
1 cup organic spelt flour (If you don't have this, just substitute whole wheat flour instead)
3/4 cup dark brown sugar
3/4 teaspoon baking soda
1/2 teaspoon kosher salt
1 cup chocolate chips (I used semisweet because that's what I had on hand-but use whatever kind you like)
1/3 cup extra-virgin olive oil
2 large eggs, lightly beaten
3 (very ripe, on purpose because you intentionally didn't eat them) bananas, mashed
1/4 cup plain Greek yogurt (whatever fat content you prefer-I swear by 2%.)
1 teaspoon lemon zest
1 teaspoon vanilla extract
For the glaze:
1/2 cup dark brown sugar
1/2 cup confectioners' sugar
4 teaspoons fresh lemon juice
1-2 (or more) tablespoons water, to thin out the glaze if you prefer it thinner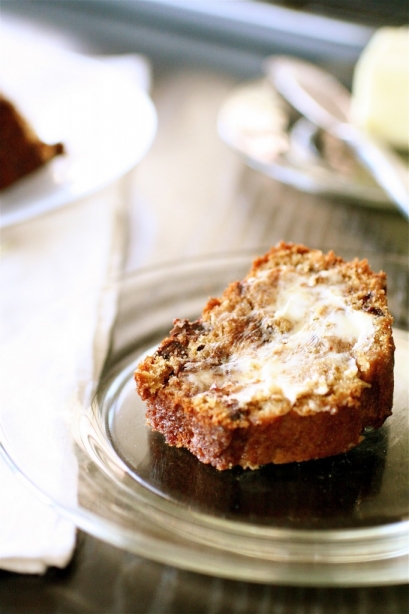 Instructions
1. For the bread:  Preheat the oven to 325 degrees and lightly spray (or grease) your loaf pan/tube pan.
2. In a large bowl, whisk together the flours, brown sugar, baking soda, and salt.  Add the chocolate chips and stir to combine.
3. In the bowl of your standing mixer fitted with the paddle attachment, combine the olive oil, eggs, bananas, yogurt, lemon zest, and vanilla extract.  Mix on medium-low speed until completely combined.
4. Reduce the mixer speed to low and slowly add the dry ingredients to the wet ingredients, mixing until just combined.
5. Pour the batter into the prepared pan and bake until lightly golden and a tester inserted into the center comes out clean, about 50 minutes.
6. Remove from the oven and let cool for 10 minutes before inverting onto a wire rack.  Let cool completely before glazing.
7. For the glaze:  In a medium bowl, whisk together the brown sugar, confectioners' sugar, lemon juice and water (if using), until smooth.
8. Lightly drizzle the glaze over the cooled cake and enjoy.
Source:  Slightly adapted from 101 Cookbooks, originally adapted from Cook This Now: 120 Easy and Delectable Dishes You Can't Wait to Make by Melissa Clark.