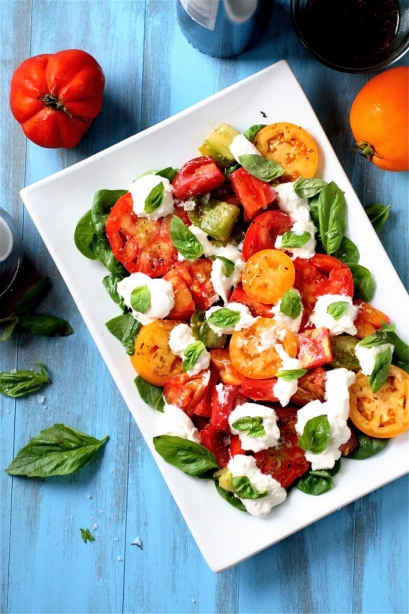 I've been eating a ridiculous amount of tomatoes recently.  Maybe it's the fact that I have yet to get some tomato plants on my balcony (is it too late for that?) or maybe it's because they look so wonderfully amazing at Whole Foods or at the outdoor markets-whatever the reason is, I'm going a tad bit overboard.  But I'm loving every minute of it.  Roasting them, throwing them in some scrambled eggs, Caprese salads out the wahzoo, whatever.  It's summer.  Come January, I will miss this.
I came across some fabulous heirloom tomatoes the other day.  I had to admire them.  All different shapes, sizes, and colors.  Perfect in their imperfection -especially the tiny ovoid green one with the bump on the side (my favorite one). Together, they looked like a rainbow   And,  I decided, they would be even more delicious with some fresh burrata.  (We all know my thing for cheese, especially good burrata.  If you can't find this, substitute some good mozzarella.)  Served with a nice glass of red wine, it made for a very pleasant evening meal on my balcony with a good book.  I heart summer.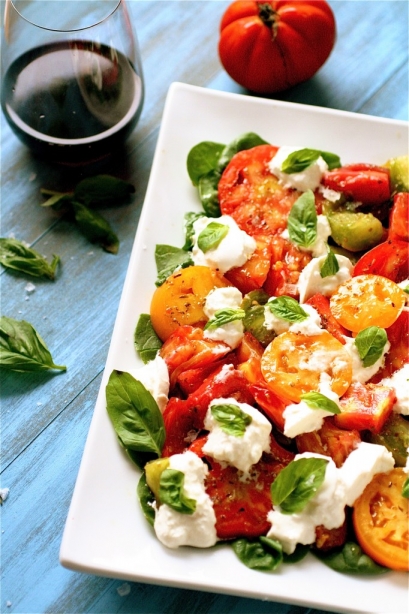 Heirloom Tomato and Burrata Salad
Servings: approximately 2-3 (depending on whether this is for a side or main course)
Ingredients
2-3 pounds heirloom tomatoes, sliced and chopped to your liking (I did a mixture of both)
2 tablespoons extra-virgin olive oil
1 tablespoon balsamic vinegar
1 teaspoon dried oregano (use fresh if you have it on hand….to taste)
1 teaspoon sea salt
Fresh spinach, a few handfuls
8 ounces fresh Burrata cheese, sliced and torn (as best as you can) into several bite-size pieces
Fresh basil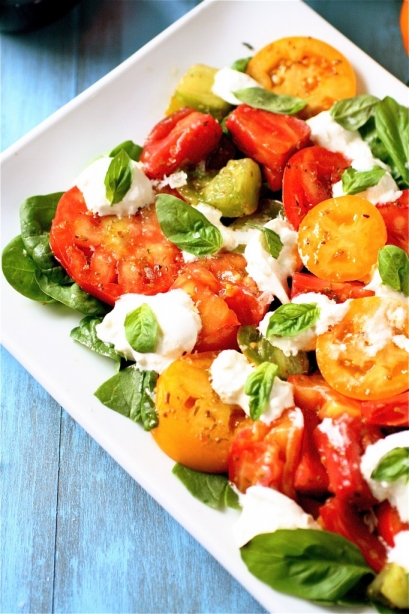 Instructions
1. In a large bowl, combine the tomatoes, olive oil, balsamic vinegar, oregano, and sea salt and toss lightly to coat.
2. Cover and let sit at room temperature for about 30-40 minutes, stirring occasionally.
3. Once you are ready to serve, layer the spinach onto a serving platter or individual plates.
4. Arrange the tomato mixture on top of the spinach and evenly distribute the burrata over the tomatoes.
5. Garnish with fresh basil and season with additional sea salt, if desired.  Grab a glass of wine, a good book, and enjoy.
Source:  A Curvy Carrot original.