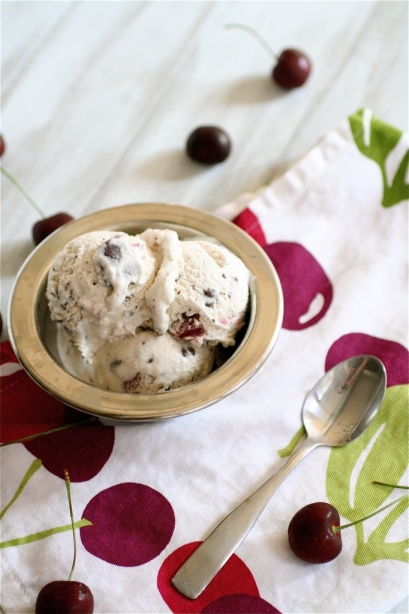 Before I left my job in New Hampshire, I had the opportunity to visit the Ben and Jerry's Factory in Waterbury, Vermont.  It had been on my list of must-do's when I accepted my fellowship out east, so I was glad to do it.
My little sister happened to be visiting for the weekend, so we made the road trip (complete with snow and ice) over to Waterbury to check out the place.  We had a blast.  The tour was fun, we got free samples, and we stocked up on all things related to ice cream.  One of my picks, of course, was the Ben and Jerry's Ice Cream and Dessert Book.
I go back and forth between which flavor is my favorite.  On my chocolate-craving days, it's, by far, New York Super Fudge Chunk.  On my more sane days in diet moderation, it's one of the sorbets or new Greek yogurt flavors.  But, on most days, it's Cherry Garcia, hands down.
This recipe is actually pretty simple, and considering cherries are in season right now, it's almost negligent to not make this.  I didn't change the recipe hardly at all (I did use chocolate chips because I forgot to pick up a Hershey Bar at the store-but feel free to stay true to the original recipe and use chocolate shavings from a plain dark chocolate bar), because, honestly, why would you?
Mmmm, homemade Cherry Garcia.  Just for you.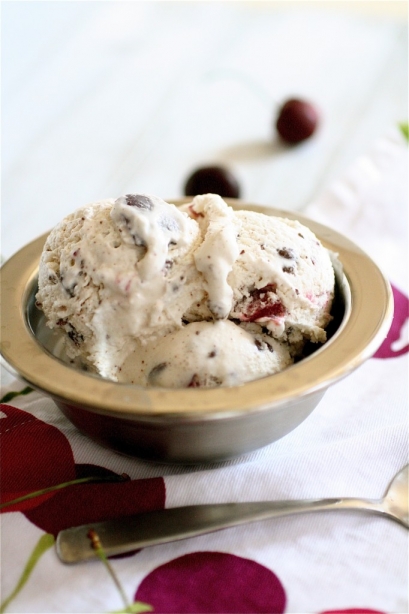 Cherry Garcia Ice Cream
Servings: 1 quart
Ingredients
1/4 cup chocolate chips (or shavings from a dark chocolate bar of your choice)
1/4 cup fresh cherries, halved and pitted
2 large eggs
3/4 cup sugar
2 cups heavy cream
1 cup milk (I used whole milk because that's what I had on hand)
Instructions
1. Place the chocolate chips and the prepared cherries in separate bowls; cover and refrigerate until ready to use.
2. In the bowl of your standing mixer fitted with the whisk attachment (Use your stand mixer if you are planning on using a KitchenAid ice cream maker attachment.  If you don't have one of these, just mix the ingredients in a large bowl.), whisk the eggs on medium speed until fluffy, about 1-2 minutes.
3. Very slowly, add the sugar, and continue whisking on medium speed until completely added, about 1 minute more.
4. Add the cream and milk and mix well.
5. Transfer the ingredients to your ice cream maker and freeze according to the manufactuer's instructions.
6. Right before the ice cream is done (I let my KitchenAid ice cream maker go about 18 minutes or so), add the chocolate and the cherries, and continue freezing until the ice cream is done.
7. Cover tightly and freeze immediately.
Source:  Directly from Ben and Jerry's Ice Cream and Dessert Book.