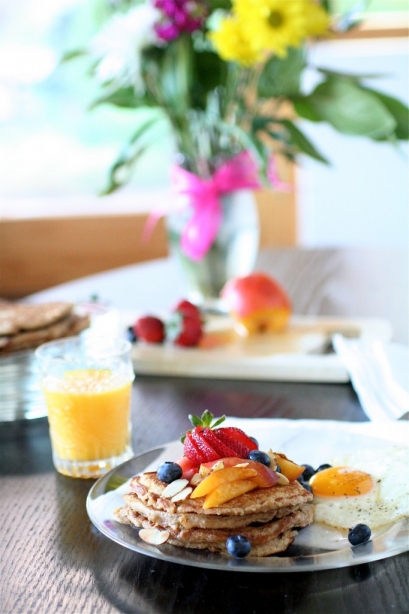 So I have a funny story for you.
I had bookmarked this amazing whole grain waffle recipe to make this weekend.  I got up, took Scout on our usual weekend seven mile trek, and the whole way (quadriceps burning), all I could think about was how awesome it was going to be to make some homemade, whole grain waffles topped with lots of fresh fruit when we got back home.
I couldn't exactly remember where I had stashed the waffle maker when I was unpacking, but I quickly found it and carried it into the kitchen, with a gigantic, hungry smile on my face.
And then the waffle maker promptly fell out of the bottom of the box, onto the wood floor, and promptly shattered the plastic brackets, handle, and trim into multiple, tiny pieces all over the place.  Tragic, yes.
I don't make waffles all that often, so I won't take it as a huge loss. In fact, I will probably wait to get a new one since I make them so infrequently. But, what is a girl to do in that situation?  I just laughed, swept up the pieces, and quickly headed over to 101cookbooks, where I knew I would probably find a whole grain pancake recipe to build off of, instead.
And, so, there were pancakes for breakfast.  Enough for two people, hot, steamy, full of flavor, and ready in about 20 minutes.  It was a good morning.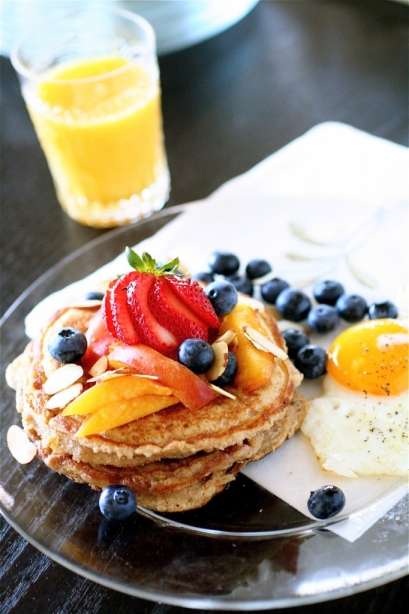 Whole Grain Pancakes
Servings: enough for 2 people
Ingredients
1 cup organic spelt flour (if you don't have this, substitute whole wheat flour instead)
1/2 teaspoon baking powder
1/4 teaspoon baking soda
1/4 cup sugar
1/4 teaspoon fine-grain sea salt
1 cup buttermilk
1 egg, lightly beaten
1 tablespoon unsalted butter, melted
For topping:  fresh fruit (I used a mixture of blueberries, strawberries, and ripe nectarines) and toasted sliced almonds
Instructions
1. In a large bowl, whisk together the flour, baking powder, baking soda, sugar, and salt.
2. Add the buttermilk, beaten egg, and melted butter, whisking just until combined.
3. In a non-stick frying pan or griddle (or a pan coated with cooking spray or melted butter) over medium heat, pour about 1/3 cup of the batter and cook until bubbles form in the center of each pancake, about 1-2 minutes.
4. Using a rubber spatula, carefully flip each pancake, and cook until completely cooked through, about 30 seconds-1 minute.
5. Top with fresh fruit/toasted almonds and serve immediately.
Source: Slightly adapted from 101cookbooks.