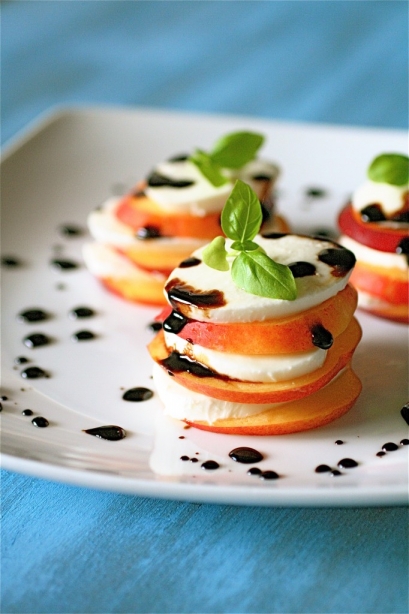 This is, by far, my most favorite discovery of the summer. (And, I also want to wish a very HAPPY BIRTHDAY to my mom, Georgia!!!)
Originally, I found inspiration for this recipe, yet again, through Pinterest. But since I was reluctant to make a trip to the store, I decided to use ingredients I already had on hand.
The downside that suddenly turned into an upside? I ran out of balsamic, so I had to improvise.  The good news?  It was incredible.
The balsamic honey reduction is ingenious.  Already with a reduction, you're making a sweet syrupy dressing.  Add some honey and you've got yourself a thick and gooey garnish that brings out the sweetness of the nectarines and balances well with the creaminess of the mozzarella.  A little goes a long way, as I found, so it didn't really matter that I ran out of balsamic. And, as for the basil, I found that I only needed a little bit.  This wasn't a salad, ladies and gentlemen.  It was a dessert for lunch.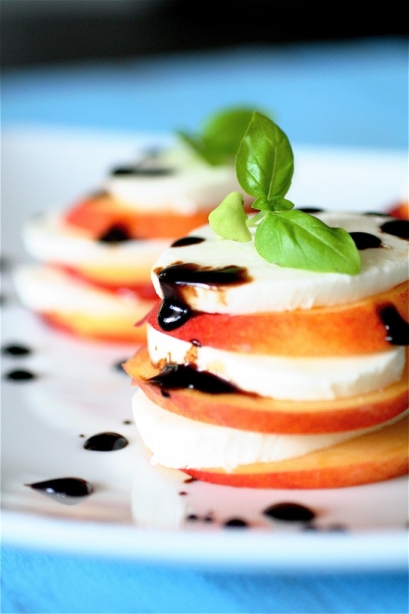 Nectarine Caprese with Honey Balsamic Reduction
Servings: 2
Ingredients
For the balsamic reduction:
1/4 cup balsamic vinegar
1 tablespoon honey
For the salad:
2-3 ripe nectarines, sliced
4 ounces fresh mozzarella, sliced
Fresh basil, for garnish
Sea salt, to taste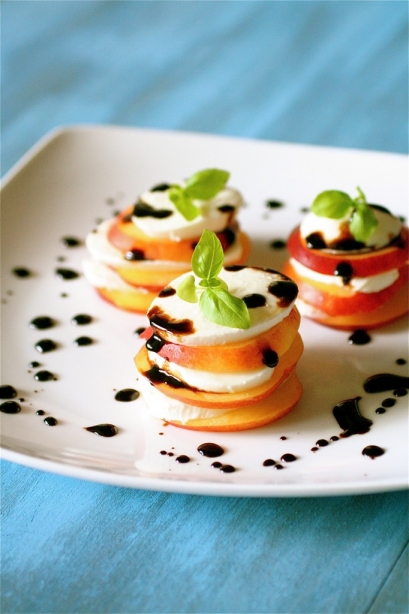 Instructions
1. For the balsamic reduction: In a small saucepan over medium heat, whisk together the balsamic vinegar and the honey until combined.
2. Bring the mixture to a boil, decrease the heat to low, and simmer, stirring occasionally, until the mixture is reduced by about 50% (it took mine only a minute or so once it boiled, so watch it carefully-it should thicken up.)
3. Carefully stack the nectarines and mozzarella and lightly drizzle with the balsamic reduction.  Garnish with basil.
4. Sprinkle with sea salt, to taste.  Enjoy.
Source: Adapted from Café Zupas.