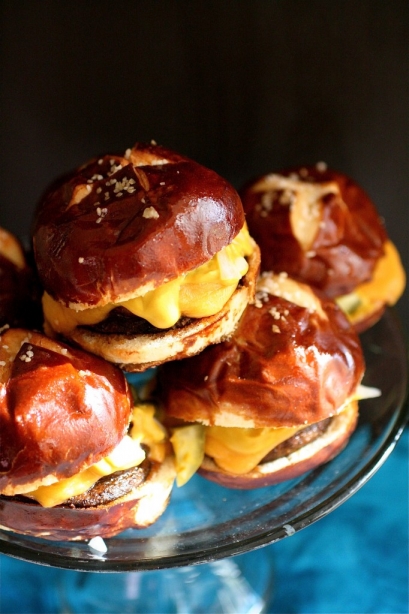 Want another slider recipe? Yeah, I know, I know.  I'm posting two sliders back to back, but it's Labor Day Weekend, and I figured another vegetarian (and this one is vegan-friendly) recipe might be helpful for you when planning your weekend party-going festivities.
This one is super simple.  And definitely grill-friendly.  A simple olive oil marinade (I went with the basics here, but you can adjust the seasoning of the marinade to your liking.)  I added a smoked paprika because this seems to give the mushrooms a little bit more of that "meaty" flavor, but you could any spice combination that you want.  As far as toppings go, I modeled the burgers after one of those big fast food chains:  a little chopped onion/dill pickle relish, yellow mustard, and a nice generous helping of ooey-gooey-melty American cheese. But, the possibilities here are endless. Served between a pretzel roll, these won't last long.
Hope you all have a great Labor Day Weekend!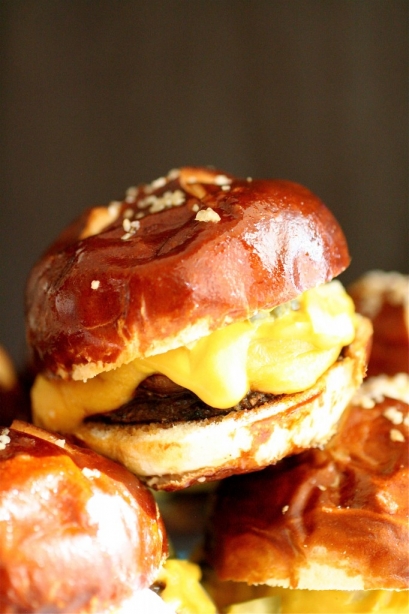 Portobello Sliders
Servings: about 8-9 sliders
Ingredients
8 ounces portobello mushooms (I went for a container that had mushroom caps about the size of the palm of my hand-there were about 8-9 caps in the container.  They will cook down a bit, so pick a size that you prefer.), cleaned and gills removed
1/4 cup extra-virgin olive oil
1/2 teaspoon salt
1/2 teaspoon pepper
1/2 teaspoon smoked paprika
Pretzel rolls, lightly toasted
For the toppings:  cheese, mustard, chopped dill pickles, onions (your choice!)
Instructions
1. In a small bowl, whisk together the olive oil, salt, pepper, and smoked paprika until combined.
2. Place the mushroom caps on a rimmed baking sheet.
3. Using a silicone brush, gently and generously brush the marinade onto the tops of the mushrooms, turn them over, and brush the undersides of the mushrooms.  Let sit at room temperature for about 10-15 minutes.
4. Meanwhile, preheat your grill or grill pan.
5. Place the mushrooms, gill side up, on the grill or grill pan and cook until softened, about 3-4 minutes.
6. Flip the mushrooms over, gill side down, and cook for another 1-2 minutes.
7. If using cheese, add the cheese to the tops of the mushrooms at this point, and continue cooking for another 1-2 minutes, until the mushrooms are cooked through and the cheese is melted.
8. Assemble the burgers as desired.
Source:  A Curvy Carrot original.