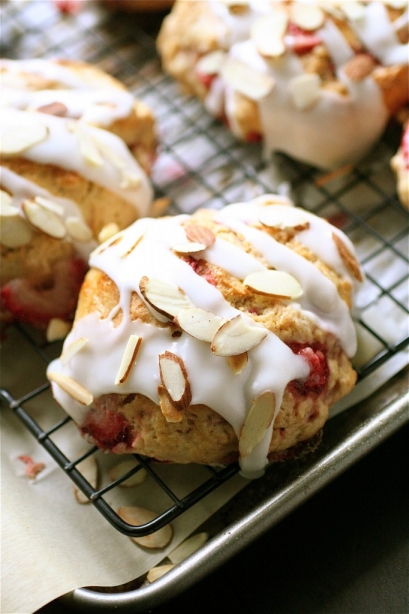 I'm not a breakfast carbohydrate kind of person.  Maybe we've discussed this before.  I like my coffee either black or with cream in the mornings, thank you very much.  No fancy muffins or biscuits.  Until now….
I had a surplus of strawberries about a month ago (and then, I conveniently forgot to post this recipe, so hopefully you still have access to fresh strawberries….ooops.), and I didn't know what to do with them.  I had run out of coffee beans the day before, so I stopped on my way to work to pick up a *giant* heavily-caffeinated regular coffee, and, on a whim, I decided to also pick up a scone to go along with it.  Call it a momentary lapse of sanity on my end, but, I'm glad I went with it.  That day?  Awesome breakfast in my office.
So, to use up some of those strawberries (and the buttermilk that I always seem to have….which I hardly use…which then also creates a vicious cycle of trying to find ways to use up the buttermilk….), I decided to make a batch of these scones to try out for breakfast myself.  A side note here:  these also freeze nicely.  I froze a whole bunch and then would take one out at a time (I either let it thaw, covered, in the fridge overnight, or I would quickly defrost it in a microwave when I got to work.)  Oh, holy yum.
Strawberry Almond Scones
Servings: about 10-12 scones
Ingredients
For the scones:
1 and 1/2 cups all-purpose flour
1 and 1/2 cups whole wheat pastry flour
1/4 cup plus 2 tablespoons granulated sugar
1 tablespoon baking powder
1/2 teaspoon baking soda
1/2 teaspoon salt
8 tablespoons (1 stick) unsalted butter, cold, cut into 1-tablespoon pieces
1 and 1/4 cup buttermilk, plus more for brushing the tops of the scones
1 and 1/2 cups strawberries, sliced
2 tablespoons granulated sugar, for dusting the tops of the scones
For the buttermilk glaze and topping:
2 cups powdered sugar
3 tablespoons buttermilk
1/2 teaspoon almond extract
Pinch sea salt
1/2 cup sliced almonds, toasted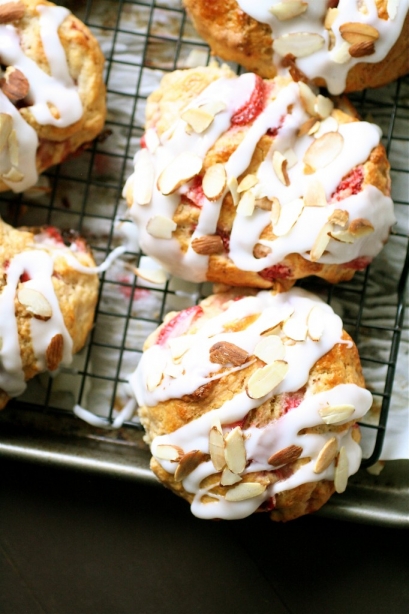 Instructions
1. For the scones: Preheat the oven to 400 degrees.
2.  Line two baking sheets with parchment paper; set aside.
3. In a large bowl (I actually used my large food processor here-it made it a lot easier), combine the flours, sugar, baking powder, baking soda, and salt.  Mix until combined.
4. Add the butter, one piece at a time, mixing well after each addition.  If you are using a food processor, pulse until the mixture resembles coarse sand.  If you are not using a food processor, use a pastry blender or your fingers to crumble the butter.
5. Add the buttermilk and the sliced strawberries, mixing until well combined.
6. Gently scoop out about 1/4-cup portions of the dough onto the prepared baking sheets and slightly flatten each with your fingers.
7. Using a silicone or pastry brush, gently brush the top of each scone with buttermilk.  Lightly sprinkle each scone with the 2 tablespoons granulated sugar.
8. Bake the scones until lightly golden around the edges, about 30-35 minutes, rotating and switching the baking sheets halfway through the baking time.
9. Let cool for about 30 minutes before glazing. (In the meantime, make your glaze.)
10. For the glaze:  In a medium bowl, whisk together the powdered sugar, buttermilk, almond extract, and the pinch of salt.  Let sit at room temperature until you are ready to glaze the scones.
11. Once slightly cooled, carefully drizzle the glaze over the scones (I found it helpful to put the cooling rack that the scones were on directly over my rimmed baking sheet while glazing-super easy clean-up!).  Top each scone with a small handful of toasted almond slices.

Source: Food and Wine.