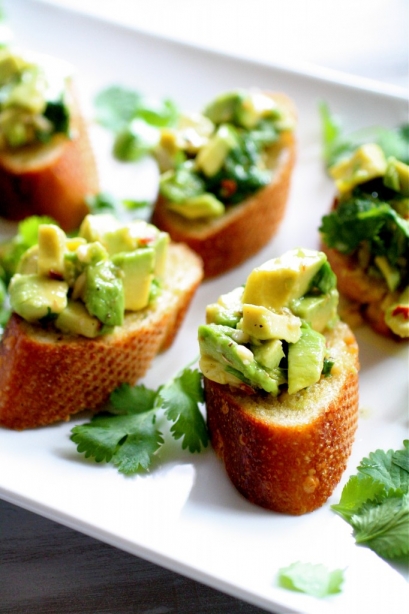 I picked up a copy of the Readers' Top-Rated Recipes of Vegetarian Times a couple of weeks ago at Whole Foods.  It was an impromptu, last-minute-waiting-in-the-aisle splurge.  I thumbed through it pretty quickly, making sure that there was at least three different recipes that I would be willing to try, and these little guys just happened to be on the cover.  Needless to say, this recipe was the one that piqued my interest the most, so I knew I had to try it.
Fast forward a few days later to a beautiful late summer evening on my balcony, overlooking the water, with a glass of chilled white wine, and I picked up the magazine to fully delve into it (heaven?  Is heaven just a little bit like this?  Well, to me, it is.).  I dog-eared pretty much every page in the thing.  If you can still get your hands on a copy of the issue, please try.  There are a ton of awesome vegetarian recipes in this issue-but don't worry, I've got plans to try many of them and post them here in the meantime.
Since avocados are super plentiful right now for me, I knew I wanted to try this recipe.  An easy, heart-healthy appetizer that seemed to be an interesting diversion from the usual tomato/beans/cheese/sour cream pairings with avocado to a Latin-inspired tangy twist.  I was extremely (and pleasantly) surprised.  The lemon and red wine vinegar pack a punch with the creaminess of the avocado, and when paired with a sweet, multigrain baguette, the flavors really compliment one another.  The other good news?  This is a super simple crowd-friendly appetizer that takes about 10 minutes to throw together. While I was toasting my baguette slices in the oven (I lightly brushed them with extra-virgin olive oil and sprinkled them with flaky sea salt and toasted them at 250 degrees for about 10-12 minutes or so….), I had the whole bruschetta ready to go.  I omitted parsley (the original recipe calls for a 1/4 cup), but I'm not a fan, so feel free to add it in with the cilantro if you are.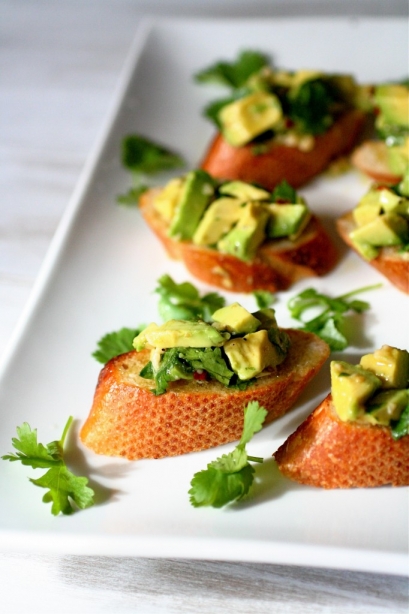 Avocado Chimichurri Bruschetta
Servings: serves 4-6 people as an appetizer
Ingredients
2 tablespoons fresh lemon juice
2 tablespoons red wine vinegar
3 garlic gloves, minced
1 teaspoon sea salt
1/2 teaspoon red pepper flakes
1/2 teaspoon dried oregano
Black pepper, to taste
1/4 cup extra-virgin olive oil
1/4 cup cilantro, chopped coarsely
2 avocados, pitted, peeled, and cubed
6 (or however many you want) 1/2-inch thick slices whole grain baguette, toasted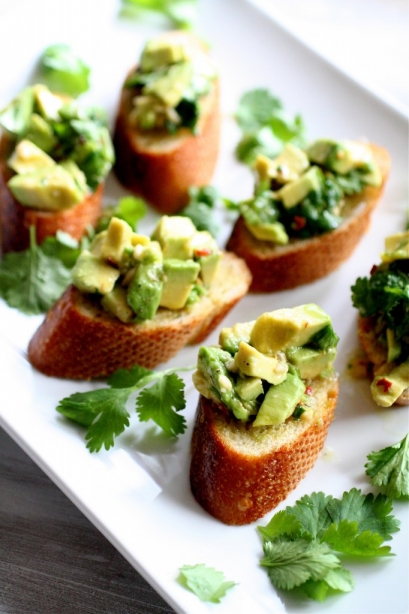 Instructions
1. In a medium bowl, whisk together the lemon juice, red wine vinegar, garlic, salt, red pepper flakes, oregano, and black pepper, mixing well.
2. Very slowly, add the olive oil, whisking constantly, until well-emulsified.
3. Stir in the cilantro.
4.Very carefully, fold in the avocado cubes, tossing to thoroughly coat with the olive oil mixture.
5. Spoon onto the toasted baguette slices and sprinkle with additional sea salt, if desired.  Serve immediately.

Source:  Slightly adapted from Vegetarian Times: Readers' Top-Rated Recipes (special edition issue).