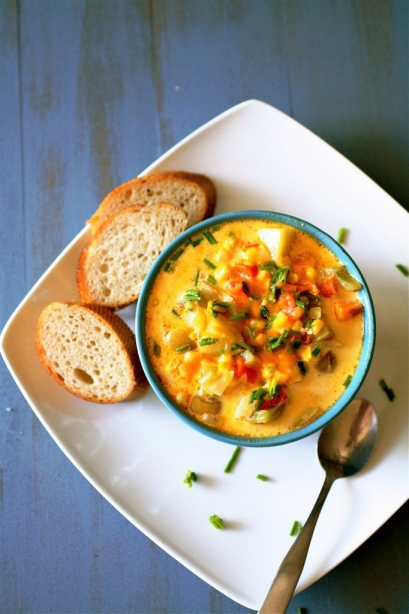 I love that I am posting a cheesy soup right after a macaroni and cheese recipe.  Are you sensing a theme here?  I think it's the swift transition into sweatshirt weather that has inspired this.  Or the notion that not every chowder has to have bacon in it. What can I say except….
…this recipe rocks.
I was able to score some (very) last minute fresh corn the other day and desperately wanted to use it in this soup.  You can also substitute frozen corn in as well.  The combination of bell pepper, sweet potato, carrots, and corn make this dish fantastically tasty-every bite is different, it seems.  I loved the variety of veggies here (also, I loved the cheese….).  I froze up a big batch of it, and it was easily reheated (and just as good) the second time around for a busy weeknight meal.  I imagine that if you wanted to make a lighter version of this, you could substitute in skim milk and low-fat cheese (that's my experiment for next time…)
P.S. I didn't miss the bacon.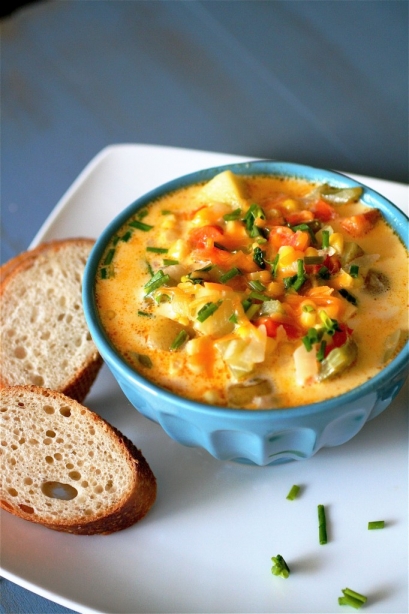 Cheesy Corn Chowder
Servings: approximately 12
Ingredients
1-2 tablespoons extra-virgin olive oil
1 large yellow onion, chopped
2 large carrots, chopped
3 celery ribs, chopped
1 red bell pepper, chopped
1 pound Yukon gold potatoes, peeled and cut into 1/4-inch dice
1 large sweet potato, peeled and cut into 1/4-inch dice
4 cups vegetable broth
4 cups water
3 cups fresh corn kernels (cut from about 4 ears) or 1 1/2 pounds (24 ounces) frozen corn kernels (not thawed)
2 cups heavy cream
8 ounces sharp Cheddar, grated (3 cups)
Salt and pepper, to taste
Finely chopped fresh chives or scallions (optional)
1. In a heavy saucepan over medium heat, heat the olive oil until shimmering.
2. Add the onion, carrots, celery, and bell pepper to the saucepan and cook, stirring, until onion is softened, about 10 minutes or so.
3. Add both kinds of potatoes, broth, and water, and simmer, covered, until potatoes are just tender, about 15 minutes.
4. Add the corn and cream and simmer, uncovered, for about 10 minutes.
5. Remove the saucepan from the heat, and stir in the cheese until melted.
6. Season soup with salt and pepper, to taste. Garnish with fresh chives or scallions, if desired.
Source:  Adapted from Gourmet Live, via Epicurious.