This is ingenious, I tell you.  I initially got this idea from The Faux Martha via Pinterest, where I saw baked oatmeal in a muffin-type, portable form.  Perfect for an on-the-go breakfast, which, if you are like me, is usually the case.
The beauty of this idea?  You can turn any type of your favorite baked oatmeal into portable form.  Who would've thought?  (at least not me.)  So, I've "spiced" things up a bit here and went for one of my favorites, a baked pumpkin spice version, because it has suddenly become October.
I've been taking these little guys with me every morning into work, and my honest opinion is that they are great both warmed up and cold (think of it like a muffin).  If you prefer it warm, just reheat it in the microwave for a little bit.  I loved the addition of a few cranberries and walnuts (you know, for those omega-3's) for a little added sweetness (I decreased the original amount of sugar here and may even decrease it a little more for the next time) and crunch.
Enjoy.  And, Happy October.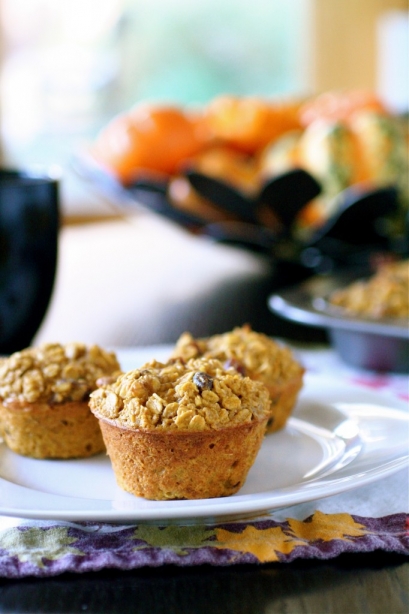 Baked Pumpkin Spice Oatmeal….To Go.
Servings: 12
Ingredients
2 tablespoons unsalted butter, melted
1 cup pumpkin puree
1/4 cup sugar
2 cups skim milk
2 eggs, lightly beaten
3 cups rolled oats
1 and 1/2 teaspoons baking powder
Pinch sea salt
1 teaspoon cinnamon
1/4 teaspoon ginger
1/8 teaspoon ground cloves
1/2 cup dried cranberries
1/2 cup walnuts, chopped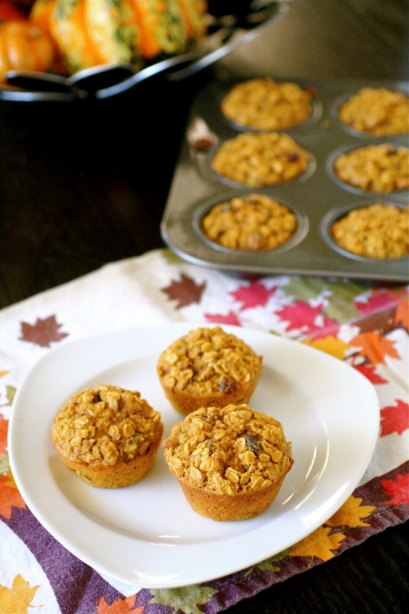 Instructions
1. Preheat the oven to 350 degrees.
2. Spray a cupcake pan with cooking spray; set aside.
3. In a 2-cup measuring cup, soak the cranberries in about 1 cup hot water.  Let sit while you prepare the rest of the ingredients.
3. In the bowl of your standing mixer fitted with the paddle attachment (or in a large bowl, if you are doing this manually), combine the melted butter, pumpkin puree, sugar, skim milk, and eggs, mixing on medium speed until smooth.
4. With the mixer running on low speed, slowly add the rolled oats, baking powder, salt, cinnamon, ginger, and ground cloves, mixing well.
5. Drain the cranberries, and add them to the mixture.
6. Using a rubber spatula, gently fold in the chopped walnuts until thoroughly incorporated.
7. Evenly dividing the batter, spoon the mixture into your prepared cupcake pan.
8. Bake until lightly golden and the "muffins" are springy, about 30 minutes.
Source:  Adapted from Yummly.  Inspired by The Faux Martha.