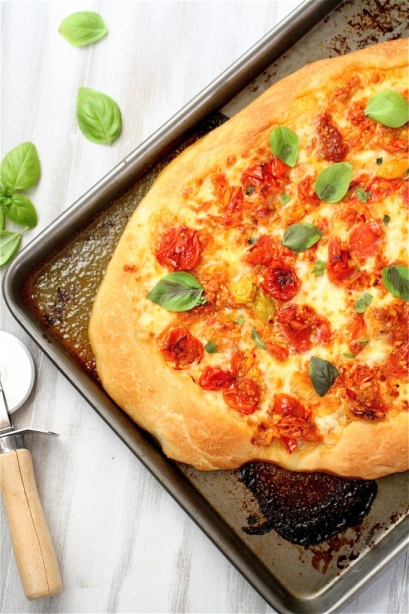 You'll have to forgive me, please.
While everyone else is posting their umpteenth pumpkin recipe and relishing the cool, crisp days of fall, I realized I simply forgot to post this one from the last few days of summer.  Somewhere, someone has to have little cherry tomatoes that can be used for this pizza.  And, if not, bookmark this one for when these little guys are back in season and/or you are craving a little dose of sunny summer days.
Meet some heirloom cherry tomatoes from the market.  Aren't they purdy?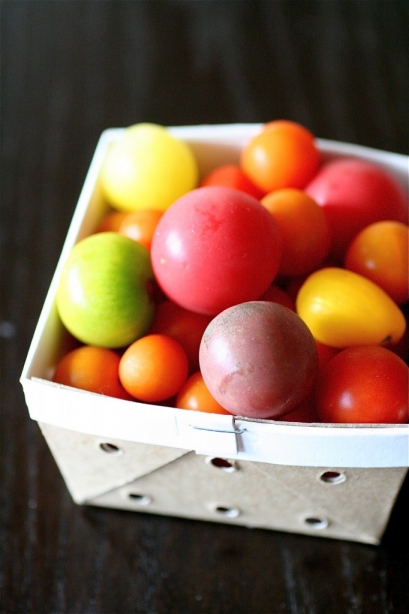 They are even prettier on this pizza.
Let's start with the dough. You can use a pre-made dough here, or this one.
Get a sauté pan super hot with oil. Throw in the cherry tomatoes.  Hear them hiss and crackle and burst open after a few minutes (this is also the moment where you may or may not feel like a bona fide chef in your own kitchen). Mix them with some spices, put some cheese on the dough, spread the sauce over it, and bake.  Voilá!  Dinner is served.  (It's a pretty fantastic dinner, especially on a weeknight with a good Real Housewives on 😉 ).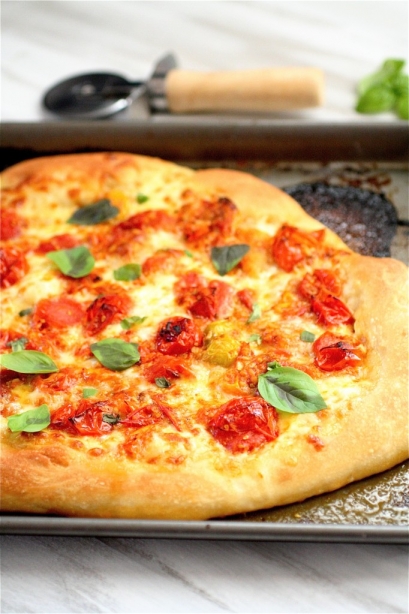 Heirloom Cherry Tomato Pizza Margherita
Servings: 1 pizza
Ingredients
1 pound pizza dough (ready-made or homemade)
1 pint (2 cups) heirloom cherry tomatoes
1 tablespoon extra virgin olive oil
Salt/pepper, to taste
2-3 garlic cloves (to taste), minced
1/4 teaspoon crushed red pepper flakes (or more, if desired)
One 8-ounce ball fresh mozzarella cheese, sliced
Fresh basil, for garnish

Instructions
1. Preheat the oven to 425 degrees.
2. Heat a sauté pan over high heat for about 2 minutes.
3. Add the olive oil, then carefully add the tomatoes.  Sprinkle the tomatoes with salt and pepper, if desired.
4. Sauté the tomatoes until slightly charred, stirring occasionally and gently breaking them open.  This will take about 5 minutes or so.
5. Remove the pan from the heat and place the tomatoes in a large bowl.
6. Add the garlic and the red pepper flakes, mixing well and crushing any remaining intact tomatoes.  Season with salt and pepper.
7. Roll the dough out (if using homemade) to about 1/2-inch thickness and place on a rimmed baking sheet (or pizza stone).
8. Evenly spread the mozzarella out on top of the dough.
9. Carefully spoon out the tomato mixture over the cheese (no need to spread it out, unless you want to).
10. Bake the pizza until lightly golden and slightly crisped, about 25-30 minutes.
11. Once baked, garnish with fresh basil.
Source: Slightly adapted from Bon Appétit, via Epicurious.