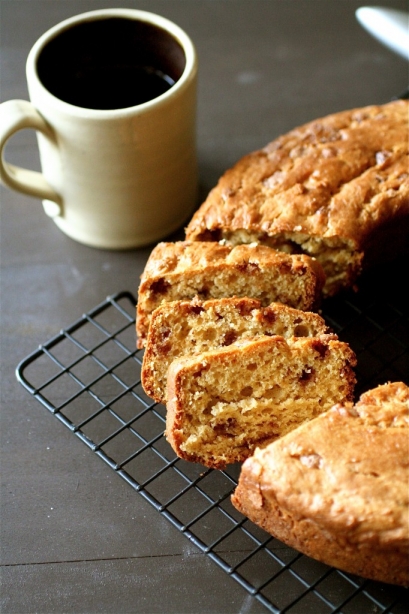 Holy smokes.  How did the near-end of October already get here?  I'll tell you how the past few weeks went for me:  work conference in Chicago (check), 32nd (and totally best ever) birthday (check), quick 4 day trip to Mexico with my mom and two sisters (sorry Dad and Ben-check), celebrated passing my final round (well, at least for the next several years) of board certifications (happy happy joy joy), and now I have a few moments to post a recipe I made over a month ago but still want to share with you in the hopes that it still qualifies as an autumn-ish dish.
It's delicious.  You can tweak this and make it healthier by substituting in some Greek yogurt if you want.   I thought about trying to use some applesauce in lieu of the butter here, but I didn't end up doing it (because I forgot to pick some applesauce up at the store), so if anyone out there has measuring equivalents or has tried it, please let me know.  I stuck to the original recipe from Williams-Sonoma instead-which was so addicting that I had to slice the bread in portions, cover it, and then literally hide it in the microwave so that I wouldn't see it and binge. It's really good with coffee or tea, FYI.
Speaking of coffee, check the blog in the next couple of days.  I'm going to be hosting an incredible giveaway, sponsored by Millstone Coffee. Like, I tried to take a picture of the box they sent me and couldn't fit all the goodies in the frame-it's that good, friends.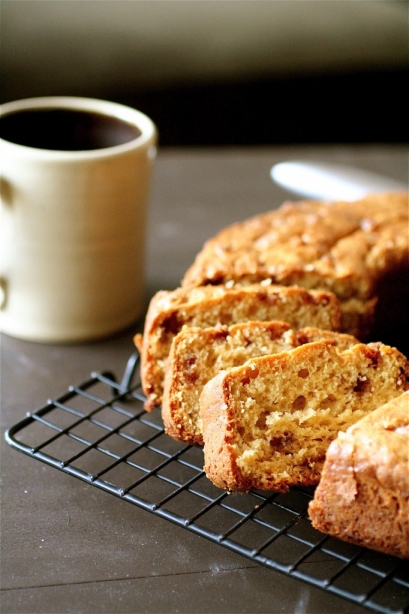 Sour Cream-Maple Bread
Servings: 1 loaf
Ingredients
1 and 3/4 cups all-purpose flour (you could try subbing in some whole wheat flour here, too)
2 teaspoons baking powder
1 teaspoon baking soda
1/2 teaspoon salt
8 tablespoons (1 stick) unsalted butter, at room temperature
3/4 cup pure maple syrup
1 cup sour cream
1 egg
1/2 cup chopped walnuts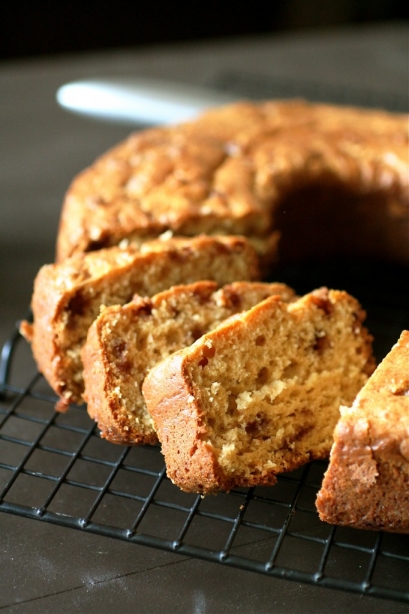 Instructions
1. Preheat the oven to 350 degrees.
2. Lightly spray a loaf pan (or tube pan) with cooking spray.
3. In a bowl, whisk together the flour, baking powder, baking soda, and salt.
4. In the bowl of your standing mixer fitted with the paddle attachment, beat the butter on medium speed until light and fluffy, about 2 minutes.
5. Reduce the speed to medium-low and add the maple syrup, mixing until thoroughly incorporated, scraping down the sides of the bowl as necessary.
6. Add the sour cream and the egg, mixing well, again, scraping down the bowl as necessary.
7. Add the walnuts.
8. Reduce the mixer speed to low and slowly add the flour mixture until just combined.
9. Pour the batter into the prepared pan and bake until a tester inserted into the center of the loaf comes out clean, about 50-60 minutes. Let cool.
Source:  Barely adapted from Williams-Sonoma.