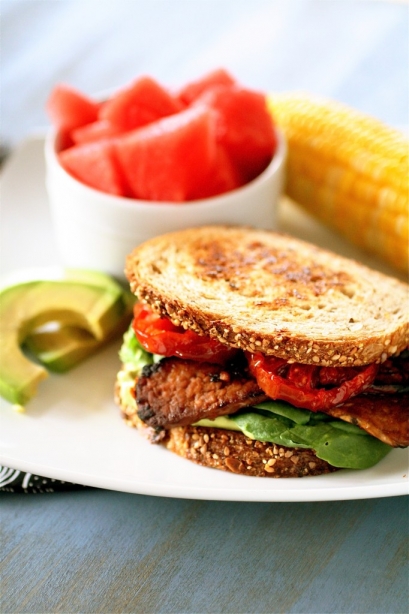 This is another one from the summer archives (don't mind the sides of corn and watermelon).  I'm clearing out a lot of space in the chance to get all the upcoming holiday posts ready.  But, this is a good one.
BLT's.  Oh, how I miss them.  At one point, BLT's were a solid staple in my diet….especially the one from Jimmy John's.  Oh, well.  And, to be honest with you, as I am not a huge fan of "fake meat", a BLT was something that I didn't think I could recreate with chance of even showing a little respect to the original.
But this recipe is the classiest and, dare I say, "sexiest", version of a BLT I have ever made.  Yes, it's a little bit of work.  Roasting tomatoes and marinating the tempeh (this is definitely a prep-ahead-of-time meal for a weeknight) isn't a quick thing (but it's oh so worth it), and, again, I have a lot of guilt posting this when getting your hands on some nice, fresh tomatoes may take some work.  And an avocado-mayo mash?  Well, ok, if I have to.  Skip the mayo and just keep the avocado mash if you want a skinnier version.  Top all of it onto some whole wheat crusty bread, and we're good to go.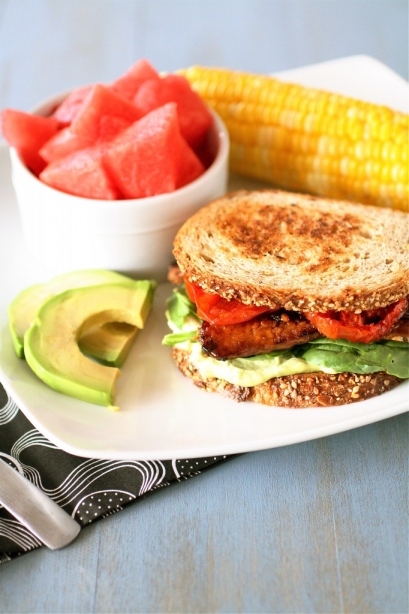 TLT's (Vegetarian BLT's)
Servings: about 4
Ingredients
For the marinade:
3 tablespoons olive oil
1/4 cup soy sauce
2 tablespoons balsamic vinegar
2 tablespoons brown sugar
1 teaspoon or so of Liquid Smoke, optional, to taste
3 tablespoons adobo sauce from a can of chipotle peppers
8 ounces tempeh (I bought a "smoky" version), cut in strips
For the sandwiches:
2-3 Roma tomatoes
1/4 cup olive oil
1 tablespoon brown sugar
Sea salt, just a pinch
1 avocado, mashed
1/4 cup mayonnaise, optional
Spinach
Whole wheat bread, toasted
Instructions
1. Preheat the oven to 350 degrees.
2. For the marinade: In a medium bowl, whisk together the 3 tablespoons of olive oil, soy sauce, balsamic vinegar, brown sugar, adobo sauce, and Liquid Smoke (if using).
3. Pour about one-third of the marinade into an 8×8″ baking dish and place the tempeh in a single layer over the sauce.
4. Pour the remaining marinade over the top of the tempeh, cover, and refrigerate for at least 2 hours, or overnight.
5. For the roasted tomatoes: Slice each tomato and arrange in a single layer in a baking dish.
6. In another medium bowl, whisk together the olive oil, brown sugar, and sea salt.  Pour this evenly over the tomatoes and lightly brush the tomatoes with a silicone brush to ensure that they are evenly covered by the oil mixture.
7. Bake for about 45 minutes or so, or until slightly shrunken.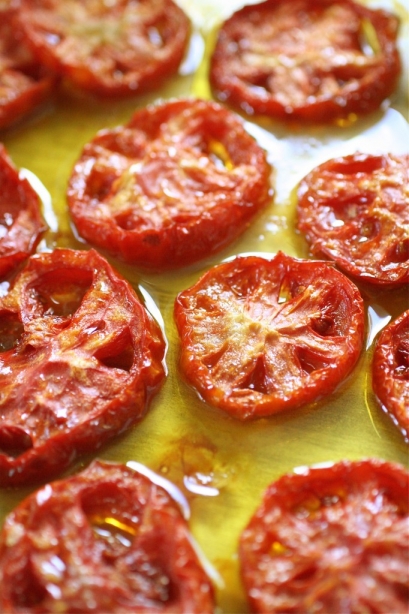 8. For the sandwiches: Once the tempeh is done marinating, heat a non-stick frying pan over medium heat.
9. Add the slices of tempeh (be gentle, mine were very fragile and a few broke), and cook each one for a few minutes on each side.
10. For the avocado-mayo:  Gently mix together the mashed avocado and the mayonnaise until as smooth as possible. (It will still be lumpy, and that's ok.)
11. To assemble the sandwiches:  Place a spoonful or two of the avocado-mayo on top of the toasted bread.  Top this with tempeh, spinach, and roasted tomatoes.  Enjoy.

Source:  Slightly adapted from 101cookbooks.