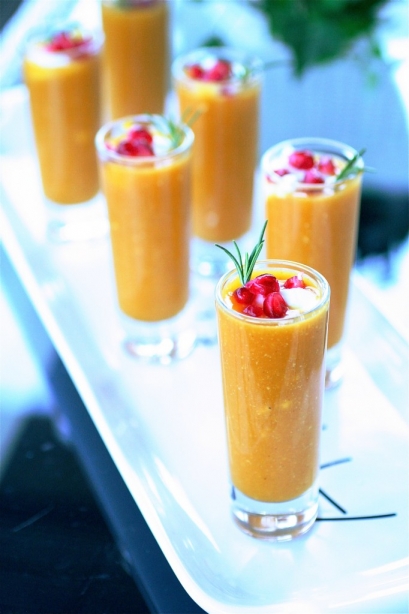 Yeah.  That's a long title.
This was a recipe that my mom chose, out of a Walgreen's diabetic cookbook (of all places, seriously) to try at our recent family Thanksgiving (celebrated early this year to coordinate with multiple families and work schedules).  And….this is what also happens when you realize the recipe calls for two butternut squashes but you only bought one.  But, then life becomes all right when you realize that there's a lonely cooking pumpkin leftover from a pie that was never made around Halloween.  Things always have a way of working out.  Especially when you are elbows-deep in prepping for nine people to eat the next day.
This soup is awesome.  It's not too sweet, not too savory, and it's pretty tasty with a sprinkling of flaky sea salt and some pomegranate seeds on top.  And simple to make, too (if you don't count the peeling/cubing of the pumpkin and squash.  I detest that task.)  It's 100% vegetarian, but if you want to make the switch over to a vegan version, use your regular vegan substitutes for milk and yogurt (you could actually probably omit the them all together, too, and it would still taste amazing.)
I served a few bite-size samples in some shooters I had picked up at the store (*everything is way cooler when served in shooters.*)  But, the day of the festivities, I served it in large bowls with a dollop of Greek yogurt and pomegranate seeds on top.  It was a hit.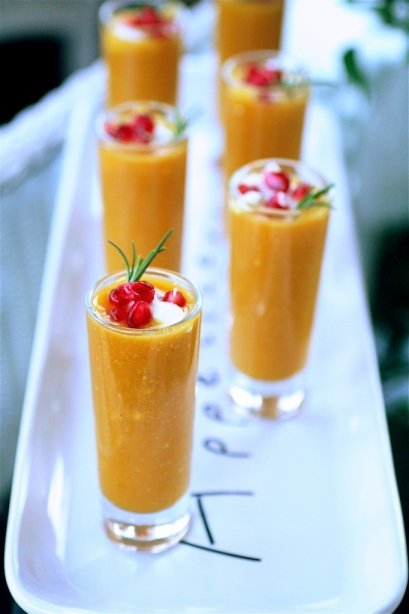 Apple-Cinnamon Pumpkin Butternut Squash Soup
Servings: 8-10
Ingredients
4 cups cubed, seeded and peeled butternut squash (about 1 medium squash)
4 cups cubed, seeded and peeled pumpkin (1 small cooking pumpkin)
1 large apple, peeled and chopped
1 large onion, chopped into 1-inch pieces
2 tablespoons brown sugar
1 teaspoon salt
1 teaspoon ground cinnamon
Pinch pepper
4 cups vegetable broth
3/4 cup milk
6 ounces plain, nonfat Greek yogurt
For garnish: additional Greek yogurt, pomegranate seeds, rosemary sprigs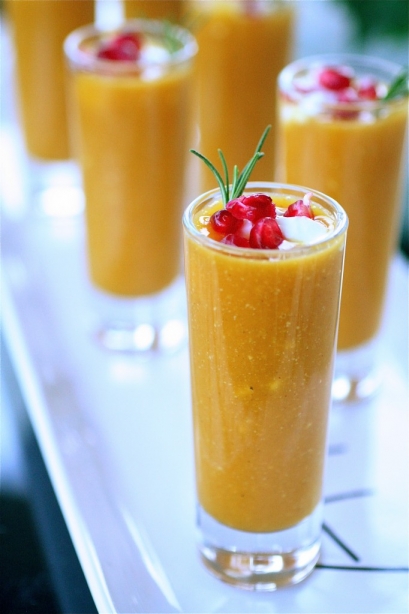 Instructions
1. In a large sauce pot or Dutch oven over medium-high heat, combine the butternut squash, pumpkin, apple, onion, brown sugar, salt, cinnamon, and pepper.
2. Add the vegetable broth and stir to combine.
3. Bring the mixture to a boil and reduce the heat to low.  Simmer, stirring occasionally, until the squash/pumpkin is tender, about 20-25 minutes or so.
4. Very carefully, using your immersion mixer or using your blender (in batches…..be careful, this stuff is hot.), blend the soup until smooth.
5. Return the soup to the sauce pot/Dutch oven over low heat and add the milk and yogurt, stirring until combined.
6. Cook, stirring occasionally, until completely heated through, about 5-10 minutes.
7. Top with garnishes (if desired) and serve.
Source:  Adapted from Walgreen's Diabetes Digest.