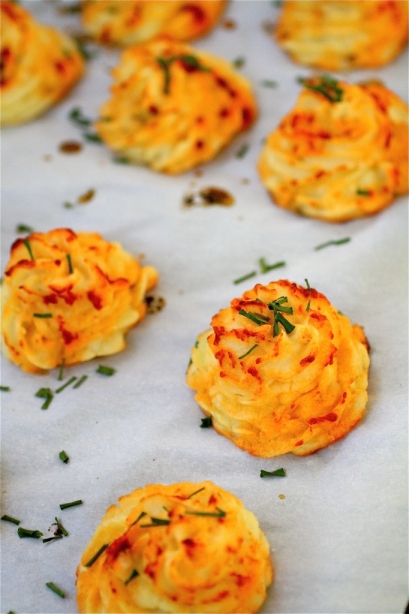 I realized as I was looking at the calendar this morning that Thanksgiving is really, really soon.  Like, a few days soon.  Which means that I need to get these festive holiday posts out to you ASAP.
Take these potatoes, for instance.  Duchesse Potatoes (place pinky finger in the air while saying their name.)  They are fancy-pants potatoes.  They look really fancy, they taste really fancy, but, secretly, they are not all that fancy to make.  In fact, this was one dish that I made the day before and then simply baked them the morning of our faux family Thanksgiving and heated them up again before serving the main course.  The flavor combination possibilities here are endless-you can add whatever spice you like.  I'm loving smoked paprika right now (I put it on everything, including dousing my P90X-approved egg whites with it.  Speaking of P90X, these are definitely not within the diet plan, but I was on a rest day and totally cheated…*hanging head in shame*…but they were totally worth it.  And I only had one. I'm now entering my first recovery week.  Insane progress is happening.  I'll keep you posted.)
A few tips here:  Beat/whip the bejebus out of these potatoes before piping.  The most frustrating thing for me was finding little chunks of potatoes getting stuck in my Wilton 1M.  I had to take all of the potatoes out, warm them up slightly, and beat them again for a few minutes to get a smoother consistency.  Another thing:  If you do choose to make the potatoes ahead of time and store them in the fridge (which I recommend; it will cut down on your day-of prep time significantly and open up stove space), let the potatoes come to room temperature or reheat them slightly before trying to pipe them (but don't heat them up so much that you burn yourself.)  OK? OK.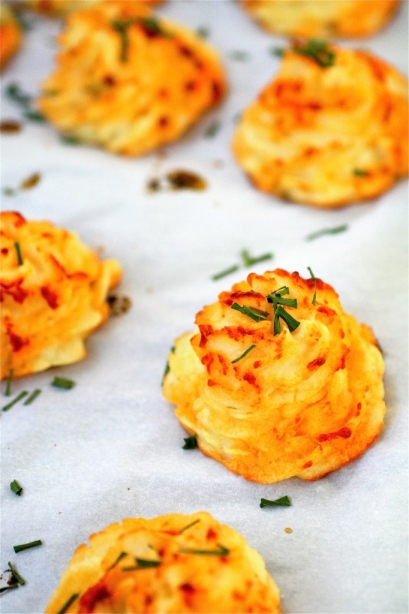 Duchesse Potatoes
Servings: about 15-20 2-inch potatoes
Ingredients
For the potatoes:
4-5 medium Russet potatoes, peeled and sliced into 1/2-inch thick slices
4 tablespoons (1/2 stick) unsalted butter, at room temperature
1/2 cup milk
2 eggs
1/2 cup Gruyere cheese, grated
For the topping:
2 tablespoons unsalted butter, melted
1/2 teaspoon (I increased mine to 1 teaspoon) smoked paprika
Chives, for garnish
Instructions
1.  For the potatoes: In a large pot of salted water, bring the potatoes to a boil.
2. Reduce the heat to medium-low and cook, stirring occasionally, until the potatoes are tender, about 15-20 minutes.
3. Drain the potatoes and return them to the pot.
4. At this point, you can either use a ricer (which I don't have), an electric mixer, or a potato masher to mash the potatoes.
5. Add the 4 tablespoons of butter and mix well.
6. In a separate bowl, whisk together the eggs and the milk.
7. Add the eggs/milk mixture to the potatoes, mixing well until smooth.
8. Add the cheese and mix well until cheese is melted. *At this point, you can cover the potatoes and chill until you are ready to bake them.
9. Preheat the oven to 400 degrees and line a rimmed baking sheet with parchment paper.  Spray the parchment paper lightly with cooking spray.
10. Using a pastry bag and the piping tip of your choice (Use a bigger tip-I used a Wilton 1M), gently pipe the potatoes onto the parchment paper, forming rosettes, each about two inches in diameter and about two inches high.
11. For the topping: In a small bowl, combine the melted butter and the smoked paprika (or whatever spice you choose), and gently brush the mixture onto the tops of each potato rosette.
12. Bake for 15-20 minutes or so, or until the potatoes are lightly golden on top. *The original recipe states that you can broil the potatoes for an additional minute or so to get more color, but I didn't find this step necessary.
13. Garnish with chives, salt, pepper, etc.  You can serve these immediately or simply reheat them right before serving time.
Source:  Slightly adapted from Vegetarian Times.