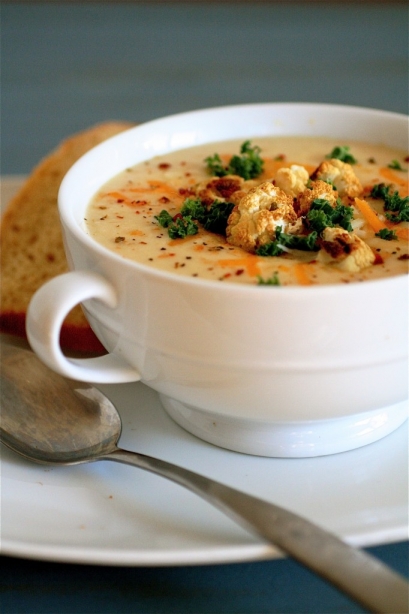 I have some bad news.  I had a severe computer malfunction, and I subsequently lost all the photos from my recent Thanksgiving spread. The good news?  After several hours of cleaning up and fixing the glitches, my computer now runs much faster.  Thankfully, I had some photos still stored on my camera which I am still able to share with you.  Meh.  Life happens.
So, here's another soup to tide you over.  It's a rich, creamy and absolutely decadent soup.  Probably one of my all-time favorites.  Apparently it is a copy-cat recipe from a restaurant called Zupas (I have not experienced this place personally, but apparently people absolutely love it.)
I wasn't sure if the cauliflower would actually make a creamy soup, but I was pleasantly surprised.  I browned the butter in the first step of the recipe, which added a more savory taste to the recipe, in my opinion.  You could throw in some additional veggies if you want, but you honestly don't need it.  The cauliflower speaks for itself here.  I used a nice Wisconsin sharp white cheddar cheese here, too, but please feel free to use whatever cheese you have on hand.  Topped with some roasted cauliflower florets, some seasoned salt, and a sprinkle of chopped kale (or green onions..or chives…or whatever you want), this stuff is goooooooood.  Good enough to make you forget about the beautiful lattice-topped pie you made for Thanksgiving.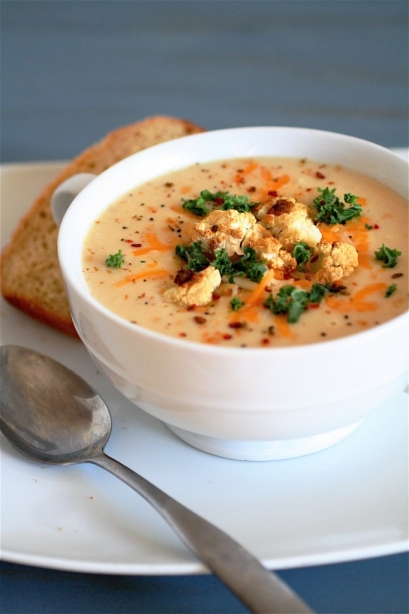 Wisconsin Cauliflower Soup
Servings: 4-6
Ingredients
3 tablespoons unsalted butter
1 medium yellow onion, chopped
1/4 cup flour
2 cups milk (I used skim, which worked well)
1 and 1/2 cups water
2 cups vegetable broth
2 heads cauliflower, chopped, plus more to roast and to garnish with, if desired
1 teaspoon Dijon mustard
2 cups white cheddar cheese, plus more for garnish, if desired (I used a little cheddar/Monterey Jack mix for garnish here)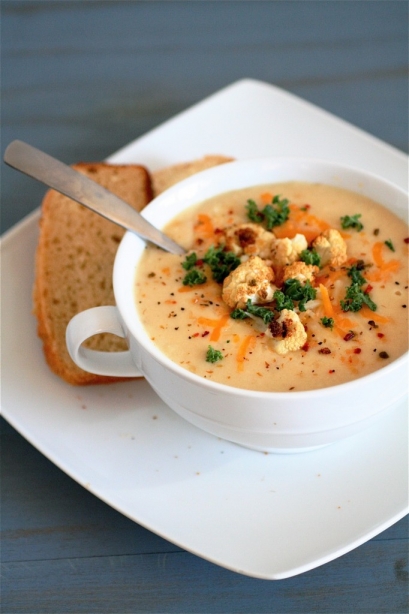 Instructions
1. In a large Dutch oven or sauce pot over medium heat, melt the butter and cook until lightly browned, about 4-5 minutes.  Watch the butter carefully-you don't want it to burn.
2. Add the onion and cook until the onion is softened and translucent, about 4-5 minutes.
3. Add the flour and stir constantly, until the flour is light golden in color, about 3-4 minutes or so.
4. Slowly add the milk, stirring continuously.
5. Next, slowly add the water and vegetable broth, stirring continuously.
6. Add the chopped cauliflower and bring the mixture to a boil.
7. Reduce the heat to low, cover, and let simmer until the cauliflower is softened, about 10 minutes.
8. Using an immersion blender, blend the soup until the cauliflower is completely pureed.  If you don't have an immersion blender, you can use an electric blender in batches (be super careful, as this will be incredibly hot.)
9.  Once completely blended, add the mustard and the cheese and stir until the cheese is completely melted.
10. Serve immediately; garnish with roasted cauliflower, additional cheese, and season with salt/pepper to taste, if desired.
Source:  Adapted from The Coterie Blog, as seen on Bake 'n Make (link not available).