Ah, breakfast.  The most underestimated meal of the day.  Breakfast mixed with quinoa?  A protein-packed super meal.  Talk about starting your day off right.
I had seen a few variations on this whole breakfast quinoa thing, knowing that it would need some extra spice for me.  Plain quinoa is a little too bland, a little too mushy, and a little too texturally challenging for me to take.  That being said, I also didn't want to cover up all the flavor of the quinoa by dousing it in heavy cream or anything super fattening.  The good news here is that you can convert this easily to a vegan version if you would like.  Use whatever fruits you have on hand.  I had some beautiful California figs and some beautiful plump blueberries that I wanted to use up.  Adjust your seasonings to taste here.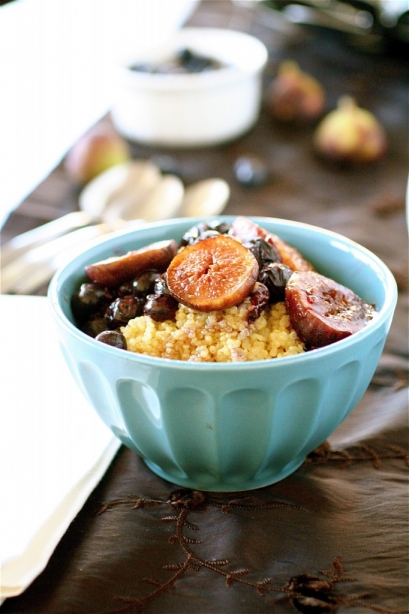 Breakfast Quinoa with Cinnamon-Roasted Fruit
Servings: 2
Ingredients
For the quinoa:
2 cups skim milk (or vegan alternative)
1 cinnamon stick
1 cup quinoa, rinsed
For the fruit:
3-4 large figs, sliced
1/2 cup blueberries
1-2 tablespoons agave or honey
1/2 teaspoon cinnamon
Instructions
1. For the roasted fruit:  Preheat the oven temperature to 350 degrees.
2.  In a medium bowl, combine the agave (or honey) with the cinnamon, mixing well.
3. Add the figs and blueberries to the bowl, and toss gently to thoroughly coat.
4. Arrange the fruit on a foil-lined baking sheet.
5. Bake the fruit until the juices bubble, about 10 minutes or so.  Remove from the oven and cool slightly.
6. For the quinoa: In a small saucepan over medium heat, combine the milk and the cinnamon stick and bring the mixture to a boil.
7. Add the quinoa, mixing well, and bring the mixture back to a boil.
8. Reduce the heat to low and simmer, covered, until almost all of the milk has been absorbed, about 15 minutes or so.  I checked mine every few minutes and stirred gently. (I left the cinnamon stick in the whole time.)
9.  At this point, if you feel there is still too much milk, you can continue to simmer the mixture until the milk has been absorbed to your taste. I wanted mine to be a little more runny, so I found the 15 minutes to be sufficient for me.
10.  Remove the cinnamon stick from the quinoa and place into serving bowls.
11. Top with the roasted fruit and additional agave (or honey) as desired.
Source:  Inspired by Martha Stewart.