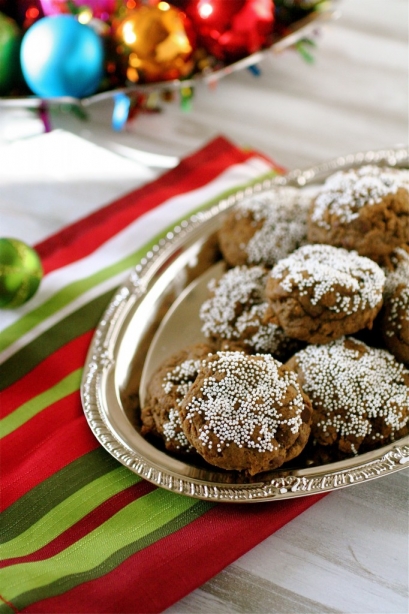 I haven't posted a cookie recipe in a loooooooonnnnggg time. (This whole P90X thing is taking a serious hit on my chocolate intake…but you know what? I'm not craving the sweet stuff that much anymore.  Go figure.)
But, in the holiday spirit (and in a serious ten minute chocolate craving urge), I realized that I had all the ingredients on hand for these cookies.   The ingredients are pantry staples, for the most part (as long as you keep an emergency stash of chocolate chips on board.)
I like gingerbread cookies.  I like chocolate chip cookies.  Consider this the merging of two totally important cookie genres into one fabulous and festive holiday cookie.
Get creative with these.  You could add in white chocolate instead.  Or instead of chips, add in some candied ginger to make them extra-gingery.  Don't have sprinkles?  I bet these would be fantastic with a little extra frosting on top (there…I said it.)  For a vegan-friendly cookie, use your usual vegan butter substitute and dairy-free chocolate chips.  Delish!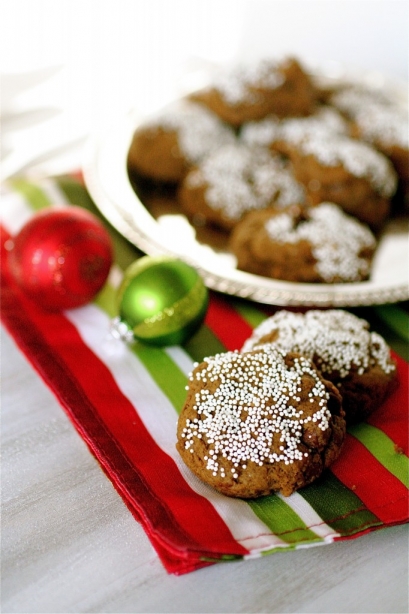 Chocolate Chip Gingerbread Cookies
Servings:  about 24 cookies
Ingredients
1 and 3/4 cups flour
1 teaspoon baking soda
2 teaspoons ground ginger
1 teaspoon ground cinnamon
1/4 teaspoon ground cloves
1/4 teaspoon ground nutmeg
1/2 teaspoon salt (I used a coarser salt here, and I loved the mix of sweet and salty in the cookies.)
1 tablespoon Dutch-process cocoa
1/2 cup (1 stick) unsalted butter, at room temperature
1/2 cup dark brown sugar
1/2 cup molasses
1 cup semisweet chocolate chips
1/4 cup sprinkles, white non-pareils, pearl sugar, or whatever you like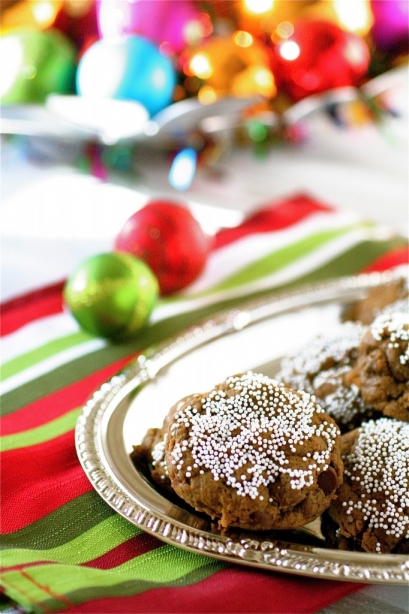 Instructions
1. Preheat the oven to 325 degrees.
2. Line two rimmed baking sheets with parchment paper.
3. In a medium bowl, whisk together the flour, baking soda, ginger, cinnamon, cloves, nutmeg, salt, and cocoa until combined.
4. In the bowl of your standing mixer fitted with the paddle attachment, beat the butter on medium-high speed until light and fluffy, about 1-2 minutes.
5. Reduce the speed to medium and add the brown sugar, mixing until combined.
6. Add the molasses, mixing well.
7. Reduce the mixer speed to low and add the dry ingredients until just combined.  (*I found that my dough was a smidge on the dry side, so I added a tablespoon or so of water to the mixture.  You need it to be a consistency that is able to be rolled.)
8. Gently fold in the chocolate chips.
9. Using your hands or a cookie dough scoop, gently roll the dough into individual balls (each about 1.5 inches or so in diameter.)
10. Gently roll the top of each dough ball in the sprinkles (or whatever you are using) and place the balls (sugar side up) on the prepared baking sheet.
11. Bake the cookies for about 10-12 minutes, until the surfaces just begin to crack.  Remove from the oven and let cool slightly before transferring to a wire rack to cool completely.
Source:  King Arthur Flour Company.