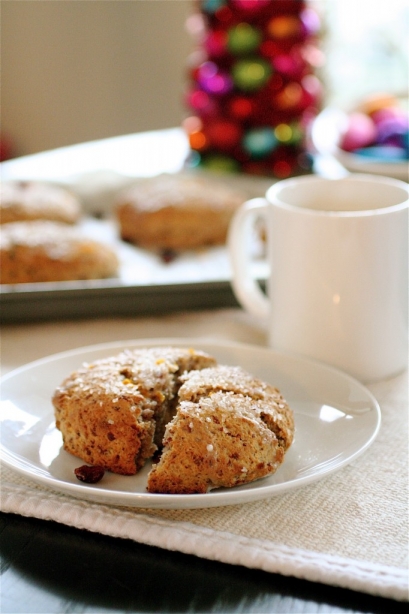 Ah, there's nothing better than a freshly baked breakfast scone and a hot cup of coffee on a drizzly, gray day.  Especially with a Netflix Instant Queue, which happens to be jam-packed with a TV series you are trying to catch up on.
Huddled under an electric blanket, complete with one happy snuggly dog (Scout) and two purring, content cats (The Jinx and Cosmo) all packed like sardines on my couch, this was the beginning of my most recent weekend.  No plans, no obligations, no reason to venture out into the slushy Milwaukee weather.  The only thing I had to do was a mountain of two weeks' worth of laundry and a kitchen to play around in.  And work out, which I did early, so it was out of the way and long forgotten.
And, so I made these little guys.  And while I have been limiting a lot of my carbs lately,  I didn't (or, rather, couldn't) give up an opportunity to try my hands at scones again.  They aren't something that I necessarily go for, but it was the perfect day for a scone, if there ever was one.
I don't have a lot of access to fresh fruit right now (see above comment about Milwaukee weather), but I did happen to have a bag of dried cranberries and a random orange, so this was swiftly converted into a more holiday-esque scone.  I loved the taste.  I put some aside in the freezer for another rainy day.  I also made a simple sugary glaze to up the sweetness factor (wasn't too sure about the tartness potential here), but this is optional.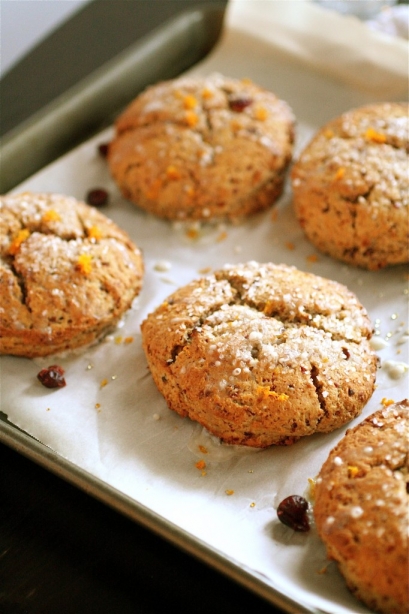 Whole Wheat Cranberry Orange Scones
Servings:  about 8 large scones
Ingredients
For the scones:
1 cup hot water
6 ounces dried cranberries
1 cup whole-grain flour (I used spelt flour, you can substitute whole wheat)
1 cup all-purpose flour
1 tablespoon baking powder
1/4 cup sugar
1/2 teaspoon salt
6 tablespoons unsalted butter, chilled, cut into 1″ pieces
3/4 cup whole milk ricotta (you could sub in a lower fat version as well)
1/3 cup heavy cream
Zest from one orange (or as much as you desire)
Decorating sugar (or turbinado sugar), optional
For the glaze (optional):
4 tablespoons powdered sugar
1-2 tablespoons water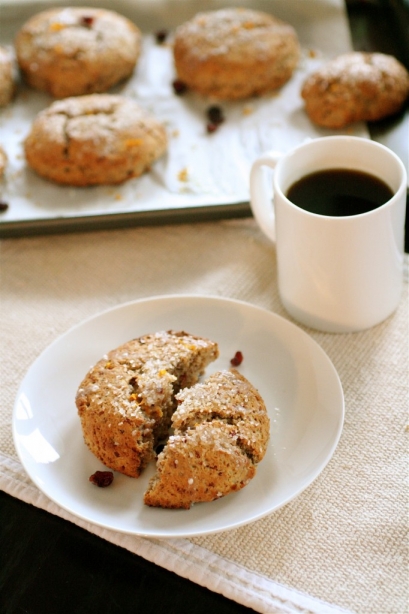 Instructions
1. For the scones: Place the cranberries in the hot water and set aside for about 15-20 minutes, or until the cranberries have plumped up.  Drain the excess water.
2. Meanwhile, preheat the oven to 425 degrees and line a rimmed baking sheet with parchment paper.
3. In the bowl of your food processor (or you can also do this by hand, using a pastry cutter and a spoon), combine the spelt flour, all-purpose flour, baking powder, sugar, and salt, mixing well.
4. With the processor running (or using a pastry cutter), add the butter, one piece at a time, until the mixture resembles coarse sand.
5. Add the ricotta and heavy cream, mixing well.
6. Remove the dough from the food processor and transfer to a medium bowl.
7. Gently fold in the cranberries and the orange zest, mixing until just combined.
8. Transfer the dough to a clean, flat surface and pat the dough into a 1″-high disc.  At this point, you can cut the dough into any shape you like.  I used a 3.5″ round cookie cutter, reshaping and cutting out the dough until it was all used.
9. Lightly sprinkle the scones with decorating sugar, if using.
10. Baking until the scones are lightly golden, about 15 minutes or so.  ***Watch them carefully.  I found that I only had to bake mine for about 13 minutes in my particular oven.
11. Remove from the oven and let cool.
12. For the glaze, if using:  Whisk together the powdered sugar and water, adding more sugar or water until you reach your desired consistency.  Lightly drizzle each scone with the glaze and serve immediately.
Source:  Adapted from 101cookbooks, as originally adapted from The Smitten Kitchen Cookbook.