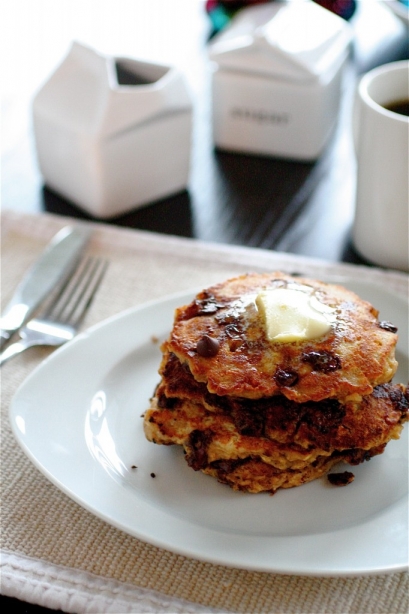 Breakfast, anyone?
This recipe knocked my socks off. Originally a vegan version (please see the link below for the vegan version), I didn't have all the necessary ingredients on hand to substitute, so I just ran with a vegetarian version.  I'm sure that these would be simply amazing as a vegan pancake, too, and I can't wait to try them.
Made with ripened bananas and oats, these pancakes have a nice, sweet flavor without a lot of added sugar.  They also have a nice texture as well.  If you wanted to, you could substitute in some chopped nuts or raisins instead of the chocolate chips instead.  Next time I might add in some flax seed or wheat germ to up the fiber content.
Note that this recipe pretty much makes enough for two servings, so if you are making this for a crowd, be sure to double (or even triple) the recipe.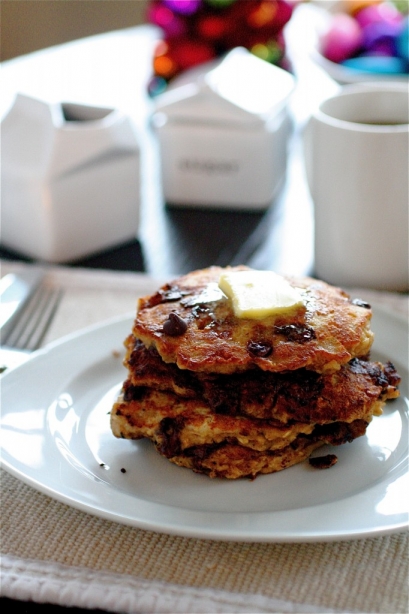 Chocolate Chip Oatmeal Cookie Pancakes
Servings: 2
Ingredients
1 banana, ripe
1 teaspoon baking powder
1 egg
Pinch sea salt
1/2 teaspoon vanilla
1 tablespoon almond butter
1 tablespoon coconut oil
3 tablespoons skim milk
1/2 cup rolled oats
1/4 cups whole wheat flour
3 tablespoons chocolate chips
Instructions
1. In the bowl of your mixer fitted with the paddle attachment (or using an electric hand mixer), beat together the banana and baking powder until the banana is mushy.
2. With the mixer speed on medium-low, add the egg, salt, vanilla, almond butter, coconut oil, milk, oats, and whole wheat flour.  Mix until the batter is mostly smooth (you will still have lumps, and this is ok.)
3. Gently fold in the chocolate chips by hand until incorporated.
4. Meanwhile, heat a non-stick frying pan over medium heat.  (I sprayed mine lightly with cooking spray.)
5. About 1/4-cup at a time, gently pour the batter into the hot frying pan and cook the pancakes, flipping after about 2-3 minutes (or until one side is cooked-check yours frequently) and cooking evenly on both sides.  Serve immediately.
Source:  Adapted from the Minimalist Baker.  (click this link for a vegan version).