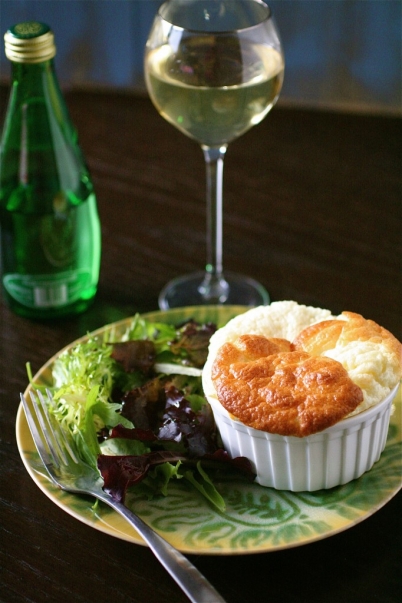 Ok.  First things first.  Obviously, the website is having some major (and extremely frustrating) hiccups.  The subscribe button doesn't work for many readers, the pictures don't load for many readers, and the recipes are not printer-friendly.  The old template crashed unexpectedly and is completely un-re-installable (is that even a word?), and the search feature is pretty lame.  Sad face.
But, the good news is that most of this website-crashing nastiness happened AFTER I started the initial phases and web design planning with a professional web designer.  I'm a busy girl, but HTML is not my strong point (obviously).  The blog is growing by the month, and it's completely ridiculous that I can't keep up with it.  So, a re-launch is scheduled for early March, phone conversations and design plans are happening, and I've invested a lot of time and moola into making this website the best that it can possibly be.  (I've picked a very expensive hobby.)  Keep your fingers crossed.  I appreciate your extreme patience with me.  The Curvy Carrot is getting an extreme makeover.  (FINALLY).
The best news that this post has to offer? I successfully made a soufflé the other day!  This is one thing that I have struggled with in the past, but this recipe makes it so easy that it's almost fail-proof.
I don't know what it is about soufflés-the inevitable slow collapsing of the dish, the temperamental egg whites, or a fear of lack of flavor on my end, but I don't have that fear anymore.
This is a rocking dish.  Simple to prepare, full of nice flavor (the Parmesan "crust" is insanely good), and lighter than most cheesy, egg dishes, this is a great dish for a nice brunch or light lunch.  I served mine with a little salad greens on the side and a glass of Chardonnay.  The soufflé did collapse after being out of the oven for a few minutes, so serve these immediately after baking.  Enjoy!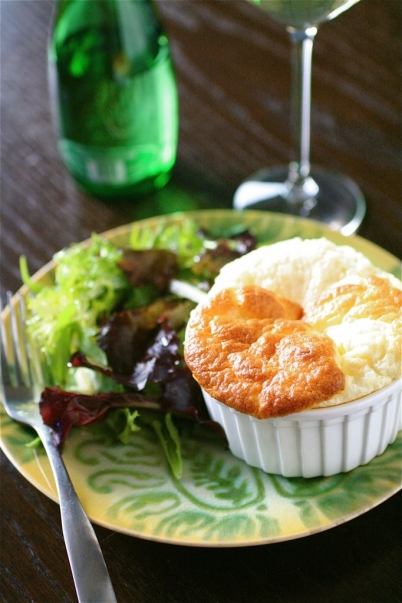 Cheese Soufflé
Servings: 2
Ingredients
1 teaspoon unsalted butter, softened
4 teaspoon Parmigiano-Reggiano cheese, finely grated
1 and ¼ tablespoon flour
Pinch red pepper
Pinch nutmeg
Pinch black pepper
¼ cup plus 1 tablespoon skim milk
1 tablespoon dry white wine
Pinch sea salt
¼ cup Gruyere cheese, shredded
1 large egg yolk
2 egg whites
Instructions
1. Preheat the oven to 400 degrees.
2.  Rub bottoms and sides of ramekins generously with butter.
3.  Sprinkle the Parmigiano-Reggiano cheese over the bottoms and sides of the ramekins; set aside.
4.  In a medium saucepan, combine the flour, red pepper, nutmeg, and black pepper, whisking together.
5. Over medium heat, gradually whisk in the milk and wine, whisking constantly until smooth.
6. Cook the mixture over medium heat, whisking constantly, until the mixture is thick and bubbly, about 3-4 minutes.
7. Remove the mixture from the heat and add in the Gruyere cheese, whisking until the cheese is completely melted.
8. Gently transfer the cheese mixture to a medium bowl and let sit for about 5 minutes.
9. Add the egg yolk to the cheese mixture and whisk until completely combined.
10. Meanwhile, in the bowl of your standing mixer fitted with the whisk attachment (or using an electric mixer), beat the egg whites until medium peaks form, about 2-3 minutes or so.
11. Using a rubber spatula, gently fold in ¼ of the egg white mixture into the cheese mixture, mixing until just combined.
12. Gently fold in the remaining egg white mixture until just incorporated.
13. Spoon the mixture into the prepared ramekins and place them on a rimmed baking sheet.
14. Place the ramekins in the oven and immediately decrease the oven temperature to 375 degrees.
15. Bake the soufflés until golden brown and puffy, about 17 minutes.  Watch them closely.  Serve immediately.
Source:  Slightly adapted from Cooking Light.