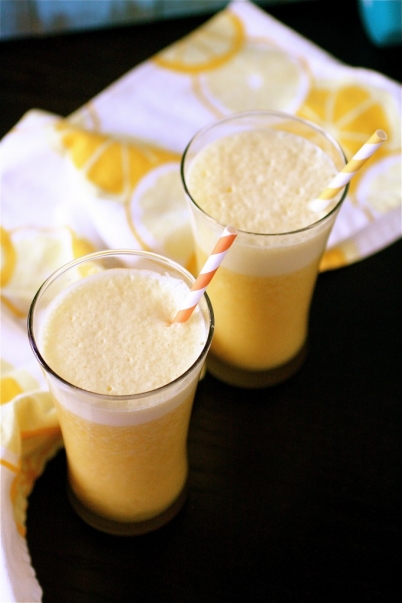 I was recently introduced to Starbuck's orange mango smoothie.  Ummm, hello?  Why have I never experienced this extreme awesomeness before?  I'm not regularly a fan of smoothies (I would much rather chew my calories), but one morning, on the road, I needed a little pick me up.  Not wanting a sugar laden coffee but wanting something sweet, I went for the smoothie instead.  Best. Idea. Ever.
I've tried modifying this recipe many a times now, having gone through several bananas, multiple blender cleanings, and tweaking of flavors.  This version is the best one so far.  If you opt for a vegan-friendly protein powder (I used a vanilla whey powder since that's what I keep on hand), this is a nice vegan alternative for a breakfast on the run.  As a side note, I made enough for two giant smoothies.  I was a little weirded out by keeping some on hand in the fridge, covered, for the next morning, not knowing how it would taste the next day.  It actually was great.  Feel free to play around with this, like I did, and tell me if you make any great changes to the recipe.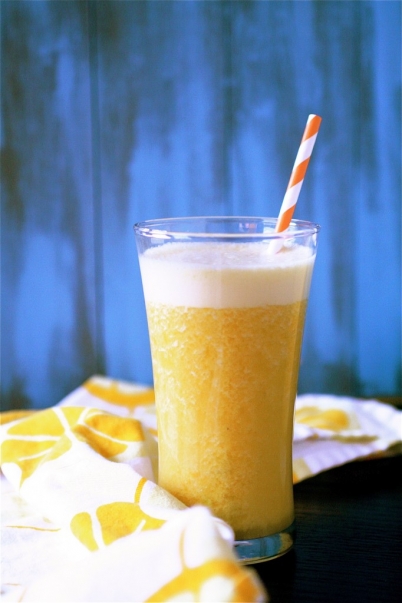 Orange Mango Smoothies (Starbucks-esque)
Servings: 2 large smoothies
Ingredients
1 banana, cut into pieces
One 15.2-ounce container of orange mango juice (I used Naked brand, but feel free to sub in your favorite juice here), chilled
1 mango, chopped
1 cup coconut milk beverage (NOT coconut milk), cold.  Here is a link to the brand I used.  Use soy milk if you would like.
2 scoops vanilla-flavored protein powder (I used whey protein powder.)
1/2 teaspoon matcha powder, or to taste
Instructions
1. In a blender, combine the banana, orange-mango juice, and the chopped mango.  Blend until smooth.
2. Add the remaining ingredients and blend until completely smooth.  Serve immediately.
Source:  A Curvy Carrot original.