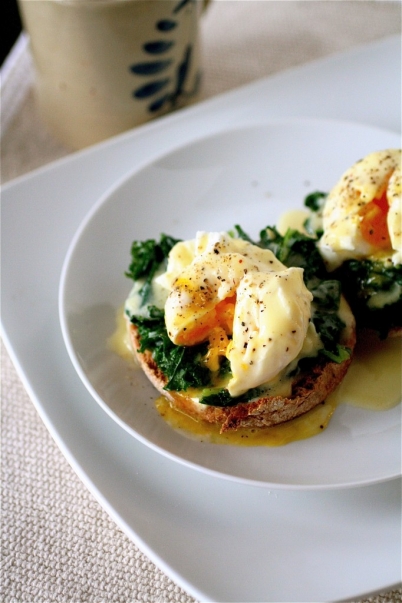 If you follow this blog, then you know by now my love for Eggs Benedict.   I love it.  But, I don't necessarily love the whole process of making the hollandaise and working with all those egg yolks, hoping I won't accidentally scramble them.  I also don't love the ridiculous amount of butter present, either.
Until I saw this recipe. I was wondering if I could still get the same effect of a hollandaise sauce but that would be a little lighter on the waistline.   I didn't want to spend my whole morning whisking over a hot stove in my kitchen, either.  I was, needless to say, a little hesitant to try this recipe out because I wasn't sure if it could compare to my favorite brunch dish (oh, and this does call for some whisking, too.)  I was pleasantly surprised.
And, in a nice twist, instead of the usual spinach found in this dish, I went ahead and used up some kale that I had on hand.  The sauce itself is a little light and tangy version of traditional hollandaise.  It's definitely not as thick and creamy as its more well-known cousin, but it stands in as a nice substitute.  The next time I make this, I might add some lemon juice to add a bit more citrus flavor.  And feel free to play around with the seasonings here-you could add whatever kind of seasonings you like.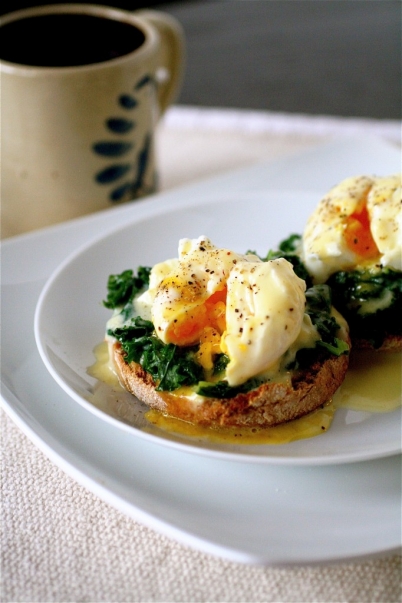 Eggs Benedict Florentine with Creamy Butter Sauce
Servings: 4
Ingredients
1 tablespoon corn starch
1/2 cup water
1/3 cup low-fat buttermilk
2 large eggs
2 tablespoons clarified butter
Salt and pepper, to taste
1 teaspoon olive oil
1 bunch kale, cleaned and leaves torn into pieces
1/2 teaspoon minced garlic
4 large eggs, poached
4 whole wheat English muffins, toasted
Special equipment:  heat-proof thermometer
Instructions
1. For the sauce:  Place the corn starch in a heat-proof bowl set over a pot of simmering water (or use a double boiler) over medium heat.
2.  In a small bowl, whisk together the water, buttermilk, and eggs, mixing well.
3. Add the buttermilk mixture to the corn starch, and whisk until combined.
4. Cook, whisking constantly, until sauce is thickened and bubbly and reaches 160 degrees, about 7 minutes or so.
5. Add in the clarified butter, whisking until combined.  Season to taste with salt and pepper. Remove from the heat, cover, and set aside.
6. For the kale: Meanwhile, in a large frying pan over medium heat, heat the olive oil until shimmering.  (At this point, I also got the water ready to poach the eggs.)
7. Add the kale leaves (I added mine in small batches), stirring until the kale is dark green and wilted, about 4-5 minutes.
8. Add the minced garlic and stir until fragrant, about 30 seconds or so.
9. To assemble the dish:  Top each toasted English muffin with a few tablespoons of the cooked kale/garlic mixture, a poached egg, and a few tablespoons of the butter sauce.  Serve immediately.
Source:  Adapted from Cooking Light.