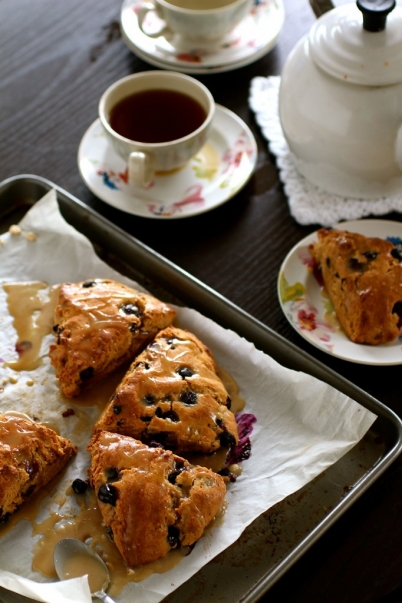 So, I overbought bananas again.  Or, actually, it's more like I just didn't eat them and may or may not have accumulated one or two of them in my work bag….which then led to the discovery of two pretty ripe bananas.  Please tell me someone else out there has an unusual habit of finding random fruit in their bags.  Today it was an apple.  Seriously, how do I do this?
So, that evening, in an attempt to use up the said bananas, I decided to put them in a nice recipe for scones (Scones freeze really really well.  Therefore they have become my go-to in the mornings if I think I might need a little carbohydrate pick-me-up later in the day. I let them thaw at room temperature or pop them in the microwave for a few seconds.)
That night for dinner, I had freshly baked scones and some tea.  Breakfast for dinner rules. And I totally watched Downton Abbey and felt like a cast member.  There's no shame in that.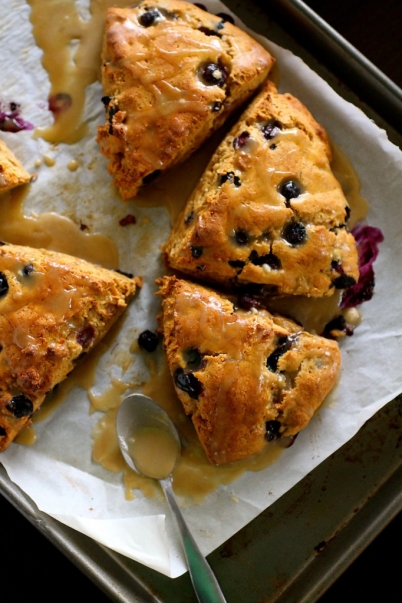 Roasted Banana and Blueberry Scones
Servings: 6-8 large scones
Ingredients
For the scones:
2 ripe bananas (do not peel them yet-you will roast them with the peels on.)
2 tablespoons skim milk
1/2 cup Greek yogurt
2 and 1/2 cups whole wheat pastry flour
2 tablespoons cane sugar
2 tablespoons brown sugar
2 teaspoons baking powder
1 teaspoon cinnamon
1/2 teaspoon salt
4 tablespoons unsalted butter, cut into pieces
1 cup fresh blueberries
For the glaze:
1 tablespoons unsalted butter
2 tablespoons milk
1/4 cup packed brown sugar
1/2 teaspoon vanilla extract
1/4-1/2 cup confectioner's sugar (depending on how thick you like your glaze)
Instructions
1. For the scones: Preheat the oven to 350°F.
2. On a rimmed baking sheet, bake the bananas (with the peels still on) until very dark brown, about 15 minutes or so.  Let them cool slightly before handling them.
3. In your food processor (or in a medium bowl if you do this by hand), mix together the flour, sugars, baking powder, cinnamon and salt.
4. If using your food processor, add the butter in one-tablespoon increments and pulse the mixture until all of the butter is added and the mixture resembles coarse sand.  Alternatively, you can use your fingers or a pastry cutter to blend in the butter by hand.
5. In the bowl of your standing mixer fitted with the paddle attachment, stir the bananas on medium speed until smooth.
6. Add the yogurt and milk and mix until combined.
7.  Reduce the mixer speed to low and add the flour mixture and mix until just combined.
8. Using a rubber spatula, gently fold in the blueberries until incorporated.
9. Place a piece of parchment paper on a flat surface and pat the dough into a 1-inch thick disk.  Place another piece of parchment paper on top of the dough and transfer the dough to the freezer and let freeze for about 30 minutes.
10. Meanwhile, heat the oven to 400°F.
11. Once the thirty minutes has passed, remove the dough from the freezer and cut the dough into 6-8 individual wedges (whatever shape you like), making sure to have space in between each scone.
12. Bake for  about 30 minutes or until the tops are golden brown (watch yours carefully-mine needed slightly less than 30 minutes to bake). Remove from the oven and let cool.
13. For the glaze: In a small bowl, heat the butter and milk in the microwave for about 30 seconds, or until the butter has melted.
14.  Whisk in the brown sugar and the vanilla until the sugar is melted.
15. Slowly whisk in the confectioners' sugar, adding more sugar as necessary to reach your desired thickness.
16. Drizzle the glaze on top of the cooled scones and enjoy.
Source: Adapted from Soup Addict.