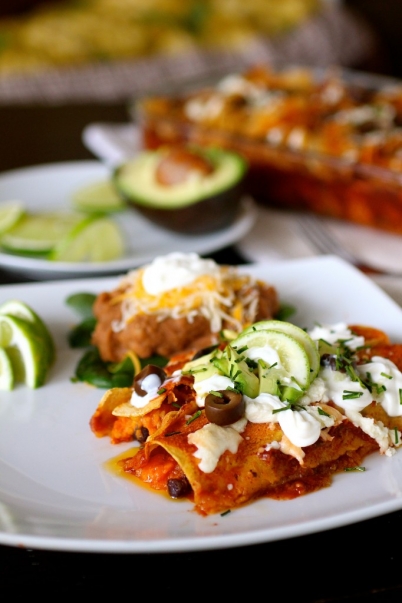 It's, like, really cold and snowy in Milwaukee right now. Which automatically prompts me to dive feet first into some baggy sweatpants, have a Bravo TV marathon, and eat lots of comfort food (ahem, easily re-heatable comfort food.)
These enchiladas are all about everything that goes along with comfort food.  Made on a Sunday afternoon when I had a little bit of extra time to chop and prep the vegetables, these little guys were great to bring in to work as leftovers throughout the week. I even froze a few for random weeknight dinners when I didn't want to do much work (see above.)
Now, I have this nasty habit of only wanting enchiladas filled with onions and cheese. Well, mostly just cheese, if I am completely honest.  But, those aren't so waistline-friendly, so I thought I would dabble in another version, hoping that this one would satiate my over-cheesey tendencies. And so they did.  Full of flavor (and a little queso fresco..my new favorite cheese-craving fix), I didn't miss my old version.  Feel free to play around with your veggie add-ins here.  Omit the cheese entirely for a vegan version.  And don't forget to get your baggy sweatpants on.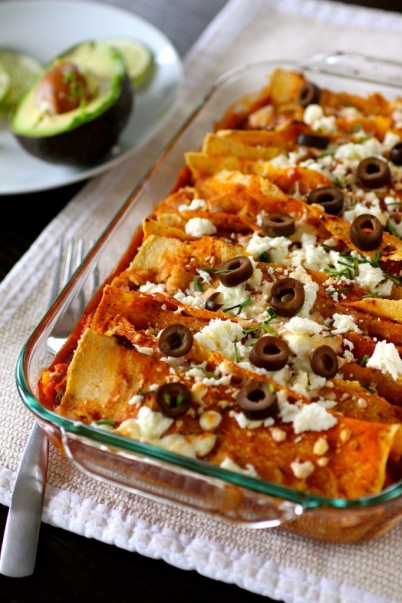 Sweet Potato and Black Bean Enchiladas
Servings: about 16 enchiladas
Ingredients
For the sauce:
One 15 ounce can of tomato sauce
1 and 3/4 cups vegetable broth
1 teaspoon chili powder
1 teaspoon garlic powder
1 teaspoon onion powder
1 teaspoon oregano
1 teaspoon chipotle chili powder
For the filling:
1 tablespoon extra-virgin olive oil
1 onion, chopped
3 cups sweet potatoes, skinned and chopped (about 2 large sweet potatoes)
One 15-ounce can fire-roasted diced tomatoes, drained
One 16-ounce container prepared salsa
2 garlic cloves, minced
1/2 cup water
One 15-ounce can black beans, drained and rinsed
1 and 1/2 cups frozen corn, thawed
One 12-ounce round of queso fresco (or however much cheese you like)
16 6-inch corn tortillas
Avocados, sour cream (or Greek yogurt), black olives, limes, etc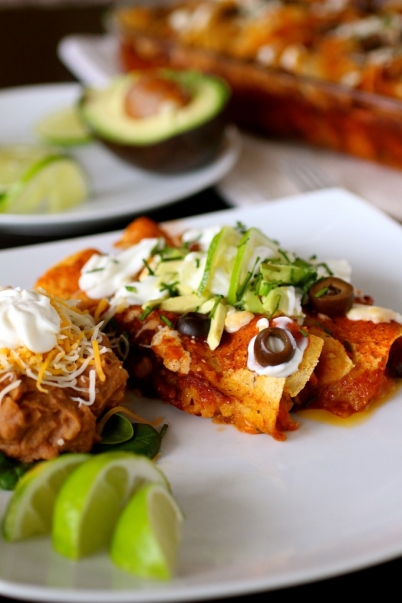 Instructions
1. For the sauce:  In a medium saucepan, combine all of the ingredients for the sauce and bring to a simmer over medium-high heat, stirring occasionally.  Reduce the heat to low and let simmer for about 10 minutes.  Remove from the heat and set aside.
2. For the filling: Heat the olive oil in a deep sauté pan until the oil is shimmering. (You will be putting the rest of the ingredients into this pan later, so make sure that you have enough room.  Use a Dutch oven or large pot if you don't have a deep pan.)
3. Add the onion and cook, stirring occasionally, until the onions are softened and translucent, about 4-5 minutes.
4. Add the sweet potatoes, diced tomatoes, salsa, garlic, and water, stirring until combined.
5. Bring the mixture to a boil, and then reduce the heat to medium-low.  Let simmer for about 30-40 minutes, or until the sweet potatoes have softened.
6. Very carefully, using a potato masher, mash the sweet potatoes until they are smooth (or until they are your personal desired consistency-I liked mine a little chunky still.)
7. Add the black beans and the corn, mixing well, and cook for another 5 minutes.
8. Add about half of the round of cheese (or how much cheese you want), and stir until the cheese is melted.  Remove the filling from the heat and let cool slightly.
9. To make the enchiladas:  Pre-heat the oven to 350 degrees.
10. Lightly spray a 9 x 13-inch baking pan with cooking spray.
11.  Pour about 1/2-cup  of the sauce mixture into the pan and lightly brush to evenly coat the bottom of the pan.
12. Fill each tortilla with about 2-3 tablespoons (or more, depending on how you like them) with the filling mixture, roll each tortilla up tightly, and place each one, seam-side down, into the prepared pan.
13. Top with the remaining sauce and cheese, and bake the enchiladas for 15 minutes.
14. Once the 15 minutes has passed, turn the broiler on and broil the enchiladas for about 5 minutes or until the cheese is bubbling or lightly golden.
15. Garnish with whatever toppings you like.  Enjoy.

Source: Adapted from Vegetarian Times.