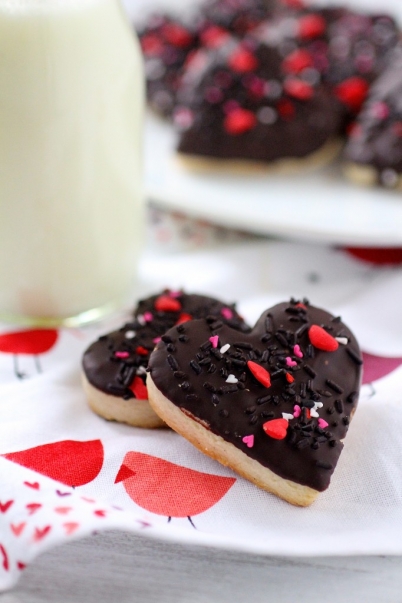 Happy Valentines' Day, world!  Regardless if you celebrate or not, who could go wrong with some last minute chocolate-dipped vanilla bean shortbread cookies….in the shape of hearts….(side note:  I find it incredibly ironic that I cut these hearts out, yes, with the heart-shaped cookie cutters that last year's particular Valentine gave me as a Valentines' Day gift….my, how times have changed….)
But I digress.
These can be made in a pinch.  No chilling time required (my pet peeve with most traditional sugar cookie recipes.)  And you can completely skip the chocolate-dipping part if you are really short on time.  I added in some additional vanilla bean here to up the flavor quotient here, and I liked the end result.  I dipped my cookies in a simple dark chocolate, but you could use whatever kind of chocolate you like here.  And, sprinkle yourself away here.  It's Valentines' Day, people…time to get a little love-crazy.  I love all of you!  Have a good one!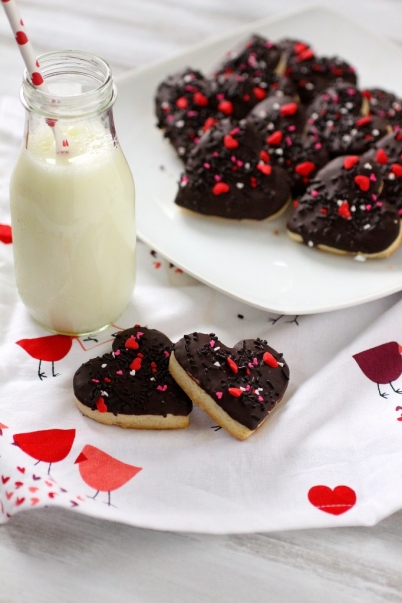 Chocolate-Dipped Vanilla Bean Shortbread Cookies

Servings:  varies according to cut-out size.  I used a 2 and 1/2-inch cutter and made about 12 cookies.
Ingredients
12 tablespoons unsalted butter, at room temperature
1/4 cup granulated sugar
1 tablespoon vanilla extract
Seeds from 1/2 vanilla bean
2 cups all-purpose flour, plus more for dusting work surface
1/2 teaspoon salt
4 ounces dark chocolate (or whatever kind of chocolate you like), chopped
Sprinkles, for garnish, optional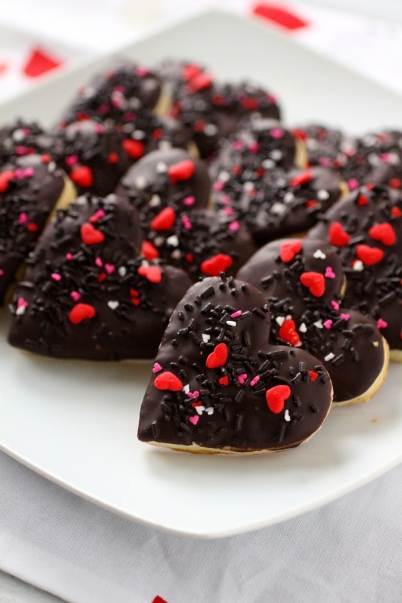 Instructions
1. Preheat the oven to 400 degrees and line a rimmed baking sheet with parchment paper.
2. In the bowl of your standing mixer fitted with the paddle attachment, beat the butter, sugar, vanilla, and vanilla bean seeds on medium-high speed until light and fluffy, about 2-3 minutes.
3. Reduce the mixer speed to low and add the flour and salt, mixing until thoroughly incorporated, scraping down the sides of the bowl as necessary.
4.  Transfer the dough to a lightly floured flat work surface and roll the dough out so that it is about 1/3″-inch thick.
5. Using whatever shape cookie cutter you like, cut out each cookie and transfer each one to your prepared baking sheet, re-rolling and cutting out more shapes as necessary until all of the dough is used.  Space each cookie about 2 inches apart from one another.
6. Bake until the cookies are light brown around the edges, about 6-8 minutes (Since my cookies were a bit larger than the original recipe called for, I was at right about 8 minutes.  Make sure to check yours frequently so that they don't burn.)  Let the cookies cool completely before dipping in chocolate.
7. In a heatproof bowl set over simmering water, melt the chocolate, stirring until smooth.
8. Carefully dip each cookie, face down, into the chocolate and place face-up on the baking sheet.  If you are using sprinkles, lightly sprinkle each one. Let sit until the chocolate has completely set.
Source:  Slightly adapted from Saveur.