I recently got really into different types of teas.  And I can thank my little brother for that.  One night, when I came into town late to visit my parents from out of state, Ben asked me if I knew anything about teas.
"Like, tea?  Like, from a tea bag in hot water?"  I was tired and had just crawled through Chicago's traffic.  On a snowy night.  After my "check battery" light had turned on a few times.  I needed some zen.
"No, Shay, like different blends of different types of tea leaves."  And then we had a discussion about tea.
Ahhhh…and then began my rapid descent (or ascent) into the overwhelming and pretty awesome world of teas. I've collected some different books now that I have been perusing ..many contraptions and gadgets…and I've had lots of fun experimenting with different blends, temperatures, and add-ins.  My goodness, tea is totally like a hug in a cup.  Well, and then there's coffee..which is another world of its own, too.
So, what goes best with tea and/or coffee?  Well, biscotti, probably.  Or maybe scones.  Some type of carbohydrate that can get soaked in the beverage of choice to become even more delicious.
As part of Cooking Light Bloggers' Connection, I've been delving a little bit more into Cooking Light magazine's recipes.  You can check out the link here (Hi, that's me.  Nice to meet you.)  And make sure to check out the other bloggers there…some of my favorites are a part of this group, too.  This is another fantastic recipe from Cooking Light.  I hope you try it.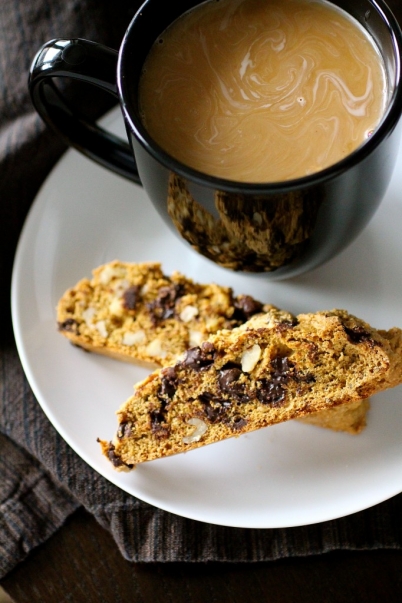 Deep Dark Chocolate Biscotti
Servings: about 24 biscotti
Ingredients
2 cups whole wheat pastry flour
2 tablespoons ground flax seed
1/2 teaspoon baking soda
1/4 teaspoon salt
1/3 cup granulated sugar
1/3 cup packed dark brown sugar
2 egg whites
1 large egg
1 and 1/2 teaspoons vanilla extract
2/3 cup chocolate chips (I used bittersweet chocolate here.  Use whatever you like.)
3/4 cup chopped walnuts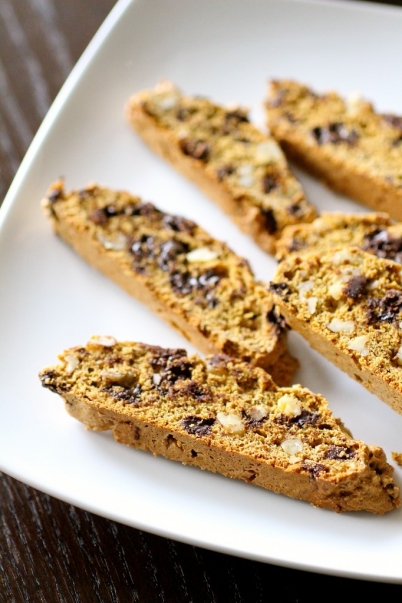 Instructions
1. Preheat the oven to 350 degrees.  Line a baking sheet with parchment paper.
2. In a medium bowl, whisk together the flour, ground flax seed, baking soda, and salt.
3. In the bowl of your standing mixer fitted with the paddle attachment (or using a hand-held electric mixer), beat together the granulated sugar, brown sugar, egg whites, and egg at high speed for about 2 minutes.
4.  Add the vanilla extract and mix until thoroughly incorporated.
5. Reduce the mixer speed to low and add the flour mixture, mixing until combined.
6. Using a spatula, gently fold in the chocolate chips and the walnuts, stirring until incorporated.
7. Transfer the dough to a flat work surface and divide it into three equal portions.
8. Roll each portion of dough into a 6-inch-long roll and place each one onto your prepared baking sheets.
9.  Pat each portion into a 1-inch thickness roll.
10. Bake for about 28 minutes or so, or until the dough is firm.
11. Remove the dough from the oven and let cool for about 10 minutes.
12.  Cut the dough diagonally into several slices.  Place the slices, cut side down, on the baking sheet.
13. Reduce the oven temperature to 325 degrees, and bake the biscotti for about 7 minutes.
14. Very carefully, flip each biscotti and baking for another 7 minutes.  Let cool.
Source:  Barely adapted from Cooking Light.