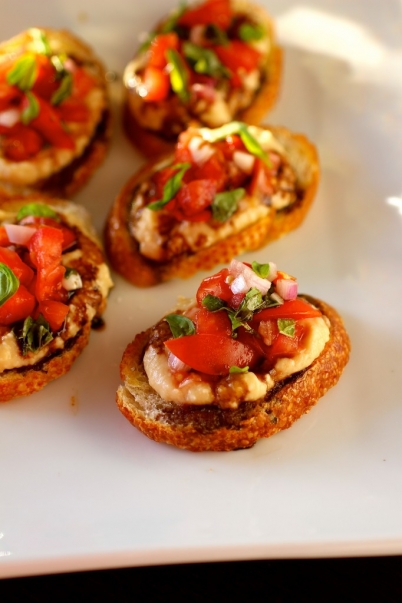 What a week.  But, I have good, no great, news for you.  Wonderful things coming in the near future with the blog. I've had my first sneak peeks with the new branding/logo for the new website launch, and I am like a second grade giggly girl right now.  I cannot believe how things have been moving along.
It's totally true: when you pour love into something without room for expectation, toxicity, or unneeded pressure, love comes racing right back at you.  Preach, sister!
Here's a simple and healthy bruschetta that you can throw together quickly  (To cut down on time, make the balsamic glaze in advance.).  If you want to skip the whole bread/carb part, this would also make for a pretty amazing dip with veggies.  Omit the parmesan in the bean paste (or sub in with your favorite nutritional yeast here), and you've got a clean-eating vegan version.  This stuff is dangerously delicious.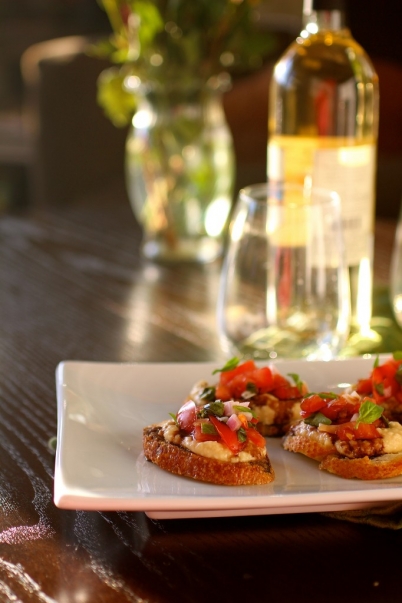 White Bean and Tomato Chutney Bruschetta
Servings: makes enough for about 15 bruschetta
Ingredients
For the balsamic glaze:
1 cup balsamic vinegar
2 tablespoons sugar
For the white bean paste:
One 15-ounce can of cannellini beans, rinsed and drained
2 ounces Parmesan cheese, grated
1/4 cup orange juice
2 tablespoons olive oil
1 garlic clove, minced
For the tomato chutney:
4 Roma tomatoes, seeded and chopped
2 tablespoons fresh basil, chopped
2 tablespoons fresh lime juice
2 tablespoons shallot, finely chopped
For the bruschetta:
One French baguette, sliced diagonally into about 15 1/2-inch thick slices
Olive oil, for brushing
Sea salt, to taste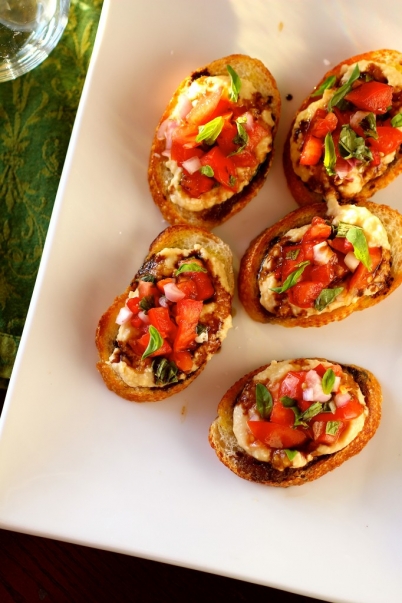 Instructions
1. For the balsamic glaze:  In a small saucepan over medium-low heat, combine the balsamic vinegar and the sugar, mixing to combine.  Simmer the mixture until thickened and syrupy, about 20 minutes or so.
2. For the white bean paste:  In a food processor, combine all of the ingredients and process until smooth.
3. For the tomato chutney: Combine all of the ingredients in a bowl, cover, and let sit at room temperature until ready to assemble the bruschetta.
4. For the bruschetta: Preheat a grill pan over medium-high heat.
5. Lightly brush each baguette slice with olive oil.
6. Toast each slice on the grill pan until lightly golden, about 2-3 minutes per side.  Season with sea salt.
7. To assemble the bruschetta:   Place about 1 tablespoon of the white bean paste on each baguette slice and top with the tomato chutney.  Drizzle each slice with the balsamic glaze.

Source:  Slightly adapted from Vegetarian Times.