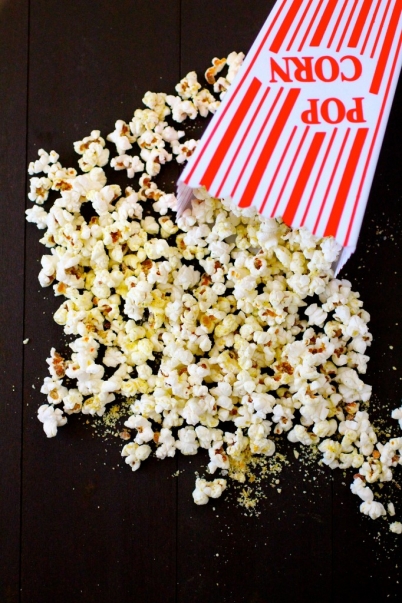 So, it's Oscar Sunday.  And, during said Oscar's (if I remember to watch them, which is usually just for the dresses anyways…there, I said it), I will usually eat something snacky and salty and/or sweet and be glad that I didn't have to sew myself into my PJ pants or nearly break my ankle in Louboutins.
And what goes with movies?  Just a little popcorn.  But I didn't want to post anything *super* unhealthy (aka butter-laden, although that sounds pretty good right now), and I wanted to post something with a little attitude.  And God knows I love anything having to do with Ranch dressing, so buttermilk Ranch popcorn it is.
Now, here's the deal.  You can blend in any kind of flavor here.  I thought about adding in some red pepper flakes to the initial powder, but I wanted to see what the base flavor was like before adding anything in, and I was partial to it so I didn't.  But you certainly can if you want.  I didn't have onion powder on hand, but I did have an onion seasoning blend that I picked up a few months ago (like a dried onion-soup blend), so I used that, which turned out great.  The bottom line here is that you can season all of this to your own personal tastes.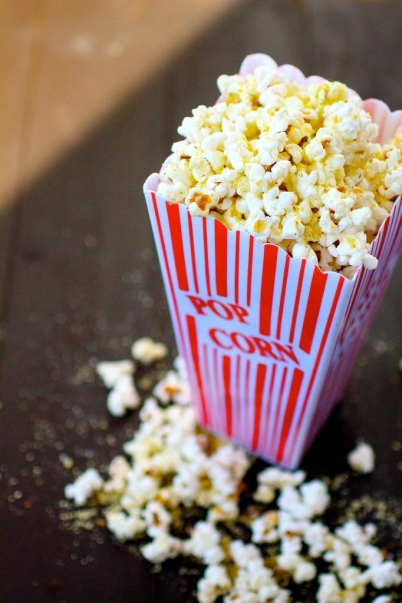 Buttermilk Ranch Popcorn
Servings: enough powder for a few large batches of popcorn, according to how much you like to use
Ingredients
1/4 cup plus 2 tablespoons buttermilk powder
1/4 cup nutritional yeast (I used a brand with a little bit of Parmesan-ish flavoring…which was pretty awesome)
1 tablespoon onion seasoning (like, dried onion soup blend or an onion powder)
Salt, to taste
Freshly ground black pepper, to taste
Popped popcorn (I like to make mine the old-fashioned way: on the stove, with about 1-2 tablespoons of coconut oil.  I find that the coconut oil flavor is mellow and there is just enough fat there to grab the flavors without adding a lot of fat in the way of butter.)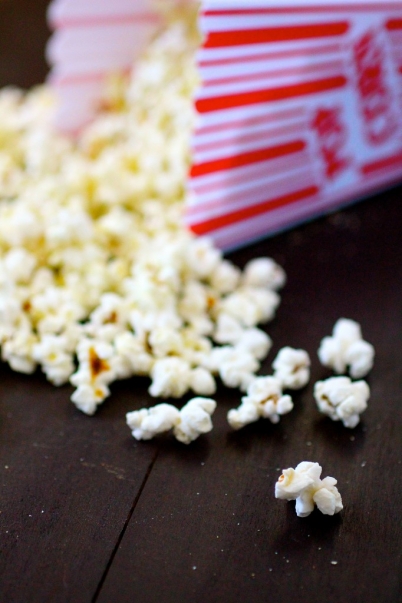 Instructions
1. In your food processor, combine the buttermilk powder, nutritional yeast, onion seasoning, and salt and pepper.  Process until combined, adjusting the flavor profile according to your own tastes.
2. Lightly toss the popped popcorn with your desired amount of flavor powder, adjusting to taste.  I kept the remaining powder, covered, in my fridge to use for the next time because my particular brand of nutritional yeast advises to keep it in the fridge.  Otherwise, it should be fine, tightly covered, in a dark spot, like the pantry.  Enjoy.
Source:  Adapted from Food and Wine.