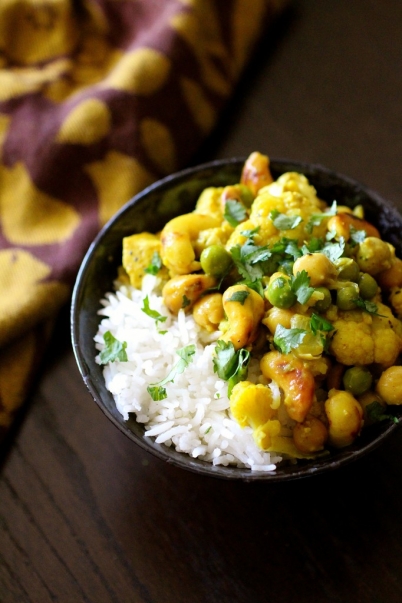 You know, in the three or four years (really, has it been that long?) since I've had this blog, I'm surprised that I have never posted a single curry recipe.  I don't mind curry.  I like it.  In fact, during my first year of med school in my little box of an apartment in Chicago, I pretty much made a curry dish every night (which I'm sure my neighbours really really loved….).  The little entryway to the apartment building  probably smelled like curry everyday, which sometimes isn't the aroma that you want to experience at 6:30am, 10pm, or on a particularly hot and humid day.  I was THAT girl, I think.
Regardless, a curry is a great way to sneak in some extra veggies and a little bit of protein…whatever your choice of protein may be.  I used an extra-firm tofu here, which I recommend, but you could use whatever you like.  The other thing about a curry?  It's completely amenable to whatever veggies you have on hand (or need to use up to free some space up in your freezer….seriously, I couldn't get the freezer door to close the other day because I have stocked up on way too many things apparently.)  This particular curry highlights the seasonal trend of the moment: cauliflower.  And pretty much anything with cashews in it is awesome as well.
What do you like in your curry, friends?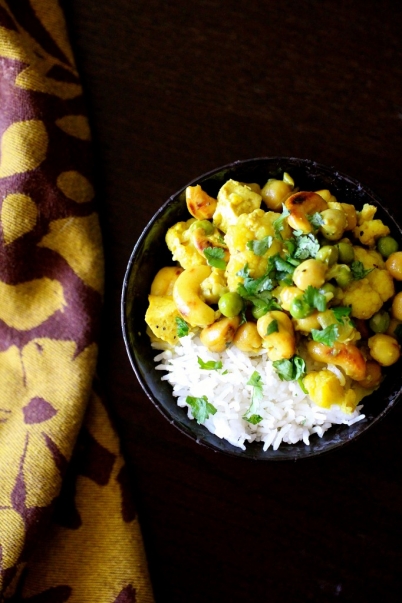 Cauliflower Chickpea Cashew Curry
Servings: enough for 4 good-sized portions
Ingredients
One 13.5-ounce can of coconut milk (I used whole here, feel free to sub in light coconut milk)
1 tablespoon curry powder (use whatever specialty flavor variation you might like)
1/2 teaspoon salt
1/2 medium yellow onion, chopped
1 garlic clove, minced
1/3 cup water
4 ounces extra-firm tofu, cut into small pieces
1 (small) head cauliflower, chopped into bite-sized florets
One 13.4-ounce can chickpeas, drained and rinsed
1/2 cup cashews, toasted
1 cup frozen peas, thawed
Cilantro, chopped
Basmati rice
Instructions
1. In a medium or large sauce pot over medium-high heat, bring 1/2 cup of the coconut milk to a gentle simmer.
2. Whisk in the curry powder and salt until combined.
3.  Add the onion and garlic, stirring to combine and let cook, stirring occasionally, for about 1-2 minutes.
4. Stir in the remaining coconut milk, water, and the tofu.  Let simmer for about 10 minutes. (This is a good time to get your rice cooking if you are making some to go with the dish.)
5.  Add the peas, cauliflower florets, and the chickpeas.  Cover the pot and let simmer for about 10 minutes, or until the cauliflower is cooked through, stirring occasionally.
6.  Remove the curry from the heat and add the cashews.
7. Top the rice with your desired amount of curry and garnish with cilantro.
Source:  Adapted from 101 Cookbooks.