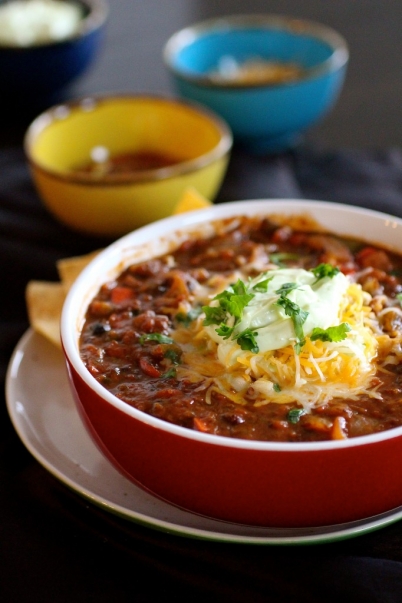 Spring is taunting me.  It got a little bit warmer here for a while, the sun was shining, and I mistakenly thought (and apparently others did as well, since I did witness two people in Target with shorts on a couple of weeks ago) that maybe spring was around the corner.
And then it snowed and snowed and…snowed.  And while it was pretty and calming and cute to accessorize with various hats/gloves, I'm pretty much over it.  But I'm not entirely over warm and fuzzy bowls of comfort food to eat in your pj's with a good movie or book to go with them.  Like this Black Bean Salsa Chili with Avocado Cream.
Since avocados are ripe for roughly 15 minutes (I swear, they always go bad before I can use them), I had one on hand that needed to be used up immediately.  This chili was a wee bit spicy for me, so the avocado cream was a fantastic way to cool it all down.  This was originally a recipe with ground turkey and even some bacon, but, to be honest, I didn't miss any of that here.  This is filling, healthy, and very low in fat.  And it's even better the second day.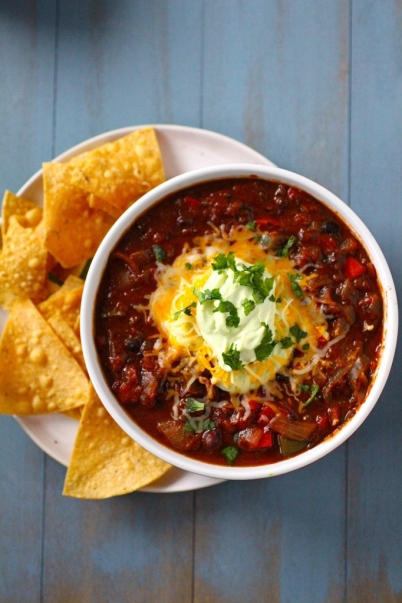 Black Bean Salsa Chili with Avocado Cream
Servings: about 6
Ingredients
For the chili:
Two 15-ounce cans black beans, drained and rinsed
2/3 cup water
1 tablespoon dark brown sugar
1 tablespoon extra-virgin olive oil
1 onion, chopped
1 green bell pepper, chopped
1 red bell pepper, chopped
1 and 1/2 tablespoons chili powder (I used a chipotle blend here….holy smokes..that was good.)
1 tablespoon cumin
1 teaspoon oregano
Pinch cayenne pepper (or to taste)
1 and 1/2 cups prepared salsa
3 tablespoons tomato paste
2 cups vegetable broth
For the avocado cream:
1 ripe avocado
1 cup nonfat Greek yogurt
2 teaspoons lime juice
3/4 teaspoon cumin
1/4 teaspoon sea salt
Instructions
1. For the chili:  In your food processor, combine 1 and 1/2 cups of the black beans, the water, and the sugar.  Process the mixture until smooth.
2. Transfer the bean puree to a medium bowl and stir in the remaining beans.  Set aside.
3.  In a large sauce pot or Dutch oven, heat the olive oil until shimmering over medium-high heat.
4. Add the onion and bell peppers, stirring occasionally, and cook until the onions are softened and translucent, about 5 minutes.
5. Add the chili powder, cumin, oregano, and cayenne pepper to the mixture, stirring to coat.
6. Add the bean mixture, salsa, tomato paste, and vegetable broth.  Bring the mixture to a boil.
7. Reduce the heat to low and simmer for about 30 minutes, stirring occasionally.
8. For the avocado cream:  In your food processor, combine the avocado, Greek yogurt, lime juice, cumin, and salt.  Process the mixture until smooth, adjusting the seasonings accordingly.  Serve the chili with a tablespoon or so of the avocado cream.
Sources:  Chili adapted from Cooking Light; Avocado cream from Williams-Sonoma.