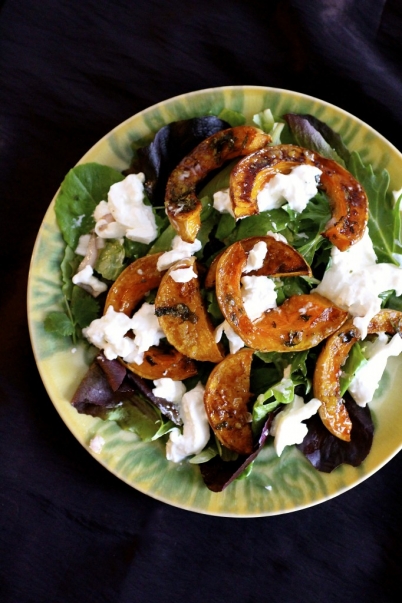 I was so all over this salad when I first saw it in the February issue of Food and Wine Magazine.  I had pretty much been roasting at least one squash per week (the leftovers heat really well for a quick healthy lunch during the day….). My favorite squash so far to roast?  Acorn, hands down (easy portability and mellow taste).  But, I've grown to love all different kinds.  I always have one on hand during the winter months (it's also convenient when Scout gets a little tummy rumble and I can give her some bland, mashed squash to get her feeling better.)
Here, I used butternut squash.  I was a little hesitant to leave the skins on for this recipe, but I went ahead and left them on….once everything was cooked, I couldn't really tell. (If you want to avoid eating the skins, just peel the squash beforehand.)  I had some burrata on hand (as usual….I never need an excuse to eat burrata), but use (or omit for a vegan version) your favorite cheese here.  And as for the maple sugar, it might be a little hard to find if you don't have a specialty market nearby.  I am pretty sure that you could use a small drizzle of maple syrup or even some brown sugar here instead of the actual maple sugar.  This is the brand that I used (found mine in the baking section of Whole Foods, near the spices.)
This salad was a nice mix of warm and cold, sweet and bitter, and very filling.  That's my kind of salad.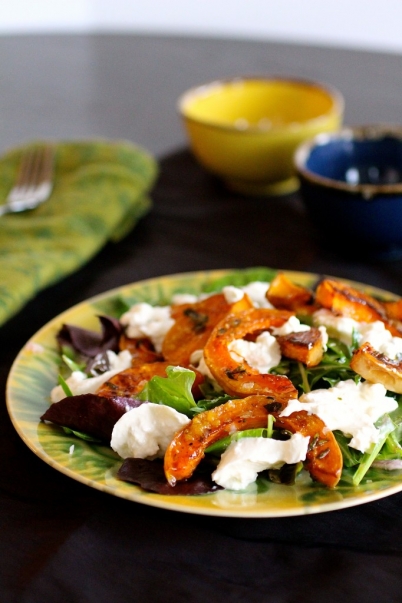 Roasted Maple Squash Salad
Servings: about 4 large salads
Ingredients
One 2 lb. winter squash (I used butternut..you could use acorn, buttercup, or kabocha if you can still get your hands on them), washed, halved lengthwise, seeded and sliced crosswise 3/4-inch thick
1/4 cup plus 2 tablespoons extra-virgin olive oil
1 tablespoon finely chopped flat-leaf parsley
1 teaspoon finely chopped marjoram
1/2 teaspoon finely chopped thyme
Salt and pepper, to taste
2 tablespoons maple sugar
2 tablespoon red wine vinegar
1 small shallot, minced
10 ounces bitter salad greens (or whatever kind of greens you like)
Burrata cheese (or whatever kind of cheese you like-the original recipe called for a hard cheese, like Parmigiano-Reggiano)
Instructions
1. Preheat the oven to 375 degrees.
2. Toss the squash wedges with 2 tablespoons of the olive oil with the parsley, marjoram, and thyme in a large bowl, seasoning to taste with salt and pepper, and lay the squash wedges in a single layer on a rimmed baking sheet.
3. Bake the squash until just softened, turning the squash halfway through the baking time, about 20-25 minutes.
4. Sprinkle the squash with 1 tablespoon of the maple sugar and bake for another 15 minutes, just until the sugar starts to caramelize.
5. Turn the squash over and sprinkle with the remaining 1 tablespoon of maple sugar and bake for another 15 minutes, until the squash pieces are golden.  Set aside to cool.
6. In a large bowl, whisk together the red wine vinegar with the shallot and the remaining 1/4 cup of the olive oil.
7. Toss the salad greens with the oil mixture, coating the greens evenly.
8. Transfer the salad greens to your serving plates and top each one with the roasted squash and cheese, if using.  Serve immediately.
Source:  Barely adapted from Food and Wine.