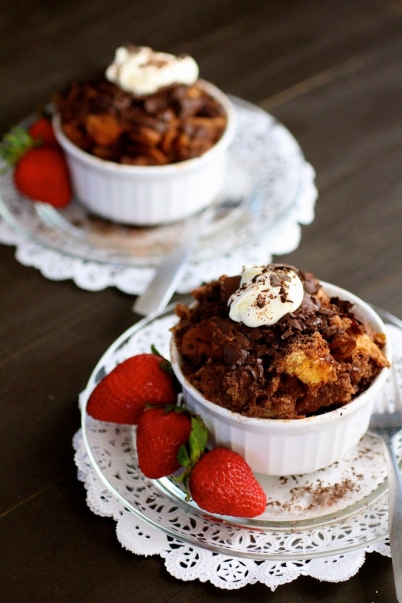 As most women usually do (and if you are a woman and you don't ever experience this, please let me in on your secret), I had a seriously intense craving for chocolate a few weeks back.  It started the second I woke up, with the tiniest of voices in my head, whispering that something chocolatey would make for a nice breakfast, right?  The voice got a little bit louder, during my weekend morning work-out, louder during my post-work-out shower, and finally I decided I had to just make something. But I didn't want to go out and buy a whole bunch of random ingredients.  I wanted something that could be made with ease and that I didn't have to spend a ton of money on.  Since I was running out for a few errands in my neighborhood anyways, I quickly scanned my bookmarked recipes.
And came across this one.
And down to the Milwaukee Public Market I went, coffee in hand, ready to find some bread to make this dessert with.  Planning on making a nice dinner later that night, I knew that this would be a perfect dessert, making enough for two large servings.  And then I could get the chocolate craving out of my system (ha..fat chance.)
I was easily able to assemble this when I got home and let it sit while I enjoyed the rest of my afternoon that day.  I popped it in the oven right after dinner was over, and it was gone before my movie night/couch snuggling party could even begin.  Most. Perfect. Day.  Goodbye, chocolate craving.  Hello, happy belly.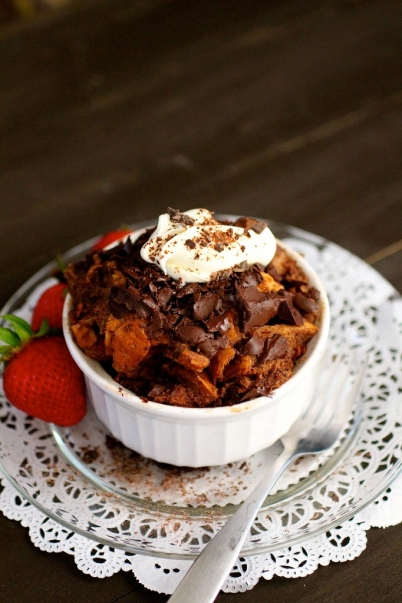 Chocolate Chunk Bread Pudding
Servings: 2
Ingredients
1 and 3/4 cups (1/2-inch) cubed challah bread (or whatever variety is your favorite)
2/3 cup skim milk
2 tablespoons sugar
1 and 1/2 tablespoons unsweetened cocoa
1 tablespoon cold coffee (or liqueur of your choice)
1/2 teaspoon vanilla extract
1 teaspoon amaretto flavoring (optional)
1 large egg, lightly beaten
Cooking spray
1 ounce chocolate, coarsely chopped  (feel free to use semi-sweet chocolate chips)
For garnish:  whipped cream (I had some creme fraiche on hand, so I used that), additional chocolate shavings
Instructions
1. To toast the bread: Preheat oven to 350 degrees.
2. Arrange the bread cubes in a single layer on a rimmed baking sheet and bake for 5 minutes or until toasted. Remove bread and turn off oven (you definitely don't want it on the whole time the bread sits in the milk/egg mixture.)
3. For the bread puddings:  In a medium bowl, whisk together the milk, sugar, cocoa, cold coffee, vanilla, amaretto flavoring (if using), and the egg.
4. Add the bread to the egg/milk mixture, tossing gently to coat. Cover and chill 30 minutes or up to 4 hours. (I would advise letting it sit for closer to 4 hours-the longer, the better, in my opinion).
5. To bake:  Preheat the oven to 325 degrees and lightly spray two 6-ounce ramekins with cooking spray.
6. Divide half of the mixture evenly between the ramekins; sprinkle evenly with half of chocolate. (This creates an awesome melted chocolate middle layer.)
7. Divide the remaining bread mixture between ramekins; top with remaining chocolate.
8. Place the ramekins in an 8-inch square baking pan; add hot water to pan to a depth of 1 inch.
9. Bake for about 35 minutes or until set. Serve each pudding warm with additional garnishes, if desired.
Source:  Adapted from Cooking Light.