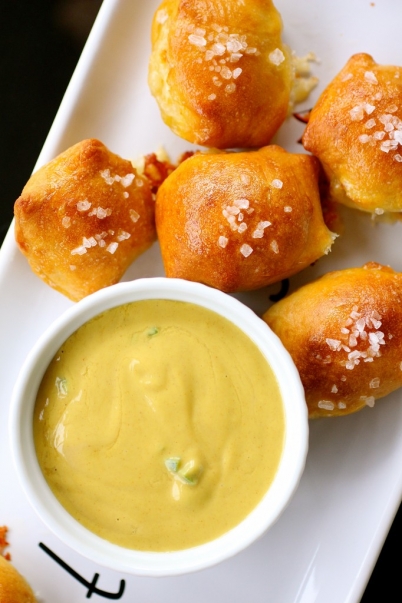 May I proudly present to you, my dear friends, my most favorite pretzel bite recipe…ever.  Which is saying a lot because pretzel bites are pretty much my kryptonite.  When I first moved to Milwaukee, we made a point of going to every single restaurant within walking distance…yes…just to compare pretzel bites, as they are invariably a staple appetizer at many of the restaurants in this city.
These pretzel bites, even though I had to make them myself, are the best…hands down.  Made with a slightly sweet dough, these little guys were actually pretty straightforward to make.  I usually avoid making anything "stuffed" as it usually explodes on me and becomes a kitchen nightmare, but these stayed (for the most part-there were a few minor casualties) intact.  And the honey jalapeno mustard?  Wow.  Normally, I'm a cheese dipper…but this dip has me believing that I might be a convert.
I made these the morning of a party that I was hosting later that night.  I made them as directed, and then I simply refrigerated them until serving time.  I simply popped them in a 250 degree oven when I was about 10-15 minutes from serving them, and they were just fine (and lasted less than 5 minutes on the platter.)  Otherwise, you can make them and then freeze them for later (just thaw slightly and bake at 400 degrees for about 10 minutes or so.)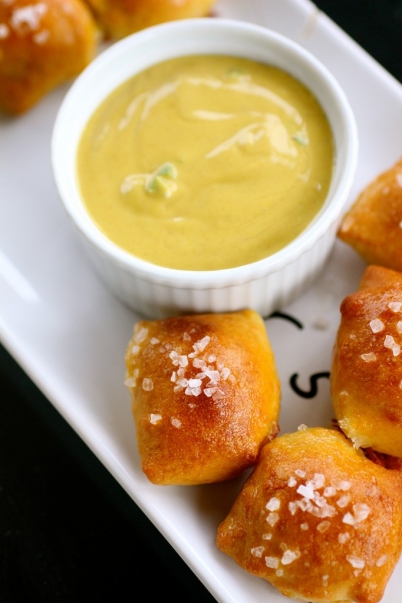 White Cheddar Filled Pretzel Bites with Honey Jalapeno Mustard
Servings: about 40-50 pretzel bites
Ingredients
For the pretzel bites:
1  and 1/2 teaspoons active dry yeast
2 tablespoons plus 1 teaspoon packed light brown sugar, divided
1/4 cup warm water (110-115°F)
1 cup warm milk (110-115°F)
2 and 1/2 to 3 cups all-purpose flour
1/3 cup sharp white Cheddar, shredded
6 cups water
4 teaspoons baking soda
For the mustard dip:
1/2 cup Dijon mustard
2 tablespoons finely chopped seeded fresh jalapeños
1 tablespoon mild honey
For brushing onto the warm pretzel bites:
1/2 stick unsalted butter, melted
Coarse sea salt, for sprinkling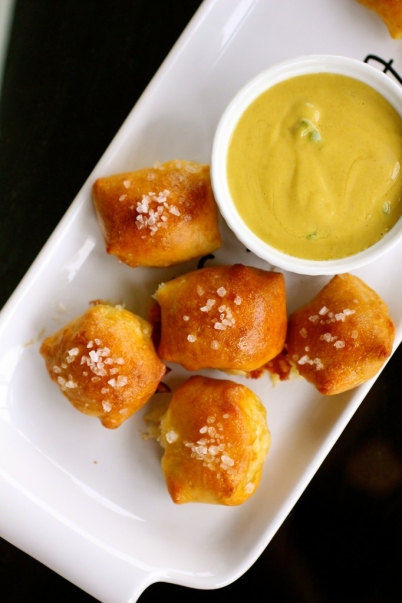 Instructions
1. For the pretzel bites:  In the bowl of your standing mixer fitted with the paddle attachment, combine the yeast, 1 teaspoon brown sugar and warm water, and let the mixture stand until foamy, about 5-6 minutes.
2. In a separate bowl, stir remaining 2 tablespoons brown sugar into warm milk until dissolved.
3. With the mixer running on low speed, add 2 and 1/2 cups of the flour and the brown sugar/milk to the yeast mixture, mixing until a soft dough forms, adding up to 1/2 cup additional flour, if necessary.
4. Turn out dough onto a lightly floured surface and gently knead a few times to form a smooth ball.
5. Transfer the dough to a clean bowl, cover with a light towel and let rise at room temperature, about 2 hours.
6. Once the dough has risen, preheat  the oven to 400 degrees with the racks in the upper and lower thirds, and line two rimmed baking sheets with parchment paper.
7. Turn out dough onto a lightly floured surface and cut into 4 equal pieces.
8. Lightly dust your hands with flour, then gently roll and stretch 1 piece of dough to form a 12-inch-long rope.
9. Flatten dough and arrange so a long side is nearest you, then roll out to a roughly 12- by 4-inch rectangle with a lightly floured rolling pin.
10. Gently press about 1/4th of the cheese into lower third of rectangle, leaving a 1/2-inch border along bottom edge.
11. Stretch bottom edge of dough up over filling and press tightly to seal, then roll up as tightly as possible to form a rope.
12. Cut the rope into 12 pieces, squeezing the dough around the cheese on either side to tightly seal the pretzel bite and transfer to your prepared pan.
13. Repeat the process, making three more ropes with remaining dough and cheese and cut into pieces, transferring to the prepared baking pans.
14. Let the pretzel bites rest at room temperature, uncovered, about 30 minutes.
15. Meanwhile, the six cups of water to a boil in a Dutch oven or large saucepan.
16. Reduce heat to medium and stir in baking soda. (Careful-the water will bubble and rise!)
17. Cook the pretzel bites in batches in the water, turning once, until slightly puffed, about 20 seconds.
18. Transfer with a slotted spoon or tongs to prepared baking sheets.
19. Bake until puffed and golden-brown, about 15 minutes (cheese may ooze slightly).
20. Immediately after removing the pretzel bites from the oven, lightly brush each one with the melted butter and sprinkle with sea salt.
21.. For the mustard dip:  Combine all of the ingredients together in a small bowl, mixing well.
Source:  Adapted from Gourmet via Epicurious.