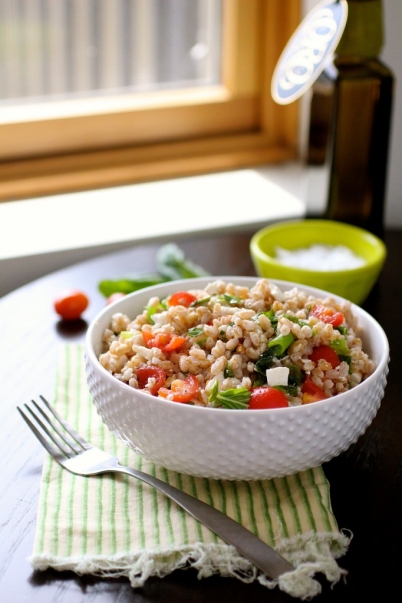 I am absolutely loving farro right now.  The slightly nutty, warm, kinda chewy grain that seems to go well with just about everything.  I'll eat it hot, right from the pot, with a poached egg on top or throw it in a salad for a little bit of extra oomph.  This salad in particular, well, let's just say that I ate an entire batch (which is pretty large, by the way) in two days.
This is a go-to, easy to make, and super convenient salad to make, especially as a quick lunch to pack the next day.   One forewarning, though, you've got to let the farro soak for an hour before cooking this, so it's best to plan this dish out when you've got some time.  It's filling, full of fresh flavors, and completely adaptable to whatever kind of flavor combinations you like.  Next time, I might add in some fresh spinach leaves to add a little bit more green to the mix, or even some bits of Kalamata olives and feta for a Mediterranean feel.  Heck, I might even throw in some black beans for some extra protein.  And, for a vegan alternative, just omit the cheese entirely or add in your favorite substitution.  I'm totally digging this new addition to my pantry.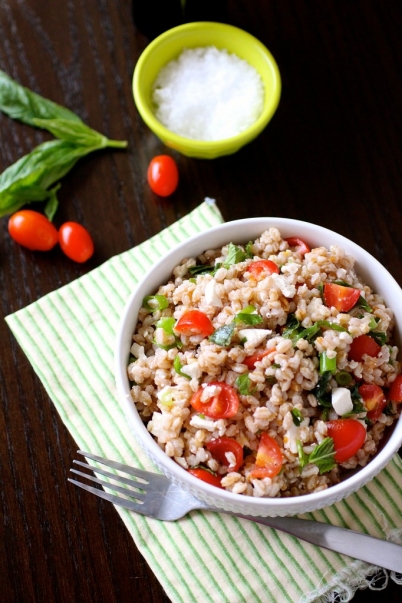 Farro Salad with Ricotta Salata
Servings: 4-6
Ingredients
1 cup farro
8 cups water
1 teaspoon salt, plus more to taste
2 tablespoons extra-virgin olive oil
1 tablespoon lemon juice
1 pint grape tomatoes, halved lengthwise
1/2 cup ricotta salata cheese, crumbled
3 green onions, sliced
Handful fresh basil, torn
Instructions
1. Combine the farro and the water in a Dutch oven or large saucepan and let stand for one hour.
2. After the farro has soaked for an hour, bring the mixture to a boil over medium-high heat.
3. Add the teaspoon of salt and reduce the heat to medium-low and let simmer, uncovered, about 25 minutes.  The farro should be tender but still chewy.
4. Remove the farro from the heat and drain.
5.  In a medium bowl, whisk together the olive oil and the lemon juice, adding salt (and pepper, if desired), to taste.
6.  Add the farro to the bowl and gently stir to coat the farro thoroughly in the oil/lemon mixture.
7. Add the tomatoes, ricotta salata, green onions, and basil until combined.
Source: Barely adapted from Williams-Sonoma.