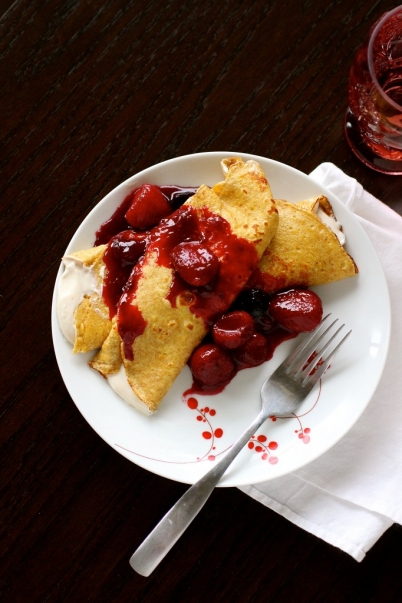 I have always had this sincere fear of crêpes.  I don't know.  Maybe because they are part of French cuisine, and I always stop short when it comes to anything French.  Growing up, my uncle would make crêpes for us (and we Hoosiers would lovingly refer to them as CRAY-PEES…gotta love it.)  But I loved them with butter and sugar, loved them with some scrambled eggs inside, and adored them with a bit of Nutella.  But, the thought of trying these on my own, in my kitchen, was a little anxiety-provoking.
So, I will share with you a few lessons of life.
1. Until you try something, you won't ever actually know how hard it may (or may not) be. Crêpes are super easy.  If you know how to make a pancake, you know how to make a crêpe.  And living with the regret of "what if" is always always worse than the initial fear of trying something new.  Chances are, you've already and unknowingly prepared yourself for this big step.
2. Sometimes things that seem very fancy, in all actuality, are very simple.  One foot in front of the other.  And you may never know who you might be impressing or inspiring with one very simple act.
Yeah, I know, a little deep for a Sunday morning, but, if you follow this blog, you'll know that my passion for food is pretty much paralleled with my passion for life.  There are a lot of lessons to be learned from both, especially when it comes to getting out of your comfort zone and challenging yourself: whether it's making healthier foods, trying a new frosting technique, or figuring out the best way to slice an onion.  And all this came from a silly crêpe.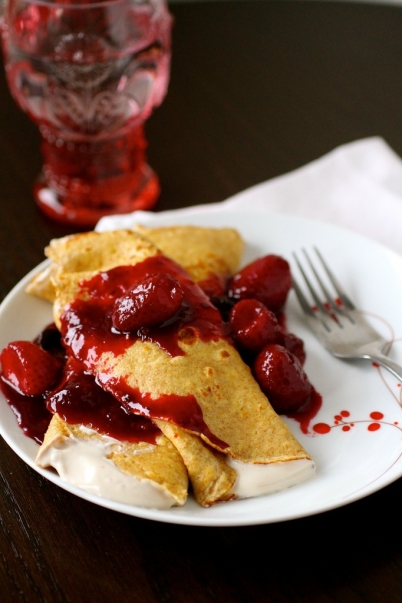 Whole Wheat Crêpes with Sweet Yogurt and Berries
Servings: 6-8
Ingredients
For the crêpes:
3  eggs
1 and 1/4 cups skim milk
Pinch of salt
1 cup spelt (whole-wheat) flour
3 tablespoons unsalted butter, melted, divided
For the berry sauce:
1/4 cup raspberry jam
1 cup frozen berries (I used a mix of blueberries, strawberries and raspberries)
For the filling:
1 tablespoon fresh lemon juice
1 and 1/2 cups plain 0% fat Greek yogurt
3 tablespoons light brown sugar
1/2 teaspoon pure vanilla extract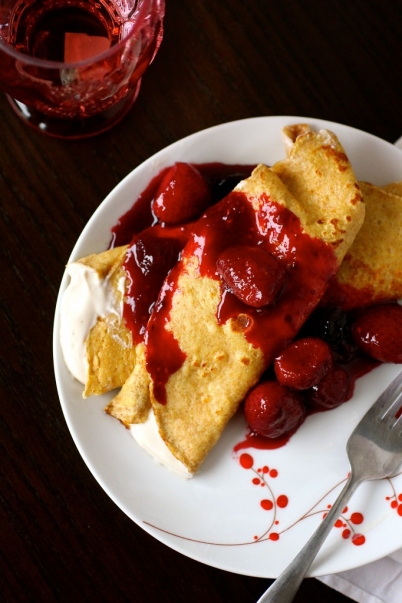 Instructions
1. For the crêpes: In a medium bowl, whisk together the eggs, 1/4-cup of the skim milk, and the salt.
2. Add the flour, whisking constantly, until the mixture is smooth.
3. Add the remaining cup of skim milk and 1 tablespoon of the melted butter and whisk until smooth.  Set aside and let sit at room temperature for about 20 minutes or so.
4. For the berry sauce:  Combine the raspberry jam, frozen berries, and the lemon juice in a small saucepan set over medium heat.  Let the mixture cook, stirring occasionally, until the berries are thawed and the mixture is thickened, about 5-10 minutes.  Keep warm until serving time.
5. For the filling:  In a small bowl, combine the Greek yogurt, brown sugar, and vanilla, mixing until smooth.
6. Heat a 10-inch non-stick pan over medium heat.  Using a silicone brush, lightly brush the pan with some of the remaining melted butter.
7.  Pour a scant 1/3-cup of the batter into the pan and immediately swirl the pan to evenly coat the entire bottom surface.
8. Cook the crêpe until lightly browned on the bottom, about 45 seconds.
9. Very carefully, flip the crêpe and cook on the other side, about 15-30 seconds longer. (I started to see small bubbles form on the surface.)  Transfer to a serving plate and keep warm while you repeat this process with the rest of the batter, brushing the pan with the remaining butter as needed.
10. For assembly:  Spoon about 2-3 tablespoons of the yogurt mixture into the center of each crêpe and roll up.  Spoon the berry sauce on top.
Source:  Slightly adapted from Food and Wine.