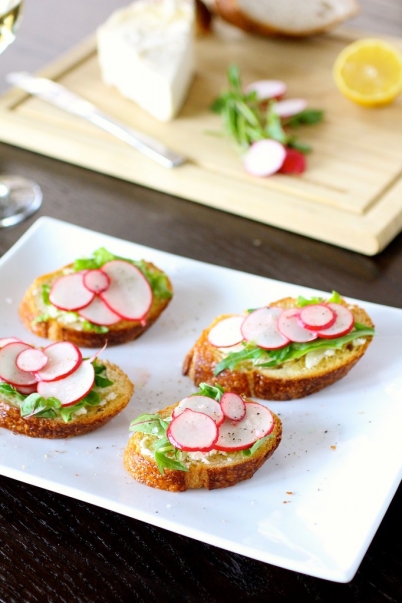 I equate the season of Spring with little tea sandwiches and all sorts of things "dainty."  There are baby showers, bridal showers, and all sorts of warmer-weather get-togethers to attend.  And radishes, those colorful little globes of earthy spice, are one of the first signs of spring, in my opinion.
I've made some radish tea sandwiches before.  Simple, elegant and completely "in season."  These, however, add a little oomph to the equation with some soft, creamy cheese and a little lemony vinaigrette.  Made with some spring greens, these would be fantastic to serve up for a brunch/luncheon to celebrate warmer days and new beginnings. I served these toasted with some St. Andre cheese (substitute Brie or your favorite soft cheese here) and some chilled white wine.  You can't really go wrong here.
Welcome Spring.  No, seriously, Spring, you can come to Milwaukee any time now.  🙂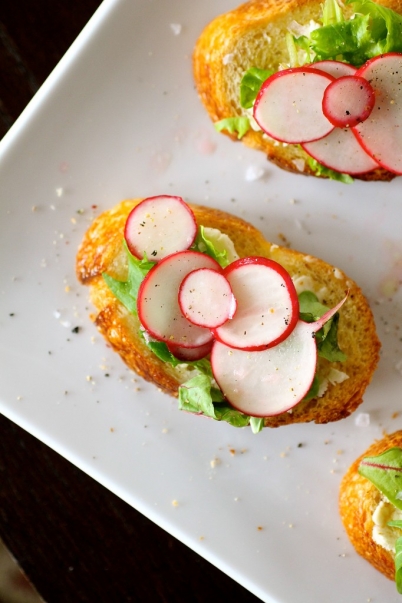 Spring Radish Crostini
Servings: 16 crostini
Ingredients
16 (1/2-inch-thick) slices diagonally cut whole wheat baguette
Cooking spray
1 and 1/2 cups sliced radishes
1 tablespoon extra-virgin olive oil
1-2 tablespoons fresh lemon juice, depending on how much you like
Salt and pepper, to taste
4 ounces cheese (I used St. Andre, feel free to use Brie or another soft, spreadable cheese)
2 cups mixed greens (I used a spring mix blend)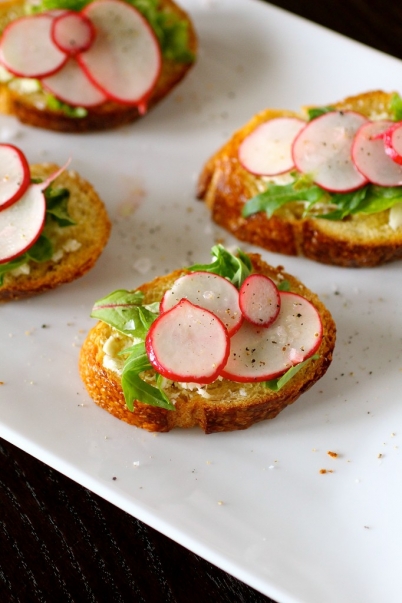 Instructions
1. Preheat oven to 400 degrees.
2. Place the sliced bread on a rimmed baking sheet and coat generously with cooking spray.
3. Bake the bread until toasted and light golden brown, about 5 minutes.  Set aside.
4. In a medium bowl, combine the sliced radishes, olive oil, lemon juice, and salt and pepper.  Lightly toss to thoroughly coat the radishes.
5. To assemble the crostini:  Gently spread about 1-2 teaspoons (however much you like) cheese on top of the bread.
6. Add a thin layer of the mixed greens and top with the radish slices. Serve immediately.

Source:  Barely adapted from Cooking Light.