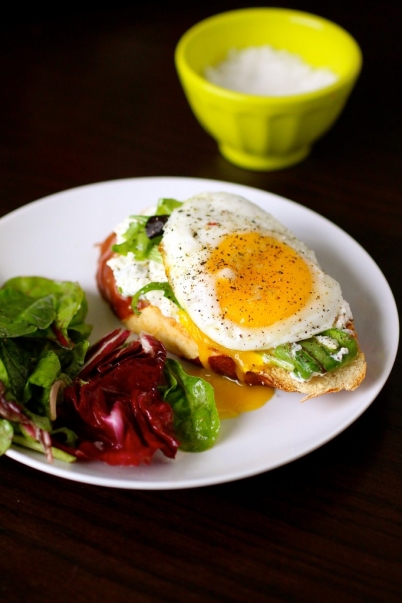 I had this whole post ready, but I feel as if general morale needs lifting.
So, I'll tell you something really personal and slightly hilarious.  If you know me personally, you will find this even more hilarious.
I'm single again in my early 30's after spending my entire 20's moving around the country, buried in books, and learning a lot about what red flags I have a tendency to overlook when being in a relationship with someone (Oh, you have a serious drinking problem?  No worries, I'm super woman and I can fix you.)  Can anyone else out there relate to this?
So, in the past three years or so, I have dabbled in getting back in the dating game, so to speak.  There have been a few short-term relationships here and there, but with me moving around so much for my training, it's been hard to have something stick. (And, honestly, in retrospect, none of those potential candidates were probably a good match for me to stick with.)
So when I moved to a new place with a desperate need for permanence, I decided to try the online dating thing.  I know so many people who have met so many great people online, but no such luck here.
The whole concept to me is somewhat foreign.  I felt like I was advertising myself to others…and really becoming judgmental.  "Ohhhhhh, he doesn't like cats?" Closed match.  "His favorite pastime is hunting…a lot?"  Nope, I don't eat meat.  "He's a smoker?"  Ummm, no.  Even some of the quirky get-your-attention tag lines were a little too much.  Which is sad because I am not normally a judgmental person, especially when it comes to something relatively personal like this.  I have respect for everyone who puts themselves out there in a position to be vulnerable like that.  And I was rejected by quite a few of them too.
I did have some nice dates.  I did meet some nice people.  But no butterflies.
I decided to give it one last shot before canceling my membership.  And, to protect anyone out there, I won't divulge names.  I don't think I even told this person about this blog, so hopefully he won't even read this.  And I am telling you this solely for comical reasons and perhaps as a lesson as to what not to say on a first date.
So this was my experience.  These are direct quotes.  But let preface this by saying that said person advertised himself as being 5'8″.  I am 5'8″, and I towered over him.  I get the exaggeration of truth, and I don't mind dating men who are shorter than me, but if there is ever a potential for you to meet someone in person, don't lie.  Especially about your height.  Because that automatically makes me think that you might have issues with your height (think Napoleon).
"Let's talk about high-flow mathematics." (um, what?)
*I'm wearing a scarf.  Why?  Because it's chilly out and it's a trendy scarf. One that is meant to be worn as an accessory.*  After dinner:
"I noticed you were wearing your scarf all night.  And I thought, is she crazy?  Why is she wearing her scarf all night?"  At that point, with my patience, wavering, I told him that I was following a major fashion trend and remaining thoroughly and well-heated ALL AT THE SAME TIME.
"My friend (she's a girl) set up my entire profile on the dating website and clears all the women before I go out with them.  She tells me, "Oh, go on one date with that girl", "Go on a few dates with that one".  She does all of the initial emailing, back and forth, for me.  I don't get to even talk to the girl until the date."  *At which point, with raised eyebrows, I asked if he had even filled out the 45-minute personality questionnaire that matched us.*  Perhaps sensing my growing disgust, he then quickly added, "Yes. But don't worry.  I totally chose you from the beginning."
Get ready for it…the kicker.  The one that had me run to the bathroom, quickly text my little sister for help with an excuse/escape plan, and plan an early end to the evening.
Out of the blue, as I was slowly raising my club soda to take a sip after I had left it at the table during a ladies' room trip, he drops this bomb:
"So, I recently had to have a discussion with my niece about date rape."
I immediately put my drink down and told him I was tired and needed to go home.
And that's just the tip of the iceberg.  I'm not even mentioning the frequent and detailed mentions of his ex-girlfriend, his sushi-eating habits, and his love for rave parties (is that right? a Rave?  I don't even know.)  Some things that a man in his late-thirties probably just shouldn't even talk about.  I know, I am a horribly judgmental person.  I will mention that I probably said things that he didn't like either.  Like maybe the fact that I have two cats and a dog and have been lovingly referred to by a friend as a "mobile zoo."  But, I am a package deal.  I come with some pretty awesome animals.
The next day, I received a very long text saying what a wonderful time he had with me, that he would like to go out again, but that he wanted to directly discuss with me the thoughts I had about the evening.  It sounded oddly like a homework assignment.
I thanked him for dinner (the food was great) and said that it was nice to meet him but that I didn't sense enough chemistry to go on any future dates.  Which was the truth.  To make matters worse, he immediately texted me back and said that half of the text didn't go through and asked me to resend it.  AWKWARD.  I have never felt so bad about a date before in my life.
And that was my funny story.
How 'bout some comfort food?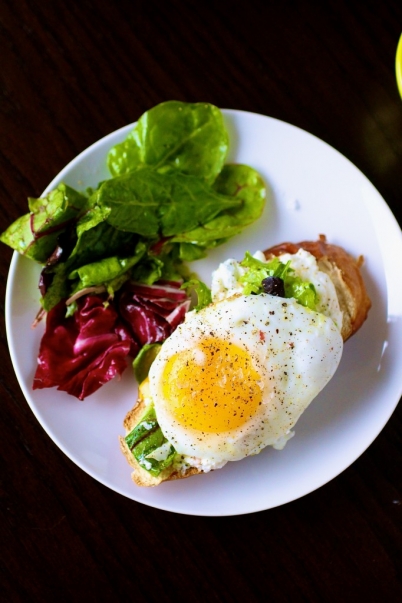 Open-Faced Egg Sandwiches with Ricotta and Mixed Greens
Servings: 2
Ingredients
2 slices bread (your choice; I went with a thick pretzel bread here)
Cooking spray
1 cup mixed greens (or whatever kind of green you like)
2 teaspoons extra-virgin olive oil
1 teaspoon fresh lemon juice
Salt and pepper, to taste
Red pepper flakes, to taste (I used about 1 teaspoon because I wanted it spicy)
1/4 teaspoon minced garlic
1/2 cup ricotta (I used skim)
1/8 cup Parmesan cheese, grated
1 tablespoon green onion, chopped
2 large eggs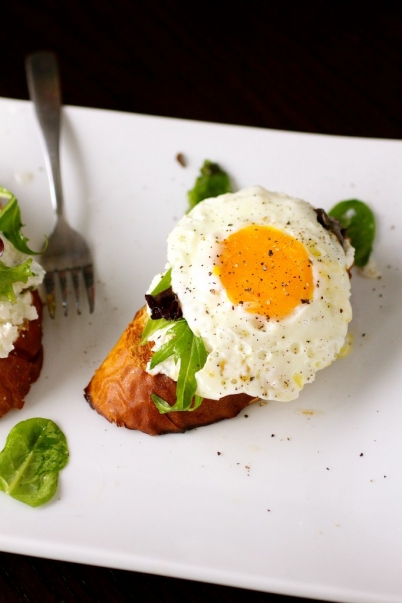 Instructions
1. Preheat broiler. (Alternatively, you can toast the bread in a toaster if the slices are thin enough.)
2. Coat both sides of the bread slices with cooking spray.
3. Broil until lightly toasted, about 1-2 minutes.
4. In a medium bowl, combine the mixed greens, 2 teaspoons olive oil, lemon juice, and salt and pepper; tossing gently to thoroughly coat the greens.
5. In another bowl, mix together the red pepper flakes, minced garlic, ricotta, Parmesan, and green onions. Add salt and pepper to taste here, if desired.
5. Generously spray a nonstick cooking pan (use one that you can cover lightly with another lid-I used the lid for my big saucepan, and this worked well, even thought it wasn't a perfect fit) with cooking spray and heat the pan over medium heat.
6. Crack eggs into pan; cook for about 2 minutes.
7. Cover the eggs and cook for an additional 2 minutes or until whites are set. Remove from heat.
8.  Spread the ricotta mixture over each bread slice; top with the mixed greens and one egg.  Enjoy.
Who needs a man when you can make your own, amazing comfort food?
Source:  Adapted from Cooking Light.