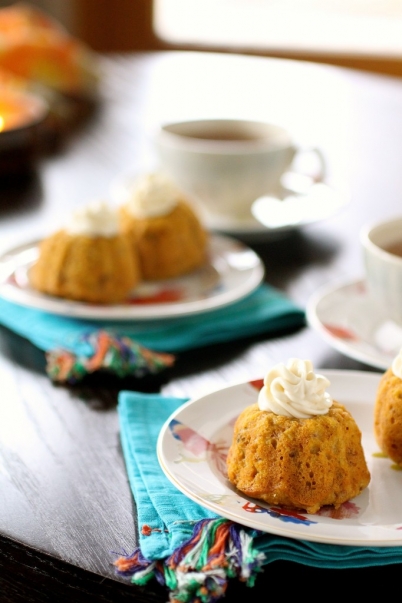 I'm sitting here writing this as I am waiting for another round of car repairs (second week in a row.)  Don't get me wrong, I am certainly not complaining.  Every morning when I get in my near-10-year old golden metal angel (as I now lovingly refer to it as it stopped my dad from probably hurting himself/someone else very badly on the road…long story, but let's just say that he was attempting to go to work one morning with severe chest pains and forgot that I was in town visiting and backed right into my car, causing a couple thousand dollars worth of damage and promptly warranting a lecture/near dragging of him into the local emergency room by yours truly…)  In the end, he was absolutely fine (severe esophageal spasms..no heart attack, thank God) and my car was able to be fixed that same week while I was in town.  Again, I am a witness to the weird workings of things seeming to happen for reasons, even if that reason isn't completely clear at the exact time.
Regardless, my car is having issues with starting.  I've become a pro at this now, aka how to deal with being stranded in a parking garage and a very limited knowledge of the inner workings of motor vehicles.  Instead of flagging down random construction workers in my building for help (as I may have been known to do), now I do all the troubleshooting on my own.  But, in the past two weeks, my car's fickleness in deciding whether or not to start has just become a little too much, and hopefully right now, it's getting all bandaged up and ready to take me into work (where I should be right now…as the clock is ticking, I am sitting here thinking about all the work that is piling up and will be waiting for me in an hour or so).
So this is an exercise in being patient…and being present.  The work can wait.  I'm thankful today that I have a car to drive, that there is a great mechanic within walking distance in my neighborhood who is actually charging me  a lot less than what I had thought I would be charged (seriously, how does one of the best rated auto mechanics in Milwaukee just happen to be two blocks from me…SO awesome!), and that hopefully when he is done with the work, my car will be a lot more safer to drive.  Priorities.
Well, and this also gets me one step closer to saving up for a new car.  *Soon*.
Here's a recipe that you can call either a muffin or cupcake.  I choose cupcake because it makes me feel a little naughty, knowing that it's actually not that bad for you.  I decreased the butter component substantially here, so it's a lot less fattening than most cupcakes.  You can opt out of the cream cheese topping to save on calories/fat, too, if you would like, but I thought it added a nice touch…and kind of qualified this as an actual cupcake, rather than just a muffin with cream cheese on top.  I used a mini-bundt pan here, but you can use a regular muffin pan or even convert this to a bread pan (original recipe was baked in a bread pan, see link at the end of this post. Just adapt your baking time accordingly.)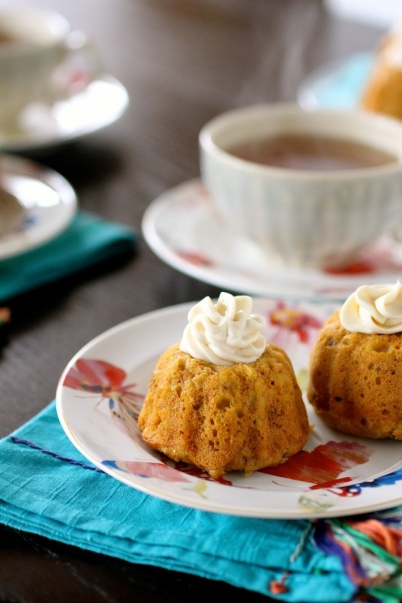 Skinny Carrot Cake Bundt Cakes
Servings: approximately 12 mini bundt cakes
Ingredients
For the cakes:
2 cups whole wheat pastry flour
2 and 1/2 teaspoons baking powder
1 and 1/2 teaspoons cinnamon
3/4 teaspoon sea salt
3/4 cup walnuts, chopped
4 tablespoons (1/2 stick) unsalted butter, heated until just melted
1/4 cup unsweetened applesauce
1/2 cup dried dates, seeded and chopped into a paste (I pulsed mine in a food processor for a few seconds-this did the trick)
3 ripe bananas (1 1/4 cups), mashed well
1 and 1/2 cups grated carrots (about 3 medium-I also used the food processor for this step.)
1/2 cup plain 0%-fat Greek yogurt
2 eggs, lightly whisked
For the frosting:
6 ounces low-fat cream cheese, room temperature
3 tablespoons agave nectar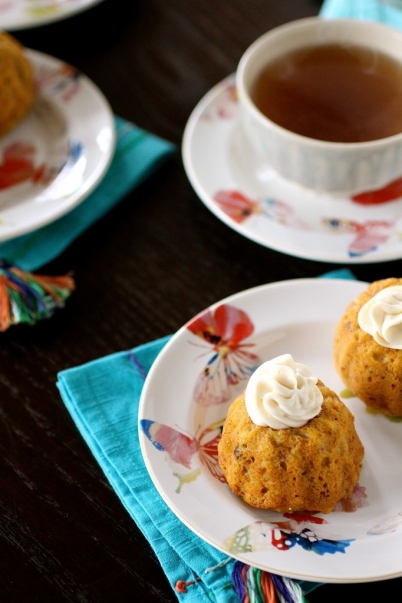 Instructions
1. For the cake: Preheat oven to 350 degrees.
2. Lightly spray your muffin pan or mini bundt cake pan with cooking spray.
3. In a medium bowl, whisk together the flour, baking powder, cinnamon, and salt.
4. Add the walnuts and mix until thoroughly combined; set aside.
5. In the bowl of your standing mixer fitted with the paddle attachment, combine the melted butter, applesauce, and dates, mixing on medium-low speed until combined.
6. Add the bananas and carrots to the mixing bowl, continuing to mix on medium-low speed.
7.  Add the yogurt and the eggs.
8. Reduce the mixer speed to low and add the flour mixture, mixing until just combined.
9.  Bake for about 18-20 minutes or until a toothpick inserted into the center of a mini cake comes out clean.
10. For the frosting:  In a small bowl (or using an electric hand mixer), mix the cream cheese and agave nectar together until smooth, adjusting sweetness to taste by adding more agave nectar, if desired.
11. Once the cakes have cooled completely, either spread or pipe the frosting on each one as desired.
Source:  Adapted from 101cookbooks.