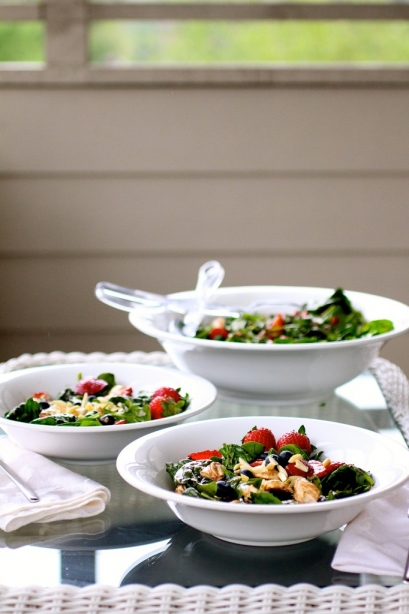 Ah, what a whirlwind of a week so far.  The positive feedback so far on the new look of the website has been so overwhelmingly wonderful.  I am so glad that you all are finding it much more user-friendly and easy to use.
Here's a random story for you.
So, I took my animals to an "animal communicator" the other day.  Ok, ok, before you go nuts on me, I have to say that I was a little hesitant myself.  I had heard about her from the good people who look after Scout during the day, and they had said that the reviews of her sessions were amazing.  Given that my brother (who has an interest in anything having to do with the supernatural) was in town visiting, we thought we would check it out.  (Maybe have a beer beforehand, but still…check it out.  Besides it was a block away.)  So we went, with one very excited but confused dog and two pretty pissed off cats in their cat carriers.
I didn't know what to expect, but since I am such an animal lover (and by animal lover, I mean I have probably bestowed upon my animals personalities that are probably not entirely all true…does anyone else do this?), I wanted to see if she would be able to pick up on their personalities somehow in the 30 minutes we would spend together…all six of us….in a very small room.
The first sentence that came out of her month made my jaw drop.  She picked up on the Girl's hip pain/limp without even taking her out of the carrier.  Which is really funny to me because the Girl has been walking with a little skippy limp for a while now but a vet checked it last year and said she was fine.  She immediately picked up on the dynamics between the two cats. Cosmo, my obese red-headed cat, who doesn't have the best personal hygiene in the world, apparently was wondering why Jinx doesn't play with him (ummm…probably because of the personal hygiene thing…coupled with the fact that he eats all her food.)  Oh, and he thinks about treats a lot, which I guess wouldn't be too much of a stretch considering his excessive body weight.  There was some deep conversation there, too, about some personal stuff that brought a few tears to my eyes.  What the heck?  How does she know this stuff?  And then she started with Scout, and it just got comical.  Scout was complaining that she hadn't been riding in the front seat of the car (because my brother had been that week), which is usually her spot.  She was "telling" the lady how she chews her bones…in graphic detail, which the lady described back to me. She was telling the lady how much she loved sleeping in my bed and how much she does NOT want another human in the bed, sleeping with us.  She told the lady that I had been making popcorn recently (which I really have been-old school-style, on the stove, and Scout loves to watch.)  She told the lady how much she loves the people who take care of her during the day and how she feels like she is the "most popular" dog there because she feels like everyone loves her so much.  I have to say, based on Scout's behaviors, that all this is pretty true.
Ok.  Some of the stuff wouldn't be too hard to come up with, I'll admit.  But some of the more personal details is what got me.  It was pretty uncanny, and both my brother and I left, feeling a little embarrassed and shocked…and after having experienced that, definitely ready for another beer.
But I love random stuff like that. It was fun, no matter what.  And it makes for a great story.  (Probably not material for a first date, though.)
On to the food.
I made this salad a couple of weeks ago on a complete whim.  We were having a cook-out, so I wanted something a bit lighter that I could eat as a main course instead of buying a pack of veggie dogs and only eating one out of the pack.  I had originally only intended to make it with strawberries, as sort of a twist on a classic caprese salad, but I saw some amazingly beautiful blueberries at the store and couldn't resist.  The nice thing here is that you could add in pretty much whatever you want.  I added in the toasted slivered almonds for a bit of a crunch, and I thought this was a nice touch.  I mean, how can you go wrong with mozzarella and a good balsamic reduction?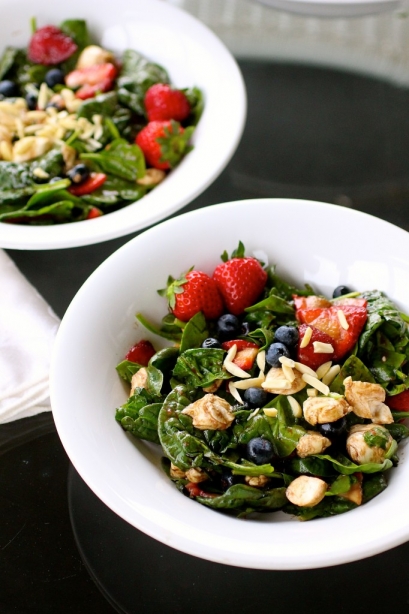 Berry Caprese Salad
Servings: about 4-6
Ingredients
For the balsamic reduction:
1/2 cup high-quality balsamic vinegar
2 teaspoons sugar
1 teaspoon salt
For the salad:
About 5 ounces fresh spinach leaves (or more, depending on how much salad you want)
16 ounces fresh strawberries, thinly sliced
4 ounces fresh blueberries
1/4 cup slivered almonds, lightly toasted
8 ounces ciliegine mozzarella, drained and chopped into pieces (cherry-sized bits of mozzarella, or whatever kind of mozzarella you like)
Handful fresh basil, torn (depending on how much basil you like)
Salt and pepper, to taste
Instructions
1. For the balsamic reduction:  In a small saucepan set over medium heat, combine the balsamic vinegar, sugar, and salt, stirring to combine.
2. Bring the mixture to a boil, and then reduce the heat to low, letting the mixture cook until thickened and reduced by half, about 5 minutes or so.  Remove from the heat and set aside.
3. For the salad:  Combine all of the salad ingredients in a large bowl, tossing to combine.
4.  Lightly drizzle the balsamic reduction over the salad, toss to coat evenly, and serve immediately (alternatively, just serve out your salads and then drizzle the balsamic reduction over each one individually.)
Source:  A Curvy Carrot original.