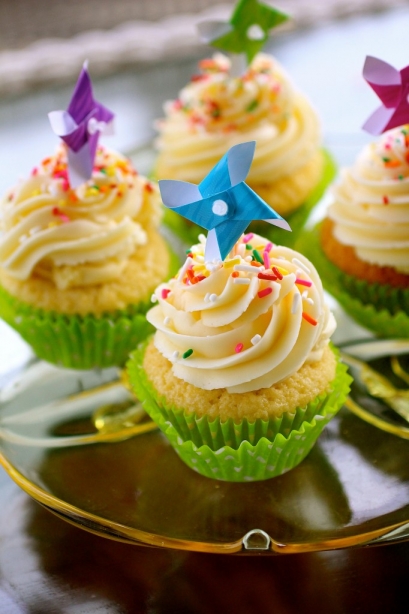 A few months ago, my (baby) sister moved into a new condo with her soon-to-be-husband.  I was able to come into town a week later, and I got the bright idea of deciding to host a late engagement/housewarming party for the two of them.
….Which ultimately entailed Samantha and I blindly walking into a liquor store beforehand, attempting to buy a keg for the weekend (if you wanted to see something really funny, it was us walking into the store, nails freshly painted from a manicure, and trying to figure out how to buy the keg since neither one of us had actually bought one before.  The workers there thought we were nuts…and rightly so, because we both squealed when we discovered that not only that we could get a keg, BUT we could put it in a bright PINK container with the ice.)  Yeah.  That was us.  Typical.  And then things got even better when we decided to also buy some super sweet liquors to put into, yes, pudding shots with whipped cream and sprinkles on top, giggling and "oh my goshing" our ways through the store.  To top it off, we insisted that the guys who helped us put the keg in Sam's back seat…actually put a seat belt on it…where we then promptly took pictures and texted them to various friends about our new addition in the back seat.  Yes.  We're crazy, silly girls.  But we sure know how to have a good time and entertain ourselves.  (The pudding shots were a big hit, by the way..I made a French vanilla version and a butterscotch version.)
I asked Sam what kind of cupcakes she wanted for the occasion.  Knowing that this was a pre-wedding party, getting together many of us in the wedding party, I wanted something reminiscent of a wedding cake.  But all Sam wanted was vanilla.  Something very very vanilla.  No chocolate.  No additional flavors.  Just something classy and timeless.  (Just pop a little paper pinwheel on top and it gets a little whimsical, right?)
So, using this as an excuse to make a giant batch of vanilla pastry cream, I knew I wanted to bring out the big guns with this one.  Butter.  Eggs. Sugar.  I wanted this to be an excessive, creamy, melt-in-your-mouth juggernaut of a dessert.  And, so it was.  I used a simple vanilla cupcake recipe, but filled the cupcakes with vanilla pastry cream.  To top it off, I piped a giant helping of Swiss meringue buttercream frosting on the top of each one.  I added a springy little paper pinwheel for a little color and boom….there it was.  The dessert of the season.
And now I am looking forward to their wedding cake.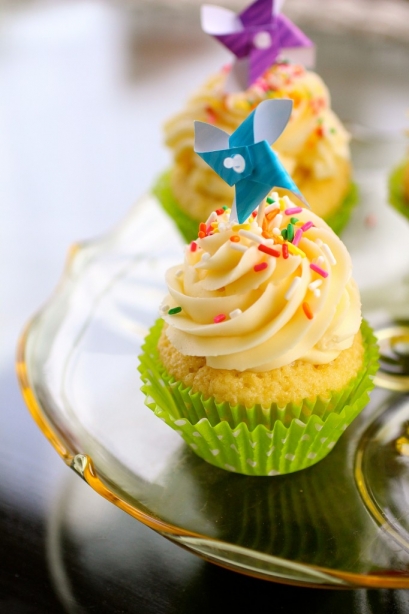 Sammy's Very Vanilla Cupcakes
Servings: about 24 cupcakes
Ingredients
For the cupcakes:
1 and 3/4 cups cake flour
1 and 1/4 cups all-purpose flour
2 cups sugar
1 tablespoon baking powder
3/4 teaspoon salt
1 cup (2 sticks) unsalted butter, cut into 1-tablespoon cubes
4 large eggs
1 cup whole milk
1 teaspoon vanilla extract
For the vanilla pastry cream:
3 cups whole milk
1/2 cup sugar
1/4 teaspoon salt
2 teaspoons vanilla extract
1/4 cup cornstarch
1 tablespoon all-purpose flour
4 large egg yolks
1/4 cup (1/2 stick) unsalted butter
1 cup heavy cream, whipped to soft peaks
For the frosting:
8 sticks unsalted butter, room temperature
2 and 1/2 cups sugar
10 large egg whites
2 teaspoons vanilla extract
Instructions
1. For the cupcakes: Preheat the oven to 325 degrees.
2. Line two cupcake pans with the paper liners of your choice; set aside.
3. In the bowl of your standing mixer fitted with the paddle attachment, combine the flours, the sugar, baking powder, and salt. Mix the ingredients on low speed until thoroughly combined.
4. Add butter a few pieces at a time, mixing until coated with flour and slightly broken up.
5. In a large glass measuring cup, whisk together the eggs, milk, and vanilla until combined.
6.  Increase the mixer to medium speed, and add the milk/egg mixture in thirds to the dry ingredients, scraping down the sides of the bowl as necessary after each addition, beating until the ingredients are combined.
7. Divide the batter evenly among your prepared liners, and bake, rotating and switching the pans halfway through, until a cake tester inserted in the center comes out clean, about 17 to 20 minutes.  Let cool.
8. For the pastry cream: In a medium saucepan, combine 2 and 1/2 cups of the milk, the sugar, and the salt. Bring the mixture to a simmer, stirring to dissolve the sugar.
10. In a separate bowl, whisk together the cornstarch, flour, and egg yolks with the remaining 1/2 cup of milk.
11. Whisk about 1/4 cup of the hot milk mixture into the egg yolk mixture to temper the eggs.
12. Pour the egg/milk mixture back into the remaining simmering milk through a strainer (discard the solids).
13. Bring the mixture  to a boil, stirring constantly with a whisk, until the mixture thickens. *It took me about 4-5 minutes or so.
14. Remove the mixture from  the heat and strain through a fine sieve.
15. Add the butter and vanilla extract, stirring until smooth and thoroughly combined.
16. Rub a piece of butter over the surface of the cream and top with a piece of plastic wrap, then refrigerate until cool.  **This step prevents the pastry cream from getting that nasty, skin-like layer on top.
17. Just before you are ready to use the pastry cream, gently fold in the whipped cream, stirring until completely incorporated.
18. For the frosting: In the bowl of your standing mixer fitted with the paddle attachment, beat the butter on medium speed until light and fluffy, about two minutes.  Transfer to a separate bowl.  Wash your mixer bowl (if you aren't using a standard mixer bowl, use a heat-proof bowl here.)
19.  Combine the sugar and egg whites in your clean mixer bowl and set the bowl over a saucepan filled with simmering water.
20. Whisk the mixture constantly until the sugar dissolves and whites are warm to the touch, about 3 to 4 minutes.
21.  Transfer the mixing bowl back to the mixer stand (if you are using a standing mixer) and, on medium speed, beat the mixture until fluffy and cooled, about 10 minutes.
22. Switch to the whisk attachment on your mixer (if you have one). Increase the mixer speed to high, and whisk the egg-white mixture until stiff peaks form.
22. Reduce the speed to medium-low and add the butter a few tablespoons at a time, mixing until incorporated.  Just keep mixing.  This part might take a few minutes (maybe more than a few), but it will eventually come together.  I promise.
23. Add in the vanilla.
24. Switch back to the paddle attachment and beat the frosting on low speed, about 3 to 5 minutes.
25. To assemble the cupcakes:  Gently carve out a central cavity in each cupcake (you can slice the bottoms off of the piece you carved out and use this to place back over the pastry cream in order to have a flat piping surface).  Pipe the pastry cream into the center of each cupcake, placing the previously carved out portion back onto each cupcake, over the pastry cream.  Pipe the buttercream frosting as desired onto each cupcake.  Top with whimsical pinwheel.  Enjoy…it's heaven on your taste buds.
Sources:  Cupcakes directly from Martha Stewart, pastry cream directly from King Arthur Flour Company, frosting directly from Martha Stewart.