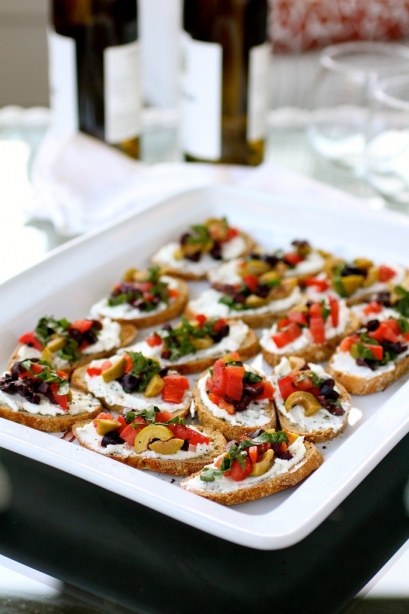 I'm a complete sucker for bruschetta.  Really, any kind will do.  Especially one that mixes sweet(ish) with salty flavors.  Lots of different textures, too.  (I totally didn't mean for that to rhyme, but it did.  How cute.)
Well, here's one that will fit the bill.
Made with a mixture of briny green and Kalamata olives, sweet tomato, and goat cheese (if you aren't a fan of goat cheese, and many people aren't, just substitute in your favorite kind of spreadable cheese here; cream cheese or ricotta would probably be pretty good.), this little appetizer has everything it needs to be a top contender for best finger food at your next get-together. There's the crunch of the toasted, nutty whole wheat bread, the nice tomato-basil sweetness, the earthy, salty olives, and the creamy tangy cheese, and you really can't go wrong here.  I could literally eat a whole plate for dinner.  Forget being an appetizer.  I'll take it as my whole meal.
Oh, wait.  I totally did.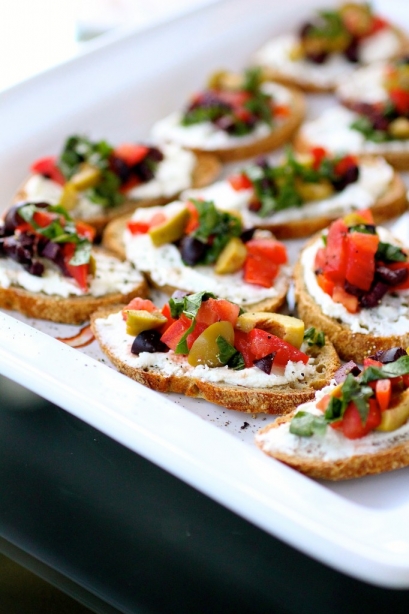 Olive-Goat Cheese Bruschetta
Servings: about 16 pieces
Ingredients
1 tomato, seeded and diced
1/2 cup chopped pitted olives **I used a mixture of pitted Kalamata and green olives
Handful fresh basil, torn into small pieces
1 teaspoon sherry vinegar
Pinch salt
Freshly ground black pepper, to taste
16 (1/4-inch-thick) slices whole-wheat or multi-grain baguette
1 garlic clove, peeled
1/4 cup mild goat cheese, at room temperature (or however much you like)
Instructions
1. Preheat oven to 400 degrees.
2. In a medium bowl, combine the tomato, olives, basil, sherry vinegar, salt, and pepper; set aside.
3. Arrange the baguette slices on a baking sheet and bake until lightly toasted, about 8 minutes or so.  Remove from the oven and let cool.
4. Rub both sides of each toast slice with the peeled garlic clove.  Lightly salt, if desired.
5. Spread your desired amount of goat cheese thinly on each toast.
6. Top each toast with about 1 tablespoon or so (or however much you like) of the olive mixture.  Serve immediately.  *Any leftover olive mixture refrigerates well and can be used as a topping for other dishes, such as pasta or fish.
Source:  Adapted from Health.